Add to Cart
Walt Disney's 101 Dalmatians Black Diamond Classic VHS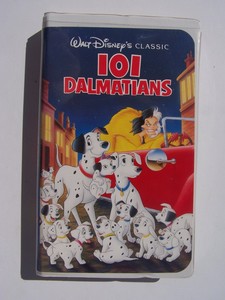 Free Shipping
Buy with Confidence
Accepted Secure Payment Options
Need help buying?
Item Information
| | |
| --- | --- |
| Condition | Very Good |
| Edition | Diamond Edition |
| Genre | Animation &Amp; Anime |
| Rating | G |
| Signal standard | Ntsc |
| Sub genre | Adventure |
| Estimated Shipping | 15 - 20 Days |
Item Description
This listing is for Walt Disney's 101 Dalmatians Black Diamond Classic VHS Video Tape.
Actors: Rod Taylor, Betty Lou Gerson, J. Pat O'Malley, Martha Wentworth, Ben Wright
Directors: Clyde Geronimi, Hamilton Luske, Wolfgang Reitherman
Writers: Bill Peet, Dodie Smith
Producers: Walt Disney
Format: Animated, Closed-captioned, Color, NTSC, HiFi Sound
Language: English
Rated: G - General Audience
Number of tapes: 1
Studio: Walt Disney Home Video
VHS Release Date: April 7, 1992
Run Time: 79 minutes
Full of boundless adventure and boisterous fun, Disney's 17th animated masterpiece is the original film classic starring 101 of the world's most lovable, huggable Dalmatians and their hilariously evil captor, Cruella De Vil! A charming London neighborhood is home to Roger and Anita, whose beloved Dalmatians, Pongo and Perdita, have become the proud parents of 15 puppies. But when Cruella and her bumbling henchmen, Horace and Jasper, unexpectedly appear, the pups soon disappear -- along with every other Dalmatian puppy in town! Now Pongo and Perdita must rally their animal friends and use the power of the "Twilight Bark" to find Cruella's secret hideaway and free the puppies. Featuring the unforgettable toe-tapping song "Cruella De Vil," 101 DALMATIANS is one of the most cherished and sought-after Disney classics of all time -- and among the last films to bear the personal touch of Walt Disney.
The Walt Disney Classics was a series of VHS releases of Disney animated features that spanned from 1984 to 1994, with its very first release being Robin Hood and the last being The Fox and the Hound, and VCD releases that spanned from 1998 to 2003. Many Disney animated features made their home video debuts through this series. It is often referred to by fans as the "Black Diamond" collection, referring to the shape of the black diamond-shaped "Classics" logo seen on the spine of each video's case and at the beginning of each tape. Although the series initially consisted entirely of older Disney animated features, the success of The Little Mermaid led to more recent films being released as part of the collection.
One facet of Disney's home video history seems to be garnering an increasing amount of attention - the first release of their animated feature films to VHS format in the U.S., under a release type named "The Classics." These videos, packaged in clamshell cases and sporting a uniform style (a rare thing amongst Disney DVDs today), are the elusive "Black Diamonds" (or BDs) referred to among Disney fans, so named because of the black diamond-shaped "Classics" logo on the spine of the case. Many of them are also distinguished by the "peel-away" bottom corner that proudly proclaimed that these films were "The Original Animated Classic!" Starting with Dumbo, the "Classics" collection spanned 18 titles from about 1988 to 1993 - with Aladdin as the last video to ever be released under the "Classics" logo. These videos have a unique place in Disney history, as they turned a whole new generation on to the vast library of quality films. Instead of waiting for a theatrical re-release, as was custom, one could now choose from any number of films and view them as many times as they wished at home. Thus was the birth of the now-common Disney enthusiast! Though the tapes now have only a collector's value, they should be be rightfully regarded as a landmark in Disney's film history.
Please see our other listings as we have many related items and various other treasures you may be interested in!!! I do combine winning auctions for savings on shipping and try to keep shipping charges as close to accurate as possible. Thanks for visiting our listings and especially for bidding!!!
Recent Reviews
Recent Questions & Answers
How long is shipping to ?
Answer:
Approximately 15 - 20 Days
What is your best price for this item?
Answer:
The lowest price I accepted including shipping
$14.98
Buy Now
Walt Disney's 101 Dalmatians Black Diamond Classic VHS