Add to Cart
Vintage Guitar Magazine November 2010 Vol 25 No 11 Carl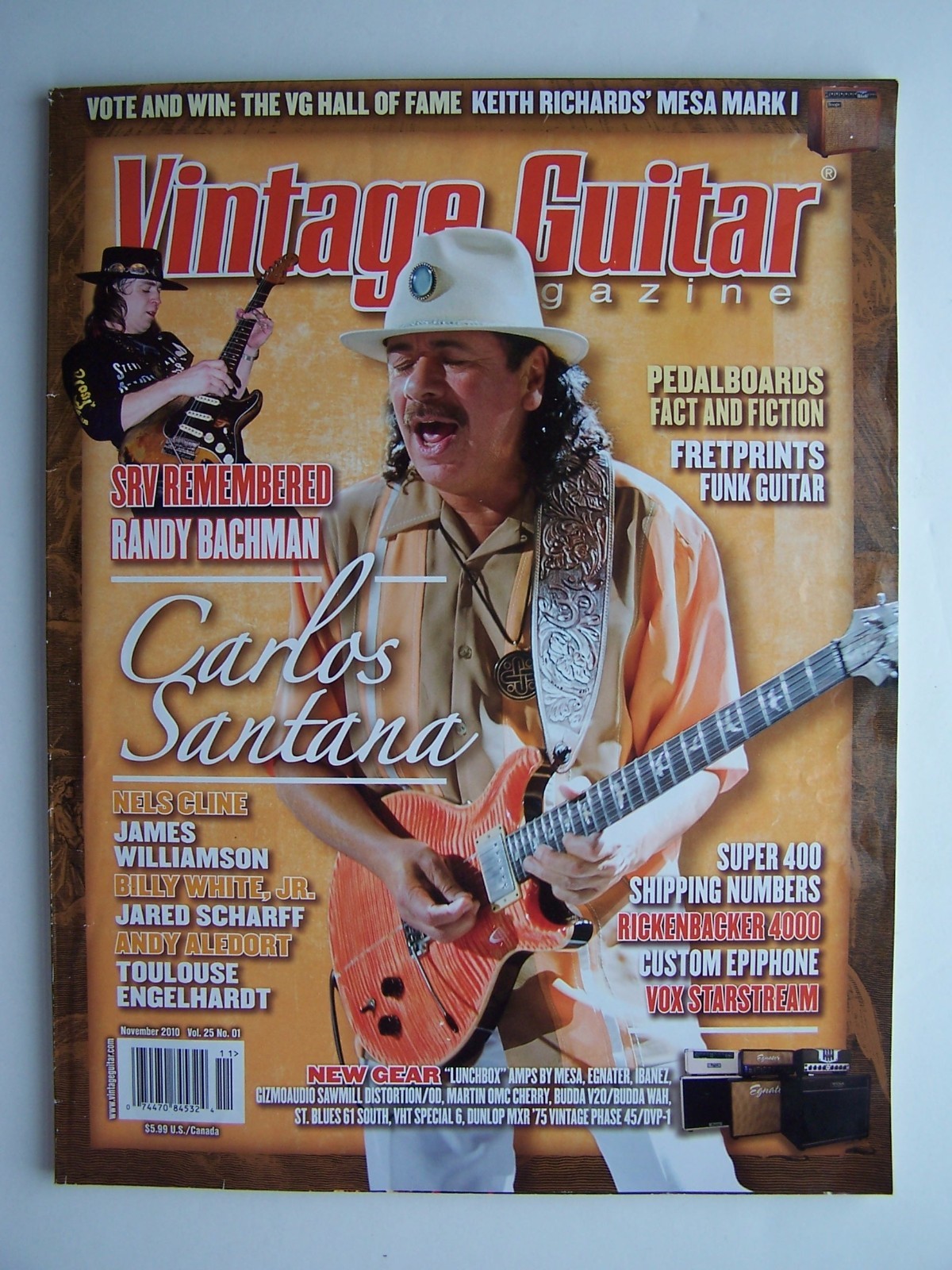 Free Shipping
Buy with Confidence
Accepted Secure Payment Options
Need help buying?
Seller Information:
kokomousse
View seller's other items
Item Information
| | |
| --- | --- |
| Condition | Very Good |
| Era year | 2010 |
| Features | Vintage |
| Issue type | Monthly |
| Language | English |
| Media type | Magazine |
| Month | November |
| Publication month | November |
| Publication year | 2010 |
| Special attributes | Illustrated |
| Subject | Music |
| Type | Magazine |
| Year | 2010 |
| Year published | 2010 |
| Estimated Shipping | 15 - 20 Days |
Item Description
This listing is for Vintage Guitar Magazine November 2010 Vol 25 No 11 Carlos Santana Cover.
The Heavenly Guitar of Carlos Santana: His latest CD could be viewed as the artist playing it safe, or it could be a risky move. Using guest singers ranging from Joe Cocker to Chris Cornell to India. Arie, he tackles classic guitar-driven songs, along the way proving there is still only one Carlos Santana. By Dan Forte
SRV Memories: Twenty years after the passing of a legend, VG contributors recall the greatness that was.
Reassessing Gibson Shipping Numbers - Part 1: The Pre-War Super 400: Recent research on Gibson electric-steel guitars has raised doubts about the accuracy of company's oft-referenced shipping totals. In the first of three essays on the subject, we take a closer look at the Super 400 in the "pre-war" era." By A.R. Duchossoir
An Epiphone Custom: After Gibson purchased Epiphone, Ted McCarty wanted to make it an "almost a Gibson" brand – a step below Gibson. Despite his intentions, some customers simply preferred an Epiphone. The proof is in this custom-ordered guitar from 1965. By George Gruhn and Walter Carter
The Vox Starstream: There is intrigue and politics in the stories about many of the guitars we cherish. Most is normal company business, but sometimes a guitar has more color behind its existence. One loaded example is the cool '68 Vox Starstream. By Michael Wright
The Rickenbacker 4000: For all of the "icon" accolades afforded Rickenbacker's two-pickup 4001, it's easy to forget the model wasn't the company's first bass. That honor belongs to the single-pickup 4000. By Willie G. Moseley
Keith Richards' '77 Mesa/Boogie Mark I: With a hint of nostalgia, we recall a time when even the biggest rock stars had to plead their case with Randy Smith to jump a waiting list for the amps he was turning out from his California home. By Dave Hunter
The VG Hall of Fame Giveaway: Win a St. Blues 61 South!
Vintage Guitar Price Guide
Builder Profile: Hot Rod 6 Strings
Vintage Guitar Classified Ads
News and Notes: Steve Miller to Teach at USC, John Jorgenson Plays for Troops in Iraq, Nils Lofgren; In Memoriam, more!
Toulouse Engelhardt: 12-Strings for Sci-Fi and Surf By Willie G. Moseley
James Williamson: Raw Power Reconnection By Rick Allen
Andy Aledort: From Page to the StageBy John Heidt
Billy White, Jr.: Second Time's the Charm By Rick Allen
Randy Bachman: Back in Overdrive By John Heidt
Nels Cline: Jazzmaster Love Affair By Michael Dregni
Jared Scharff: Saturday Night's Alright By Tom Guerra
The (Way) Back Beat: $150 Worth of Low-End By Peter S. Kohman
Acousticville: Rockygrass Academy 2010 By Steven Stone
Fretprints: Funk Guitar By Wolf Marshall
Shop of Hard Knocks: Building a Head-TurnerBy Will Kelly
Dan's Guitar Rx: Pyramid Scheme By Dan Erlewine
Talkin' Amps…: Pedalboard: Fact and Fiction By David Jung
The VG Hit List: CD, DVD, and Book Reviews: Marty Suart, Stevie Ray Vaughan, Greg Koch Trio, John Mellencamp, Duke Robillard, Big Head Todd, Larry Carlton, Electric Guitar and Basses: A Photographic History, more!
Check This Action: Joyful Noises By Dan Forte
Vintage Guitar Gear Reviews: "Lunchbox" amps by Mesa, Egnater, Ibanez, Gizmoaudio Sawmill Distortion/OD, Martin OMC Cherry, Guitar Player Wanted: Vocals a Plus DVD, Budda V20/Budda Wah, St. Blues 61 South, VHT Special 6, Dunlop MXR '75 Vintage Phase 45/DVP-1
Vintage Guitar magazine is a consumer publication that focuses on vintage and classic fretted instruments, amplifiers, effects, and related gear, as well as notable players from all genres and eras. The publication's feature stories and monthly columns cover a diverse range of topics by contributors, including some of the biggest names in the industry and renowned authorities like Dan Erlewine, George Gruhn, Wolf Marshall, Richard Smith, and Seymour W. Duncan, as well as some of the best-known writers in the field, including Walter Carter, A. R. Duchoissoir, Dan Forte, Lisa Sharken, Rich Kienzle, Michael Dregni, John Heidt, John Peden, and others.
Please see our other listings as we have many related items and various other treasures you may be interested in!!! I do combine winning auctions for savings on shipping and try to keep shipping charges as close to accurate as possible. Thanks for visiting our listings and especially for bidding!!!
Recent Reviews
Recent Questions & Answers
How long is shipping to Ashburn, VA?
Answer:
Approximately 15 - 20 Days
What is your best price for this item?
Answer:
The lowest price I accepted including shipping
$11.64
Buy Now
Vintage Guitar Magazine November 2010 Vol 25 No 11 Carl