Add to Cart
The Pretenders - Learning To Crawl Vinyl LP Record Albu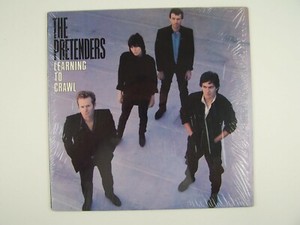 Free Shipping
Buy with Confidence
Accepted Secure Payment Options
Need help buying?
Item Information
| | |
| --- | --- |
| Condition | Used |
| Duration | Lp |
| Genre | Rock |
| Record size | 12&Quot; |
| Speed | 33 Rpm |
| Style | Soft Rock |
| Estimated Shipping | 15 - 20 Days |
Item Description
This listing is for The Pretenders - Learning To Crawl Vinyl LP Record Album 9 W1-23980.
Label: Sire – 9 W1-23980, Sire – 1-23980
Format: Vinyl, LP, Album, Club Edition, Columbia House
Condition: Jacket: Very Good Vinyl: Very Good
A1

Middle Of The Road

4:08
A2

Back On The Chain Gang

3:44
A4

Watching The Clothes

2:46
B3

Thin Line Between Love And Hate

3:33
Learning to Crawl is the third studio album by the rock band The Pretenders. It was released in January 1984 after a hiatus during which band members James Honeyman-Scott and Pete Farndon died of drug overdoses.
After Farndon's dismissal from the band and Honeyman-Scott's death, Chrissie Hynde and Martin Chambers initially recruited Rockpile's Billy Bremner and Big Country's Tony Butler to fill in a caretaker line-up of the band in 1982. Bremner played guitar and Butler played bass on the band's September 1982 single "Back on the Chain Gang/My City Was Gone", both sides of which were later included on Learning to Crawl. As the album sessions got under way, Bremner, Graham Parker's bass player Andrew Bodnar, and Paul Carrack (formerly of Squeeze, Ace and Roxy Music) played guitar, bass and piano respectively for the track "Thin Line Between Love and Hate".
Finally, Robbie McIntosh (guitar) and Malcolm Foster (bass) were recruited to join Hynde and Chambers, and the band was now officially a quartet. It was this line-up that recorded the rest of the tracks featured on Learning to Crawl. The November 1983 single "2000 Miles/Fast or Slow (The Law's the Law)" was the newly reconstituted foursome's first release, followed shortly by the full Learning to Crawl album in January 1984. The album's title of "Learning to Crawl" was given in honor of Chrissie Hynde's then-infant daughter, Natalie Rae Hynde. She was learning to crawl at the time that Chrissie was trying to determine a name for the album.
I base the condition of each of my Records off of Ebay's Grading System.
• MINT (M) Looks new and unplayed. Very high vinyl luster and no noticeable label defects. Sounds new. With 45rpm records, this does not always mean there is no surface noise at all.
• NEAR MINT (NM) Looks almost new, but has some minor flaws such as a drill hole; unobtrusive writing on label (e.g., an X on a promo copy); minor scuffing on vinyl; minor color flaking on label, or other insignificant flaws that only slightly detract from visual appeal. May have some minor surface noise, but nothing distracting.
• VERY GOOD (VG) There may be light scuffing and some of the original vinyl luster may be lost. The vinyl and label may appear used, but well cared for. Records may have some more obvious flaws that are not visually degrading such as a sticker on the label; more noticeable writing on the label; scuffing and minor scratches on the vinyl; or minor discoloration of the label. There may be very minor warping of the vinyl. There may be a slight scratch not affecting play.
• GOOD (G) Record has visible signs of handling and playing, such as loss of vinyl luster, minor surface scratches, groove wear, and audible surface noise. Appears well used but not abused. May have a few major flaws, such as scratches, label tears, or stickers, and/or writing.
• FAIR (F) Appears well used and somewhat abused. Audio is not great due to surface noise and scratches. The record may have a stick or a skip. Records in this condition are those you might purchase to fill a hole in your collection until a better copy comes along.
• POOR (P) Well played with little luster and significant surface noise, but still not cracked or broken. Record likely skips and/or sticks. Typically so bad looking that a true "collector" would just toss it out. More useful as a Frisbee. I try not to sell records in this condition.
Thanks for checking out all of our various treasures! We have many similar items by similar artists, so make sure you search our store and combine purchases for additional discounts and savings on shipping! We also have a ton of stuff not listed yet, so if you're looking for a specific title or additional artist items, please inquire as we may have it sitting here someplace or can easily find it for you! Thanks again for the visit and good luck in your "Treasure" search!
Recent Reviews
"Great transaction"
US 99.5 Live Country CD Volume 2
dlj4103 - Livermore, CA
(40 Purchases)
Is this review helpful?
Thanks for your feedback!
"fast shipping!! great communication!!! will do business again"
14 Carla Neggers Books Book lot suspense romance novels
rarapttech - Magnolia, MS
(42 Purchases)
Is this review helpful?
Thanks for your feedback!
"A+++ here. Been have computer trouble. Really great on everything. recommended."
World Series Baseball Records Books Dan Gutman 1973
thekingrocks - Topmost, KY
(15 Purchases)
Is this review helpful?
Thanks for your feedback!
"I received my items in a timely manner. I am very happy with the purchase."
(2 Purchases)
Is this review helpful?
Thanks for your feedback!
"As Descibed! THANKS!"
2 Walmart Pink Bunny Rabbits Easter stuffed plush anima
julierotter7 - Ladera Ranch, CA
(2 Purchases)
Is this review helpful?
Thanks for your feedback!
"Mint Card...Excellent Seller and Fast Shipment"
Sports Illustrated Sports Events Calendar
ncmfan - Oklahoma City, OK
(2 Purchases)
Is this review helpful?
Thanks for your feedback!
"Prompt shipping and item quality as advertised. Happy with my purchase.Thank you!"
Kohls Cares for Kids Animal Planet Zebra plush animal
timanahaf - El Paso, TX
(1 Purchase)
Is this review helpful?
Thanks for your feedback!
"Thanks. It was a great video!"
Prince and The Revolution Live VHS Tape 1991
novascot73 - Spooner, WI
(28 Purchases)
Is this review helpful?
Thanks for your feedback!
"I would definitely make another purchase from this seller again."
The Secret by Rhonda Byrne
ciroc77 - Brookhaven , NY
(2 Purchases)
Is this review helpful?
Thanks for your feedback!
"Very happy with items. Thank you!"
CSI Novels Vegas & New York Paperback Lot
lindsey932 - Canada
(13 Purchases)
Is this review helpful?
Thanks for your feedback!
Recent Questions & Answers
How long is shipping to Ashburn, VA?
Answer:
Approximately 15 - 20 Days
What is your best price for this item?
Answer:
The lowest price I accepted including shipping
$14.98
Buy Now
The Pretenders - Learning To Crawl Vinyl LP Record Albu