Add to Cart
The Great Mr Handel VHS Video Tape Movie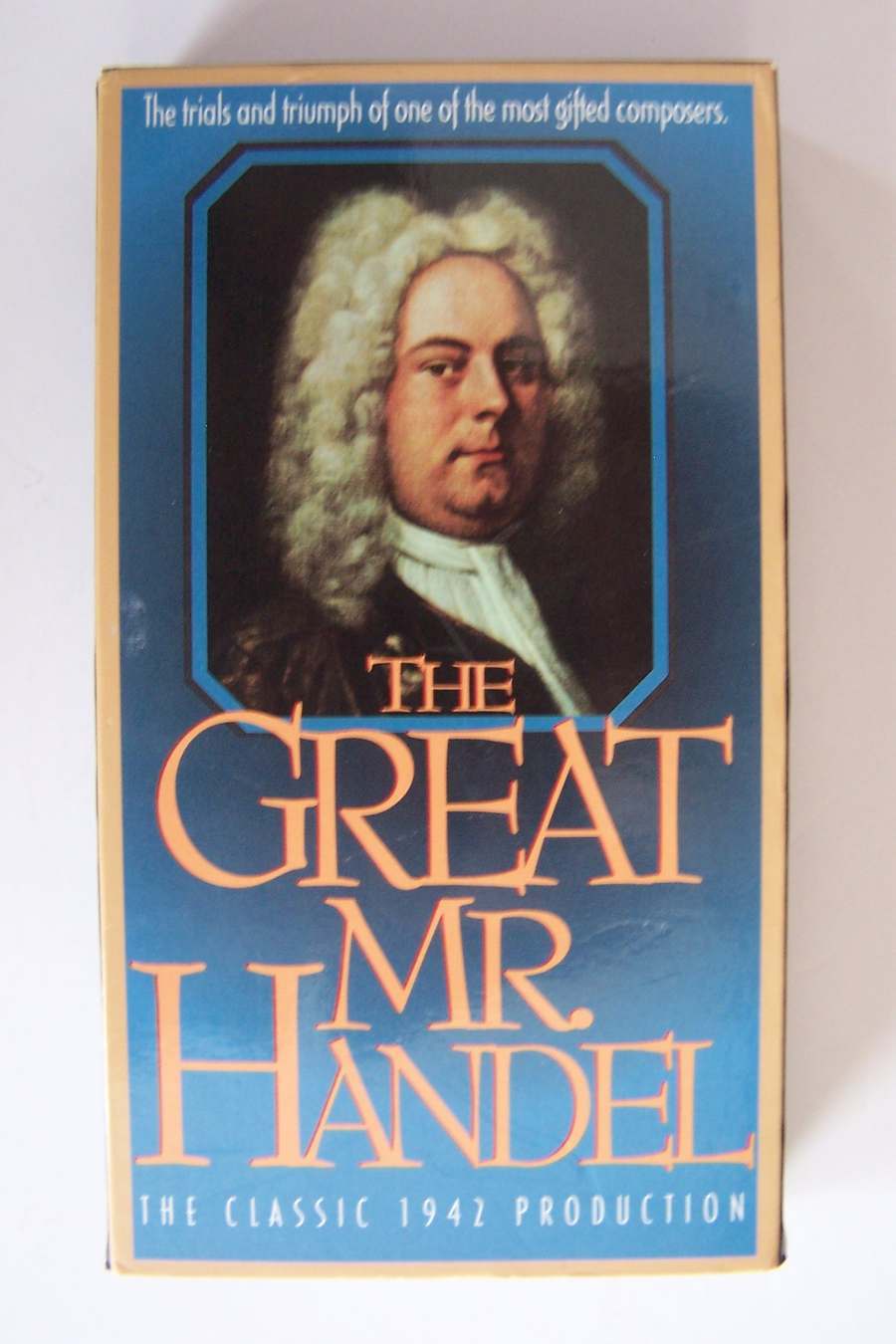 Free Shipping
Buy with Confidence
Accepted Secure Payment Options
Need help buying?
Seller Information:
kokomousse
View seller's other items
Item Information
| | |
| --- | --- |
| Condition | Very Good |
| Genre | Documentary |
| Rating | Pg |
| Signal standard | Ntsc |
| Sub genre | Music/Performing Arts |
| Estimated Shipping | 15 - 20 Days |
Item Description
The Great Mr Handel VHS Video Tape Movie
Description



This listing is for The Great Mr Handel VHS Video Tape Movie.

Actors: Wilfrid Lawson, Elizabeth Allan, Malcolm Keen, Michael Shepley, Max Kirby
Directors: Norman Walker
Writers: Gerald Elliott, L. du Garde Peach, Victor MacLure
Producers: James B. Sloan
Format: Color, NTSC
Number of tapes: 1
VHS Release Date: June 1, 1942
Run Time: 110 minutes

George Frederick Handel (Wilfred Lawson) had long enjoyed success in England, his adopted country, as a composer of Italian operas. By 1738, when the story commences, his works are no longer fashionable and his fortunes are waning. Yet he will not pander to fashion, nor the establishment, nor even to royalty. Deliberately returning insulting behaviour by the foppish Frederick, Prince of Wales, the Prince's circle sabotages all attempts at public performance of Handel's works. For three years his oppression continues. After a long illness, the libretto of an oratorio entitled 'Messiah' is put into his hands. Handel's long sense that he has yet greater works within him is fulfilled as he works night and day to complete the great masterpiece, which would have its first performance in Dublin. In the final scene of the film, at a performance in London, King George II rises to his feet during the Alleluia Chorus - no-one should sit to such music in praise of God, and no English audience has done so since.

This film, whilst paying fulsome tribute to the composer, yet reflects the concerns of wartime Britain. The country has been isolated, thrown back on its own resources and its own traditions. Churchill leads a coalition government - only as one nation might Britain endure, and the society that had brought the sufferings of the First World War and the great depression must be transformed. It seems odd to find such concerns so central to the film biography of an eighteenth century composer. But so they are, not obviously nor crassly, but in the character of Handel.

No respect is shown by Handel, nor the film-makers, for Prince Frederick and his toadying, malevolent court. His respect is, though, given to the soprano, Mrs Cibber (Elizabeth Allan), with whom he enjoys a refreshingly warm and spontaneous relationship. Handel's relationships with those lower in the social scale are also positive and approved: the mutual warmth and informality with his manservant, Phineas (Hay Petrie); his rescue of the orphaned Kytsch brothers; even the invitation of his tradesmen-creditors to an impromptu recital. Likewise he is shown taking musical ideas from the cries of the street sellers, and the ordinary people in the streets accord him an attentiveness of hearing and concern for his welfare that contrasts with the indifference of fashionable London. These social concerns are, in large measure, anachronistic, but it is the integrity of the film that matters, not its accuracy as biography, nor as a social history of Handel's times.

Despite its roots in the secular theatre, the treatment of Handel's music is, from the start, theological. The composer finds his gifts in God and their fruits are dedicated to his glory. The beauty of the music is transcendent and, during his feverish, inspired, composition of 'Messiah' Handel is transported with a sense of worship and glory.

The film is shot in wonderful Technicolor, by Claude Friese-Green and Jack Cardiff, emphasising a subtle range of blues, reds and pinks. The sets are rather stagey, but this seems intentional. So many of the scenes are firmly framed, shot through doors and archways, or with strong architectural lines around them. They appear almost as a succession of painted conversation pieces so typical of eighteenth century English painters, some even as still-lives, some as appearing within the proscenium of a theatre. This is most obvious in the succession of religious visions that Handel experiences in the night-time, as he looks up from his desk as he is writing Messiah. Through the night-time window the biblical scenes are presented to him, the first most magical of all, as Handel holds up his candle and it lights the star that will guide the Magi.

Wilfred Lawson, despite a constant struggle to avoid hamming, mysteriously turns in a performance as moving and brilliant as the part requires. Elizabeth Allan and Hay Petrie are each completely convincing in their important supporting roles, as are the rest of the cast. This is a surprising miracle of a film, low-key in a characteristically British way, it looks back to a great ikon of Britain's past and explores the issues that would determine its future for the next fifty years, and beyond. This is not Norman Walker's only masterpiece, but it is as great as any. Norman Walker brings the story of the creation of Handel's Messiah to the screen, in one of the first British films to be shot in Technicolour. The film was made to celebrate the 200th anniversary of Handel's masterpiece and was released on video for the 250th.

Handel's Messiah has been a favorite of millions of people for centuries. It has been sung and performed all over the globe, especially during the Christmas and Easter seasons. This movie tells the story behind the writing of that masterpiece. The first two thirds sets the context of the man and his struggles. Then most of last third is spent showing what it may have been like to compose that immortal work of art. At the end there was a short segment of the grand performance of the Hallelujah Chorus.

Out of personal hardships and illness came this amazing work that has endured. A few other people played a huge role in bringing this to past. There is an indication of how his personal fellowship with God influenced him during this creative process. Plus the period costumes and antique like sets give a beautiful visual history lesson.

Please see our other listings as we have many related items and various other treasures you may be interested in!!! I do combine winning auctions for savings on shipping and try to keep shipping charges as close to accurate as possible. Thanks for visiting our listings and especially for bidding!!!





PLEASE DISREGARD EBAY 'S DATABASE RESULTS ON BOOKS AS THEY ARE OFTEN INCORRECT EDITIONS OR VERSIONS. I PROVIDE THE DETAILS REGARDING EACH ITEM IN THE ITEM DESCRIPTION. PLEASE READ THIS INFORMATION THAT I PROVIDE BEFORE PURCHASING.

We try to describe the items details as accurately as possible. However, if you are completely unsatisfied, you may return the item for a refund (this would be the cost of your purchase, not for any shipping costs). You must notify us within 14 days of receiving the item, ship them back to us at your own cost, and it must arrive in the condition that we have sent it to you. Return Shipping costs are non-refundable. Upon receipt of the items received, we will promptly refund your money. If you do encounter a problem, please contact us to let us know, so that we can try to work things out first. Thanks! Once again, please be advised international buyers, custom forms will be filled out correctly and you are responsible for duties, taxes, and the such related to your purchase and shipment of your package. Delays thru customs are out of our control, and your package may take several weeks or longer in some cases, to arrive depending where its going to. Please be patient awaiting for your package to arrive, thanks! Also returns must be returned postmarked no later than 14 days after received.

I have included picture/pictures of this item and all pictures are of the item(s) you will be receiving (we dont use stock photos unless eBay inserts them in on us), but if for some reason you are unable to view it, please email me and I will be happy to email them to you. Please check out my other listings as I usually have related items listed and will combine shipping to save costs for you! Thanks for stopping by and purchase with confidence!

Grading/Condition Definitions: We are not experts by any means in anything we sell. Most of our stuff is used unless otherwise noted. That being said, grading or condition is a subjective matter. I try to be conservative in my description and grading/condition details so that you get better than you expect, but as the saying goes, "You can't please ALL the people ALL the time!" If you are super particular about condition either ASK A QUESTION BEFORE PURCHASE or move on to someone else (neither of us need the headaches). Bottomline, I try to insure that what's listed is something I would want in my collection and of good/fair quality, otherwise, I wont sell it. Ultimately, if you're not satisfied, see the return policy above!


PLEASE FEEL FREE TO CONTACT ME WITH ANY QUESTIONS!



for more great items!




Payment
PAYPAL is accepted. Payment is expected within 5 days of closed auction. PLEASE MAKE SURE YOUR PAYPAL ADDRESS IS CORRECT, that you are not using 2 different last names, or two different addresses. Please make sure your Ebay and Paypal addresses match. We do offer combined shipping for multiple lots, so IF YOU ARE PURCHASING MORE THAN ONE ITEM, PLEASE LET US KNOW ...and wait for us to send you an invoice with a combined total and a combined shipping total. DO NOT SEND 2 PAYMENTS...Paypal charges us a transaction fee on each payment you send, so only 1 payment for the combined items will be accepted. You are responsible for sending the correct amount, so pay close attention that you are sending the correct amount. Overpayments will not be refunded...it takes too long to recalculate, refund payments and start from square one.
Shipping
Buyer to pay shipping. I offer combined shipping. By default, I ship to the confirmed PAYPAL address (if thats how you pay) unless otherwise instructed. Actual shipping may vary from what item states, but we try to keep it as close as possible. It could be less or more, based on weight of item and distance it's gotta travel! I try my best to keep your shipping costs very reasonable! Combine multiple items for savings on shipping costs! PLEASE DO NOT SEND PAYMENT UNTIL YOUR TOTAL IS GIVEN FOR MULTI-ITEM PURCHASES.
For international buyers, if I have not included a shipping charge in my item, please feel free to email us for an international shipping quote by using the Ask Seller Question feature. INTERNATIONAL BUYERS SHOULD WAIT FOR AN INVOICE AS SHIPPING CHARGES VARY PER COUNTRY AND SHIPPING MAY BE LESS THAN ACTUALLY LISTED ON EBAY!!! International buyers, please understand that all customs forms will be filled out properly. Please also be advised that your package may be delayed thru customs and it is common for packages to take several weeks to arrive. Just because you received a package from a different ebay seller in no time flat, ours may not arrive as quickly....and this is not in our control. You are responsible for all fees associated with delivery and purchase of your item such as taxes and the such.
txzj pxzj229 txzj-4 txzj1
Recent Reviews
Recent Questions & Answers
How long is shipping to Ashburn, VA?
Answer:
Approximately 15 - 20 Days
What is your best price for this item?
Answer:
The lowest price I accepted including shipping
$10.64
Buy Now
The Great Mr Handel VHS Video Tape Movie