Add to Cart
THE ADVENTURES OF PHILIP MARLOWE - OLD TIME RADIO - 3 C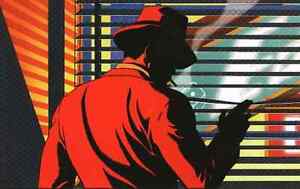 Free Shipping
Buy with Confidence
Accepted Secure Payment Options
Need help buying?
Item Information
| | |
| --- | --- |
| Estimated Shipping | 15 - 20 Days |
Item Description
THE ADVENTURES OF PHILIP MARLOWE - US & BRITISH SHOWS
OLD TIME RADIO - 3 CD - 130 mp3 - Total Playtime: 65:38:45
Philip Marlowe is a fictional character created by Raymond Chandler in a series of novels including The Big Sleep and The Long Goodbye. Marlowe first appeared, under that name, in The Big Sleep, published in 1939. Chandler's early short stories, published in pulp magazines like Black Mask and Dime Detective, featured essentially identical characters with names like "Carmady" and "John Dalmas." Some of those short stories were later combined and expanded into novels featuring Marlowe, a process Chandler called "cannibalizing." When the non-cannibalized stories were republished years later in the short story collection The Simple Art of Murder, Chandler changed the names of the protagonists to Philip Marlowe.
Philip Marlowe's character is foremost within the genre of hardboiled crime fiction that originated in the 1920s, most notably in Black Mask magazine, in which Dashiell Hammett's The Continental Op and Sam Spade first appeared.

Underneath the wisecracking, hard drinking, tough private eye, Marlowe is quietly contemplative and philosophical, and enjoys chess and poetry. While he is not afraid to risk physical harm, he does not dish out violence merely to settle scores. Morally upright, he is not fooled by the genre's usual femmes fatale, such as Carmen Sternwood in The Big Sleep.

Chandler's treatment of the detective novel exhibits a continuing effort to develop the art form. His first full length book, The Big Sleep, was published when Chandler was 51; his last, Playback, at 70. All eight novels were produced in the last two decades of his life.
In a letter to D. J. Ibberson, written 19 April 1951, Chandler noted among other things that Marlowe is 38 years old and was born in Santa Rosa, California. He had a couple of years at college and some experience as an investigator for an insurance company and the district attorney's office of Los Angeles County; he was fired from the D.A.'s office for insubordination (or, as Marlowe put it, "talking back"). The D.A.'s chief investigator, Bernie Ohls, is a friend and former colleague, and a source of information for Marlowe within law enforcement.

Marlowe is slightly over six feet (about 185 centimetres) tall and weighs about 190 pounds (86 kilograms). He lives at the Hobart Arms, on Franklin Ave. near N. Kenmore Ave. His office is two miles away at #615 on the 6th floor of the Cahuenga Building, which is located on Hollywood Boulevard near Ivar. North Ivar Avenue is between North Cahuenga Boulevard to the west and Vine Street to the east. The office telephone number is GLenview 7537. Marlowe's office is modest and he doesn't have a secretary (unlike his contemporary, Sam Spade). He generally refuses to take divorce cases.

He smokes and prefers Camels. At home, he sometimes smokes a pipe. An adept chess player, he almost exclusively plays against himself.

He drinks whiskey or brandy frequently and in relatively large quantities. For example, in The High Window, he gets out a bottle of Four Roses, and pours glasses of the blended American whiskey for himself, for Det. Lt. Breeze and for Spangler. At other times he is drinking Old Forester, a Kentucky bourbon: "I hung up and fed myself a slug of Old Forester to brace my nerves for the interview. As I was inhaling it I heard her steps tripping along the corridor." (The Little Sister)

Marlowe is adept at using liquor to loosen the tongues of people from whom he needs to extract information. An example is in The High Window, when Marlowe finally persuades the detective-lieutenant, whose "solid old face was lined and grey with fatigue", to take a drink and thereby loosen up and give out. "Breeze looked at me very steadily. Then he sighed. Then he picked the glass up and tasted it and sighed again and shook his head sideways with a half smile; the way a man does when you give him a drink and he needs it very badly and it is just right and the first swallow is like a peek into a cleaner, sunnier, brighter world." See also Marlowe's interrogation of Jessie Florian in Farewell My Lovely.

He makes good coffee, eschewing the use of filters (see Farewell My Lovely). He takes his coffee with cream in the mornings, but has it black at other times.

At the time of writing he was probably carrying a 9x19mm Parabellum Luger P08 pistol, but switched to a .32 ACP Colt Model 1903 Pocket Hammerless, then to a .38 Special Smith & Wesson Model 10 [1]. Phillip Marlowe also carried a Model 1911 semi-automatic pistol chambered in .38 Super in the book The High Window.
PHILIP MARLOWE INTERPRETERS:
June 17, 1947 - Sept 9, 1947 Van Heflin
Sept 26, 1948 - Sept 29, 1950 Gerald Mohr
April 11, 1950 - William Conrad (One Episode)
July 7, 1951 - Sept 15, 1951 Gerald Mohr

SHOWS LIST
Disc 1
Philip Marlowe 47-06-12 000 Who Shot Waldo
Philip Marlowe 47-06-17 001 Red Wind
Philip Marlowe 47-07-01 003 The Daring Young Dame on the Flying Trapeze
Philip Marlowe 47-07-08 004 The King in Yellow
Philip Marlowe 47-08-05 008 Trouble Is My Business
Philip Marlowe 47-08-19 010 Robin and the Hood
Philip Marlowe 48-09-26 001 Red Wind
Philip Marlowe 48-10-03 002 The Persian Slippers
Philip Marlowe 48-10-10 003 The Panama Hat
Philip Marlowe 48-10-17 004 Where Theres a Will
Philip Marlowe 48-10-24 005 The Heart of Gold
Philip Marlowe 48-11-28 010 The Hard Way Out
Philip Marlowe 48-12-26 014 The Old Acquaintance
Philip Marlowe 49-01-08 015 The Restless Day
Philip Marlowe 49-01-15 016 The Black Halo
Philip Marlowe 49-01-22 017 The Orange Dog
Philip Marlowe 49-01-29 018 The Easy Mark
Philip Marlowe 49-02-05 019 The Long Rope
Philip Marlowe 49-02-12 020 The Lonesome Reunion
Philip Marlowe 49-03-05 023 The Friend from Detroit
Philip Marlowe 49-03-12 024 The Grim Hunters
Philip Marlowe 49-03-19 025 The Dancing Hands
Philip Marlowe 49-03-26 026 The Green Flame
Philip Marlowe 49-04-02 027 The Last Laugh
Philip Marlowe 49-04-09 028 The Name to Remember
Philip Marlowe 49-04-16 029 The Heat Wave
Philip Marlowe 49-04-23 030 The Cloak of Kamehameha
Philip Marlowe 49-04-30 031 The Lady in Mink
Philip Marlowe 49-05-07 032 The Feminine Touch
Philip Marlowe 49-05-14 033 The Promise to Pay
Philip Marlowe 49-05-21 034 Night Tide
Philip Marlowe 49-05-28 035 The Ebony Link
Philip Marlowe 49-06-04 036 The Unfair Lady
Philip Marlowe 49-06-11 037 The Pigeons Blood
Philip Marlowe 49-06-18 038 The Busy Body
Philip Marlowe 49-06-25 039 The Key Man
Philip Marlowe 49-07-02 040 The Dude from Manhattan
Philip Marlowe 49-07-16 042 The Headless Peacock
Philip Marlowe 49-07-30 043 Mexican Boat Ride
Philip Marlowe 49-08-06 044 The August Lion
Philip Marlowe 49-08-13 045 The Indian Giver
Philip Marlowe 49-08-20 046 The Lady Killer
Philip Marlowe 49-08-27 047 The Eager Witness
Philip Marlowe 49-09-03 048 The Bums Rush
Philip Marlowe 49-09-10 049 The Rustin Hickory
Philip Marlowe 49-09-17 050 The Baton Sinister
Philip Marlowe 49-09-24 051 The Fatted Calf
Philip Marlowe 49-10-01 052 The Tale of the Mermaid
Philip Marlowe 49-10-08 053 The Open Window
Philip Marlowe 49-10-15 054 The Strangle Hold
Philip Marlowe 49-10-22 055 The Smokeout
Disc 2
Philip Marlowe 49-10-29 056 The Green Witch
Philip Marlowe 49-11-05 057 The Fine Italian Hand
Philip Marlowe 49-11-12 058 The Gorgeous Lyre
Philip Marlowe 49-11-26 060 The Birds on the Wing
Philip Marlowe 49-12-03 061 The Kid on the Corner
Philip Marlowe 49-12-10 062 The Little Wishbone
Philip Marlowe 49-12-24 064 Carol's Christmas
Philip Marlowe 49-12-31 065 The House That Jacqueline Built
Philip Marlowe 50-01-07 066 The Torch Carriers
Philip Marlowe 50-01-14 067 The Covered Bridge
Philip Marlowe 50-01-21 068 The Bid for Freedom
Philip Marlowe 50-01-28 069 The Hairpin Turn
Philip Marlowe 50-02-07 070 The Long Arm
Philip Marlowe 50-02-14 071 The Grim Echo
Philip Marlowe 50-02-21 072 The Ladies Night
Philip Marlowe 50-02-28 073 The Big Step
Philip Marlowe 50-03-07 074 The Monkeys Uncle
Philip Marlowe 50-03-14 075 The Vital Statistic
Philip Marlowe 50-03-21 076 The Deep Shadow
Philip Marlowe 50-03-28 077 The Sword of Cebu
Philip Marlowe 50-04-04 078 The Man on the Roof
Philip Marlowe 50-04-11 079 The Anniversary Gift
Philip Marlowe 50-04-18 080 The Angry Eagle
Philip Marlowe 50-04-25 081 The High Collared Cape
Philip Marlowe 50-05-02 082 The Sea Horse Jockey
Philip Marlowe 50-05-09 083 The Hiding Place
Philip Marlowe 50-05-16 084 The Cloak of Kamehameha
Philip Marlowe 50-05-23 085 The Foxs Tail
Philip Marlowe 50-05-30 086 The Bedside Manners
Philip Marlowe 50-06-06 087 The Uneasy Head
Philip Marlowe 50-06-14 088 Face to Forget
Philip Marlowe 50-06-21 089 The Gold Cobra
Philip Marlowe 50-06-28 090 The Pelicans Roost
Philip Marlowe 50-07-05 091 The Girl from Pitchfork Corners
Philip Marlowe 50-07-12 092 The Iron Coffin
Philip Marlowe 50-07-19 093 The Last Wish
Philip Marlowe 50-07-28 094 The Glass Donkey
Philip Marlowe 50-08-04 095 The Parrots Bed
Philip Marlowe 50-08-11 096 The Quiet Magpie
Philip Marlowe 50-08-18 097 The Dark Tunnel
Philip Marlowe 50-08-25 098 The Collectors Item
Philip Marlowe 50-09-01 099 The Soft Spot
Philip Marlowe 50-09-08 100 The Fifth Mask
Philip Marlowe 50-09-15 101 The Final Payment
Philip Marlowe 50-09-22 102 The White Carnation
Philip Marlowe 50-09-29 103 The Big Book
Philip Marlowe 51-07-07 104 A Seaside Sabbatical
Philip Marlowe 51-07-14 105 The Dear Dead Days
Philip Marlowe 51-07-21 106 Life Can Be Murder
Philip Marlowe 51-07-28 107 The Good Neighbor Policy
Philip Marlowe 51-08-04 108 The Long Way Home
Philip Marlowe 51-08-18 110 The Young Mans Fancy
Philip Marlowe 51-08-25 111 Heir for G-String
Philip Marlowe 51-09-01 112 Nether Nether Land
Philip Marlowe 51-09-08 113 The Medium Was Rare
Philip Marlowe 51-09-15 114 Sound and the Unsound
EXTRAS:
Disc 3
Philip Marlowe 51-08-23 111 Heir for G-String rehearsal
Philip Marlowe 51-08-30 112 Nether Nether Land rehearsal
British Radio 00-03-07 Down the Mean Streets
British Radio 77-09-26 - 01 The Big Sleep 1
British Radio 77-09-26 - 01 The Big sleep 2
British Radio 77-09-26 - 01 The Big Sleep 3
British Radio 77-10-17 - 02 The High Window 1
British Radio 77-10-17 - 02 The High Window 2
British Radio 77-11-07 - 03 Lady in the Lake 1
British Radio 77-11-07 - 03 Lady in the Lake 2
British Radio 77-11-07 - 03 Lady in the Lake 3
British Radio 77-12-05 - 04 The Little Sister 1
British Radio 77-12-05 - 04 The Little Sister 2
British Radio 77-12-05 - 04 The Little Sister 3
British Radio 78-01-16 - 05 The Long Goodbye 1
British Radio 78-01-16 - 05 The Long Goodbye 2
British Radio 78-01-16 - 05 The Long Goodbye 3
British Radio 88-09-03 - 06 Farewell My Lovely 1
British Radio 88-09-03 - 06 Farewell My Lovely 2
Hollywood Startime 46-06-08 Murder My Sweet
Lux Radio Theater 45-06-11 Murder My Sweet
Lux Radio Theater 48-02-09 The Lady in the Lake
Suspense Theater 48-01-10 The Kandy Tooth
Be Aware: MP3 CD WILL NOT PLAY IN REGULAR CD PLAYERS.
Mp3 CD will play in mp3 CD players and car mp3 CD players.
You can, also, upload the mp3 files to your ipod or itunes.
Will, also, play in your computer, some regular DVD players and all Blu Ray Players.
PUBLIC DOMAIN NOTE
This item is the public domain and was created between January 1, 1923 and December 31, 1971
This item is in the public domain due to failure to comply with required formalities
After a careful search of the Library of Congress and the United States Trademark and Patent Office, it has been determined that the programs listed for sale here are in the Public Domain. They are being offered with the understanding that no valid or active copyright, trademark, and/or patent exist for them. These recordings are sold for private home listening and use only. No broadcast rights are stated, implied, or given. I assume no responsibility for unauthorized use of these programs. They are listed in accordance with current Ebay policies concerning selling Public Domain materials.

Recent Reviews
Recent Questions & Answers
How long is shipping to Ashburn, VA?
Answer:
Approximately 15 - 20 Days
What is your best price for this item?
Answer:
The lowest price I accepted including shipping
$26.99
Buy Now
THE ADVENTURES OF PHILIP MARLOWE - OLD TIME RADIO - 3 C