Add to Cart
Sportscaster Cards 1978 , Deck # 88 , Cards # 1-24 , ER
Free Shipping
$124.86
Shipping Included
Buy with Confidence
Accepted Secure Payment Options
Need help buying?
Seller Information:
chaslo
View seller's other items
Item Information
| | |
| --- | --- |
| Condition | Like New |
| Estimated Shipping | 15 - 20 Days |
Item Description
Sportscaster Cards Various Decks , Sportscaster Cards 1978 , Deck # 88 , Cards # 1-24 , ERNIE DAVIS , Dave Winfield , Ion Tirige
SPORTSCASTER CARDS by EDITIONS RENCONTRE 1977-1979 Card Size: 4 11/16 x 6 1/4" # of Decks: 91 # of cards per deck: 24 Total number of cards: 2,184 Storage that was included
with subscription: Plastic Trays This set of subscription cards is well-known in the sports card world as Sportscaster cards and are well-documented by Beckett sports publications among
others and is most likely the largest multi-sport card set of all-time. (Also known as Focus on Sports Cards) The cards were available in several languages, English being the best known and
the English cards are all copyrighted 1977, 1978 or 1979 Editions Rencontre S.A. Lausanne. On top of the cards being made in several languages, the English set was printed both in Italy and
Japan, and most cards have a version of each, and there is a European and a North American version of the English set. Cards measure 4 11/16 x 6 1/4 inches (12 x 16 cm). This card set
covers all aspects of sports including Track and Field, Baseball, Football, Soccer, Basketball, Hockey, Olympics, Beyond Sports (important places, events and people beyond the actual
playing
field), Karate and other martial arts, Nordic Skiing, Alpine Skiing, Figure Skating, Speed Skating, Diving, Cricket, Tennis, Golf, Boxing, Cycling, Auto and Motorcycle racing cars and
Rugby, Australian Rules Football, Gymnastics, Horse Racing and Equestrian sports, Sculling, Yachting, Table Tennis, historical sports and so much more! These cards were never available as
a retail set, only by subscribing could you accumulate these cards and they have all been out-of-print since 1979. There are 91 decks with 24 cards in each deck for a total of 2,184 cards and
the decks are numbered 1-88 and 101-103 skipping 89-100 (they do not exist). Decks 56 and up are short-printed and are progressively scarcer with cards from decks 101-103 being the
hardest to find. Some key cards include Wayne Gretzky, Larry Bird, Magic Johnson and Steve Prefontaine.
This Sale Is For Sportscaster Cards 1978 , Deck # 88 , Cards # 1-24 , ERNIE DAVIS , Dave Winfield , Ion Tirige . All Cards Are In Near Mint Condition

Recent Reviews
Recent Questions & Answers
How long is shipping to Ashburn, VA?
Answer:
Approximately 15 - 20 Days
What is your best price for this item?
Answer:
The lowest price I accepted including shipping
$124.86
Buy Now
Sportscaster Cards 1978 , Deck # 88 , Cards # 1-24 , ER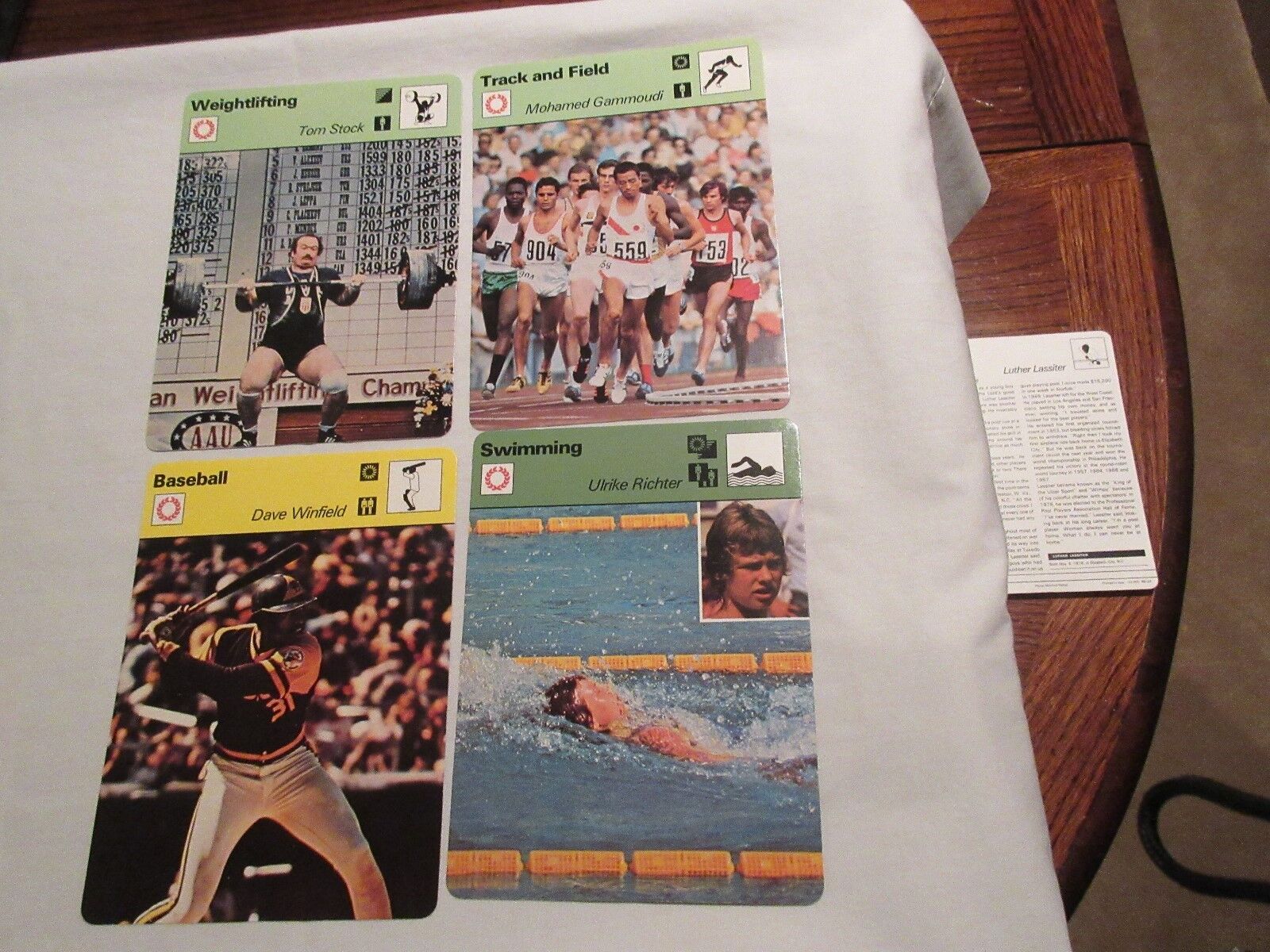 $124.86
Shipping Included