Add to Cart
Sony HF600 Audio Cassette Tape High Fidelity Normal Bia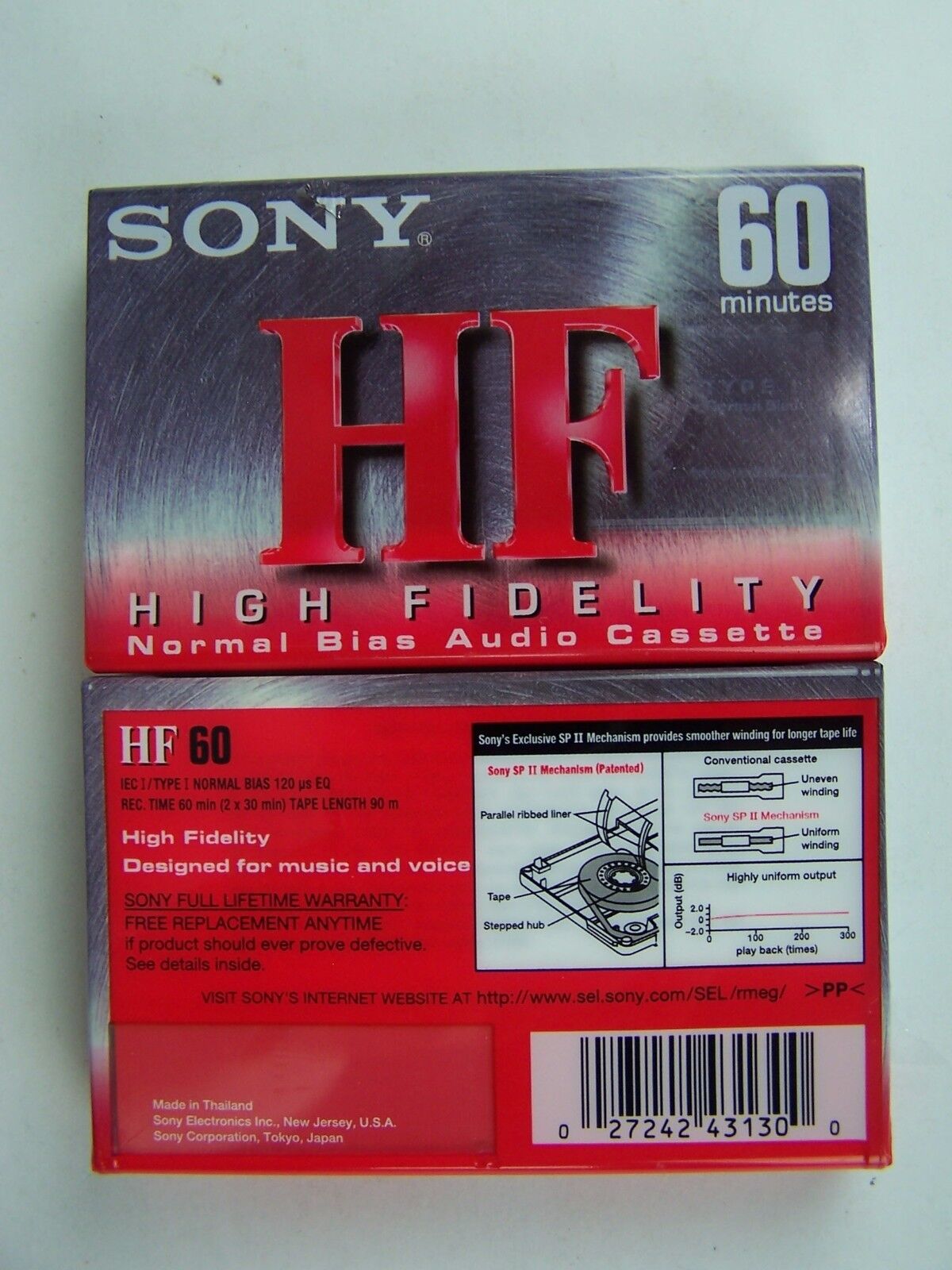 Free Shipping
Buy with Confidence
Accepted Secure Payment Options
Need help buying?
Seller Information:
kokomousse
View seller's other items
Item Information
| | |
| --- | --- |
| Cassette condition | Excellent (Ex) |
| Condition | Very Good |
| Record label | Audio Fidelity |
| Estimated Shipping | 15 - 20 Days |
Item Description
This listing is for Sony HF600 Audio Cassette Tape High Fidelity Normal Bias Position 60 Minute Blank 2 Pack.
60 Minute Recording Time (2 x 30 Min sides)
Type IEC I, Position Normal BIAS 120 us EQ
New / sealed 2 individual tapes of Sony 60 Minute High Fidelity Normal Position Type IEC I cassette tapes. The Compact Cassette or Musicassette (MC), also commonly called cassette tape, audio cassette, or simply tape or cassette, is a magnetic tape recording format for audio recording and playback released by Philips in 1962, developed in Hasselt, Belgium. Compact cassettes come in two forms, either already containing content as a pre-recorded cassette, or as a fully recordable "blank" cassette. It was designed originally for dictation machines, but improvements in fidelity led the Compact Cassette to supplant the Stereo 8-track cartridge and reel-to-reel tape recording in most non-professional applications. Its uses ranged from portable audio to home recording to data storage for early microcomputers. The first cassette player (although mono) designed for use in car dashes was introduced in 1968. Between the early 1970s and the early 2000s, the cassette was one of the two most common formats for prerecorded music, first alongside the LP record and later the compact disc (CD).
Compact Cassettes contain two miniature spools, between which a magnetically coated, polyester-type plastic film is passed and wound. These spools and their attendant parts are held inside a protective plastic shell. Two stereo pairs of tracks (four total) or two monaural analog audio tracks are available on the tape; one stereo pair or one monophonic track is played or recorded when the tape is moving in one direction and the second (pair) when moving in the other direction. This reversal is achieved either by manually flipping the cassette, or by having the machine itself change the direction of tape movement and head respectively ("auto-reverse").
Please see our other listings as we have many related items and various other treasures you may be interested in!!! I do combine winning auctions for savings on shipping and try to keep shipping charges as close to accurate as possible. Thanks for visiting our listings and especially for bidding!!
Recent Reviews
Recent Questions & Answers
How long is shipping to ?
Answer:
Approximately 15 - 20 Days
What is your best price for this item?
Answer:
The lowest price I accepted including shipping
$10.64
Buy Now
Sony HF600 Audio Cassette Tape High Fidelity Normal Bia