Add to Cart
Pop Impressions Europe/USA: Prints and Multiples from t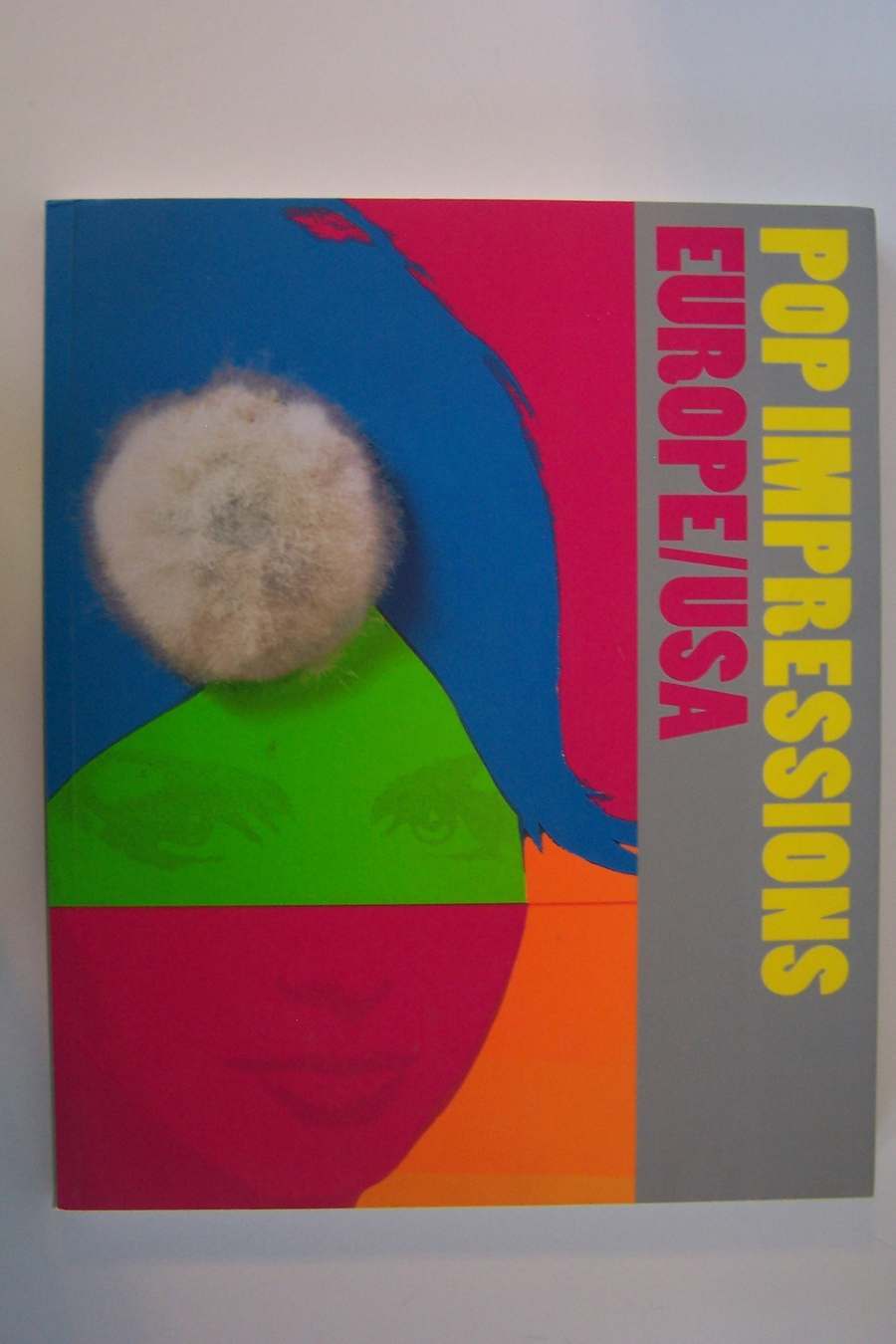 Free Shipping
Buy with Confidence
Accepted Secure Payment Options
Need help buying?
Seller Information:
kokomousse
View seller's other items
Item Information
| | |
| --- | --- |
| Condition | Very Good |
| Format | Paperback |
| Special attributes | Illustrated |
| Subject | Art &Amp; Photography |
| Topic | Graphic Arts |
| Estimated Shipping | 15 - 20 Days |
Item Description
Pop Impressions Europe/USA: Prints and Multiples from the Museum of Modern Art Paperback
Description



This listing is for Pop Impressions Europe/USA: Prints and Multiples from the Museum of Modern Art Paperback.

Paperback: 136 pages
Publisher: Museum of Modern Art; First Edition edition (March 1999)
Language: English
ISBN-10: 0810961954
ISBN-13: 978-0810961951

From the early 1960s through the early 70s, Pop Art swept the industrialized world. Iconoclastic, rebellious, and immediately popular, the new movement found its roots in an unprecedentedly prosperous consumer society. Encouraged by galleries and publishers who catered to a new collectors' market, many Pop artists were drawn to the creation of editions on paper and in multiples. 60 vibrant examples by such American icons as Andy Warhol and Roy Lichtenstein, and by such European artists as Richard Hamilton, Niki de Saint Phalle, Gerhard Richter, Eduardo Paolozzi, and Sigmar Polke, are organized according to the themes of mass media consumer culture, politics, erotica and more. All of the works included herein are from The Prints and Illustrated Books Collection at The Museum of Modern Art, New York, an exceptionally rich repository of such work.

Born in France in 1928, Arman was a founding member, along with artists such as longtime friend Yves Kein and Jean Tinguely, of the Nouveaux Realistes group, in 1960. He has had solo exhibitions at major institutions worldwide, including in the United States at the Walker Art Center and the La Jolla Museum of Contemporary Art. He lives in New York.

Jim Dine was born in Cincinnati in 1935 and made his entrance into the New York art world in the late 1950s. His paintings, drawings, photographs and sculpture have since been shown at the Walker Art Center, Minneapolis and the Whitney Museum of American Art and the Guggenheim Museum, New York. Dine has taught art at Yale, Oberlin and Cornell.

Richard Hamilton was born in London in 1922. He studied painting and technical drawing at art schools in Londa throughout the 30s and 40s, and had his first one-man exhibition at Gimpel Fils in 1950. A founding member of the Independent Group, he organized numerous exhibitions and collaborated with such artists as Marcel Duchamp and Dieter Roth. A first, small retrospective of Hamilton's oeuvre was held in 1974 at the Guggenheim Museum, New York; a more comprehensive one was mounted in 1979 at the Tate Gallery.

Jasper Johns was born in 1930 in South Carolina, where he grew up wanting to be an artist. Emerging in the late 50s as a force in the American art scene, his richly worked paintings of maps, flags, and targets led the artistic community away from abstract expressionism toward a new emphasis on the concrete, paving the way for Pop Art and minimalism. The artist lives and works in New York.

One of the most beloved of American pop artists, Roy Lichtenstein was born in 1923 in New York, and studied there at the Art Students League and later at Ohio State University, during which he completed a three-year tour of duty in the army. His early work was based on American genre and history painting, and took on Cubist and Expressionist styles. His first proto-Pop work was created in 1956; his first pop 'Brushstroke' painting appeared in 1965. Lichtenstein died in 1997.

Born into a diplomatic family in 1929 in Stockholm, Sweden, Claes Oldenburg lived in the United States and Norway before settling in Chicago in 1936, and becoming a citizen in 1953. He studied Literature and Art History at Yale University and Studio Art at the Art Institute of Chicago. In 1956, he moved to New York and met several artists making early Performance work, including George Brecht, Allan Kaprow, George Segal and Robert Whitman. Oldenburg soon became a prominent figure in Happenings and Performance art during the late 1950s and early 1960s. Over the past three decades, his work has been the subject of many solo exhibitions, including at The Museum of Modern Art, New York; the National Gallery of Art, Washington, D.C.; and the Solomon R. Guggenheim Museum, New York. Oldenburg lives in New York.

Sigmar Polke was born in Oels, Germany, in 1941, and studied at the State Academy of Art in D sseldorf. He first achieved recognition in 1963 when he began working in a witty and irreverent style he termed "Capitalist Realism"--often considered a more complex and political cousin to Anglo-American Pop Art. He has continued to create innovative and aesthetically impressive works through the present day. He has been the subject of solo exhibitions at such major museums as the Museum of Contemporary Art, Los Angeles; the San Francisco Museum of Modern Art; the MusEe de l'Art Moderne de la Ville de Paris; the Hirshhorn Museum and Sculpture Garden, Washington, D.C.; the Museum of Contemporary Art, Chicago; the Brooklyn Museum; the Stedelijk Museum, Amsterdam; the Walker Arts Center; and, in 1999, at The Museum of Modern Art, New York. He has been the recipient of the Venice Biennale's Golden Lion, the Erasmus award, and the Carnegie award. He lives and works in Cologne, Germany.

Mel Ramos was born in Sacramento, California, in 1935. His work has long been considered of the West Coast pop variety and has been exhibited in most major museums around the world.

Robert Rauschenberg was born in Port Arthur, Texas, in 1925. After studying in Paris on the G.I. Bill in his twenties, he returned to the U.S., pausing only to investigate the Black Mountain College art scene before taking on--and swiftly conquering--New York. He had his first solo show at Leo Castelli Gallery in his early thirties, and quickly went on to become one of the most important artists of the twentieth century. Rauschenberg is represented in every major museum collection, and many retrospective exhibitions of his work have toured the globe--including a thematic one at the Guggenheim Museum in 1997. In 1970, he moved to Captiva Island, off the Gulf Coast of Florida, where he still lives and works.

Gerhard Richter was born in 1932 in Dresden, Germany. Since the early 1960s he has emerged as one of the essential painters of the postwar period, pioneering photorealism with paintings made from found photographs (amateur snapshots, advertisements and book and magazine illustrations) and then from his own photographs. His work has also profoundly engaged with and influenced such genres as Pop and abstract art. A retrospective of Richter's work was shown in 2001 at The Museum of Modern Art, New York. The exhibition was one of the largest ever organized there for a living artist, and traveled to The Art Institute of Chicago, the San Francisco Museum of Modern Art and the Hirshhorn Museum in Washington, D.C.

James Rosenquist was born in 1933 at Grand Forks, North Dakota. His family moved to Minneapolis in 1944 and he began to study art four years later. In 1955 he won a scholarship to the Art Students' League in New York, where he first met Robert Indiana, Jasper Johns, Robert Rauschenberg and Claes Oldenburg. During his first years at the school he painted small-format abstract paintings and worked part-time as a driver. His next job saw him made head billboard painter at the ArtKraft -Strauss Corporation; around that same time he produced his pivotal large-scale work President Elect by combining J.F.K.'s face with sex and automobile imagery. The rest is Pop Art history: Rosenquist's first one-man exhibition in 1962 at the Green Gallery sold out. Three years later he made what has come to be considered one of his most important works, the 26-meter-long F-111. In 1968 he was given his first retrospective by the National Gallery of Canada.

Dieter Roth was born to a Swiss father and German mother in Hannover, Germany, in 1930, and was later sent out of Nazi Germany to live in Switzerland with foster parents. He received his training in graphic design in Bern, where he also became interested in avant-garde design and poetry. A despiser of routines, he moved often, living in places as remote from one another as Reykjavik, London, Basel, Hamburg and Providence, Rhode Island; in each of these places he created a new identity and used a variation of his birth name, Karl Dieter Roth, such as Dieter Roth, Diter Rot and Dieterrot. He died in 1998.

Ed Ruscha was born in 1937 in Omaha, Nebraska and grew up in Oklahoma City. In 1956 he moved to Los Angeles, where he attended the Chouinard Art Institute. His work has been the subject of exhibits at the Centre George Pompidou, Paris, the Walker Art Center, Minneapolis, and the J. Paul Getty Museum, Los Angeles.

George Segal (1924-2000) was born in New York and raised during the Great Depression on a poultry farm in New Jersey. Educated in New York (at Stuyvesant High School, Pratt, Cooper Union, and finally New York University), he joined the 10th Street scene as a young artist but also bought his own chicken farm with his wife Helen in the late 1940s. In 1956, Allan Kaprow chose the Segal farm as the site for his first Happening. It was in the late 1950s that Segal began to experiment with sculpture, ultimately casting his own body with plaster bandages. Though known as part of the Pop Art movement, Segal stayed close to the personal and human throughout his career. His work is in major museum collections throughout the United States and abroad.

Tom Wesselmann was born in 1931 in Cincinnati, Ohio. As an art student at New York's Cooper Union, Wesselman was a devotee of the Abstract Expressionists Willem de Kooning and Jackson Pollock. Realizing that Ab Ex had already been taken to its apex, Wesselman turned far away, to the artifacts of the everyday world, to Pop. He lives in New York.

"Wendy Weitman is curator in the department of prints and illustrated books at The Museum of Modern Art, New York."

Please see our other listings as we have many related items and various other treasures you may be interested in!!! I do combine winning auctions for savings on shipping and try to keep shipping charges as close to accurate as possible. Thanks for visiting our listings and especially for bidding!!!





PLEASE DISREGARD EBAY 'S DATABASE RESULTS ON BOOKS AS THEY ARE OFTEN INCORRECT EDITIONS OR VERSIONS. I PROVIDE THE DETAILS REGARDING EACH ITEM IN THE ITEM DESCRIPTION. PLEASE READ THIS INFORMATION THAT I PROVIDE BEFORE PURCHASING.

We try to describe the items details as accurately as possible. However, if you are completely unsatisfied, you may return the item for a refund (this would be the cost of your purchase, not for any shipping costs). You must notify us within 14 days of receiving the item, ship them back to us at your own cost, and it must arrive in the condition that we have sent it to you. Return Shipping costs are non-refundable. Upon receipt of the items received, we will promptly refund your money. If you do encounter a problem, please contact us to let us know, so that we can try to work things out first. Thanks! Once again, please be advised international buyers, custom forms will be filled out correctly and you are responsible for duties, taxes, and the such related to your purchase and shipment of your package. Delays thru customs are out of our control, and your package may take several weeks or longer in some cases, to arrive depending where its going to. Please be patient awaiting for your package to arrive, thanks! Also returns must be returned postmarked no later than 14 days after received.

I have included picture/pictures of this item and all pictures are of the item(s) you will be receiving (we dont use stock photos unless eBay inserts them in on us), but if for some reason you are unable to view it, please email me and I will be happy to email them to you. Please check out my other listings as I usually have related items listed and will combine shipping to save costs for you! Thanks for stopping by and purchase with confidence!

Grading/Condition Definitions: We are not experts by any means in anything we sell. Most of our stuff is used unless otherwise noted. That being said, grading or condition is a subjective matter. I try to be conservative in my description and grading/condition details so that you get better than you expect, but as the saying goes, "You can't please ALL the people ALL the time!" If you are super particular about condition either ASK A QUESTION BEFORE PURCHASE or move on to someone else (neither of us need the headaches). Bottomline, I try to insure that what's listed is something I would want in my collection and of good/fair quality, otherwise, I wont sell it. Ultimately, if you're not satisfied, see the return policy above!


PLEASE FEEL FREE TO CONTACT ME WITH ANY QUESTIONS!



for more great items!




Payment
PAYPAL is accepted. Payment is expected within 5 days of closed auction. PLEASE MAKE SURE YOUR PAYPAL ADDRESS IS CORRECT, that you are not using 2 different last names, or two different addresses. Please make sure your Ebay and Paypal addresses match. We do offer combined shipping for multiple lots, so IF YOU ARE PURCHASING MORE THAN ONE ITEM, PLEASE LET US KNOW ...and wait for us to send you an invoice with a combined total and a combined shipping total. DO NOT SEND 2 PAYMENTS...Paypal charges us a transaction fee on each payment you send, so only 1 payment for the combined items will be accepted. You are responsible for sending the correct amount, so pay close attention that you are sending the correct amount. Overpayments will not be refunded...it takes too long to recalculate, refund payments and start from square one.
Shipping
Buyer to pay shipping. I offer combined shipping. By default, I ship to the confirmed PAYPAL address (if thats how you pay) unless otherwise instructed. Actual shipping may vary from what item states, but we try to keep it as close as possible. It could be less or more, based on weight of item and distance it's gotta travel! I try my best to keep your shipping costs very reasonable! Combine multiple items for savings on shipping costs! PLEASE DO NOT SEND PAYMENT UNTIL YOUR TOTAL IS GIVEN FOR MULTI-ITEM PURCHASES.
For international buyers, if I have not included a shipping charge in my item, please feel free to email us for an international shipping quote by using the Ask Seller Question feature. INTERNATIONAL BUYERS SHOULD WAIT FOR AN INVOICE AS SHIPPING CHARGES VARY PER COUNTRY AND SHIPPING MAY BE LESS THAN ACTUALLY LISTED ON EBAY!!! International buyers, please understand that all customs forms will be filled out properly. Please also be advised that your package may be delayed thru customs and it is common for packages to take several weeks to arrive. Just because you received a package from a different ebay seller in no time flat, ours may not arrive as quickly....and this is not in our control. You are responsible for all fees associated with delivery and purchase of your item such as taxes and the such.
txzj pxzj229 txzj-4 txzj1
Recent Reviews
"Mint Card...Excellent Seller and Fast Shipment"
Sports Illustrated Sports Events Calendar
ncmfan - Oklahoma City, OK
(2 Purchases)
Is this review helpful?
Thanks for your feedback!
"As Descibed! THANKS!"
2 Walmart Pink Bunny Rabbits Easter stuffed plush anima
julierotter7 - Ladera Ranch, CA
(2 Purchases)
Is this review helpful?
Thanks for your feedback!
"Great transaction"
US 99.5 Live Country CD Volume 2
dlj4103 - Livermore, CA
(40 Purchases)
Is this review helpful?
Thanks for your feedback!
"I received my items in a timely manner. I am very happy with the purchase."
(2 Purchases)
Is this review helpful?
Thanks for your feedback!
"A+++ here. Been have computer trouble. Really great on everything. recommended."
World Series Baseball Records Books Dan Gutman 1973
thekingrocks - Topmost, KY
(15 Purchases)
Is this review helpful?
Thanks for your feedback!
"Thanks. It was a great video!"
Prince and The Revolution Live VHS Tape 1991
novascot73 - Spooner, WI
(28 Purchases)
Is this review helpful?
Thanks for your feedback!
"I would definitely make another purchase from this seller again."
The Secret by Rhonda Byrne
ciroc77 - Brookhaven , NY
(2 Purchases)
Is this review helpful?
Thanks for your feedback!
"fast shipping!! great communication!!! will do business again"
14 Carla Neggers Books Book lot suspense romance novels
rarapttech - Magnolia, MS
(42 Purchases)
Is this review helpful?
Thanks for your feedback!
"Prompt shipping and item quality as advertised. Happy with my purchase.Thank you!"
Kohls Cares for Kids Animal Planet Zebra plush animal
timanahaf - El Paso, TX
(1 Purchase)
Is this review helpful?
Thanks for your feedback!
"Very happy with items. Thank you!"
CSI Novels Vegas & New York Paperback Lot
lindsey932 - Canada
(13 Purchases)
Is this review helpful?
Thanks for your feedback!
Recent Questions & Answers
How long is shipping to ?
Answer:
Approximately 15 - 20 Days
What is your best price for this item?
Answer:
The lowest price I accepted including shipping
$25.46
Buy Now
Pop Impressions Europe/USA: Prints and Multiples from t