Item Description
Item Specifics - Item Condition
Condition:

New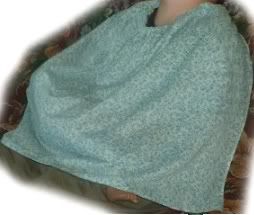 The cover up you will receive will be longer than this one. This one is actually the one my little daughters play with.
This is a life saver for anyone who is nursing. With my first baby, I used a receiving blanket. My son soon learned to pull the blanket off of my shoulder. I then tried an even bigger receiving blanket, but this didn't help. I also tried the cover up with the weighted flap that goes over your shoulder. This worked better, but my son could still pull it off, and if I needed to move, the drape would sometimes fall off. I searched the stores for the perfect cover up, or cape as my kids like to call it. I finally found one.
Unlike other privacy drapes, it was large enough to keep everything under cover, but still small enough to pack in even a small diaper bag. My baby could not lift up the bottom and expose me, and he could not pull it off. I could move about without worrying about it falling off (I tend to be rather restless and wiggle a lot, so this was good!) You can even stand up and nurse your baby while walking through the store without worrying about coming uncovered.
This is the only poncho I've seen that is big enough for a toddler. This drape slips over your head easily and quickly. No need to worry about tying, Velcro, or snaps like the other cover ups! My kids were impatient once they decided it was time to eat, so this was great! It is perfect for the first few days or weeks when you and baby are still getting the hang of nursing.
The neck is elastic so, you can pull it out and easily see what baby is doing. Or, do what I often ended up doing, simply pull it over your head, and help baby latch on. The cover up you will receive is made of a single layer of lightweight fabric, so baby and mom stay cool. From my experience I have found that babies nurse better if the cover up is not too heavy. I have chosen fabric that assures complete privacy.
Unfortunately, I lost my cover up at Disney's Animal Kingdom, much to my distress! (If anyone found a white seersucker with blue, yellow, pink, and green striped cover up, in the Orlando area, could you let me know? It has great sentimental value! I used it for all three of my kids.)
They no longer sell cover ups like I had, and I was not going to settle for something else. So, I decided to make one myself. I made a few changes and made it even better. Since I had such a hard time finding just the right privacy drape, I decided to make some to sell, and save someone the frustration I went through!
This makes a wonderful and thoughtful gift for any breastfeeding or pregnant mom.
Lightweight- Does not overheat Mommy or Baby
Generous Size 45" or 60" wide and 31" long- Long enough and wide enough to keep everything undercover. Makes those public feedings more relaxing, since you don't have to worry about being exposed
Still small enough to fit into a little diaper bag
Quick and Easy to Use- Elastic neck slips easily over head, no straps, velcro or snaps
Stays in place- Will not fall off
Machine Washable
Multi-Purpose: 

Car Seat / Stroller Cover
Lightweight Blanket
Emergency Burp Cloth  

Each one is carefully made by me especially for you, with well wishes for you and your baby sewn in. :-)

I am now making coverups for mothers who are tandem nursing twins! They are approximately twice as wide as the regular coverups. These will be $15 Please contact if you need more information.
This cover up is my own original design, do not copy.


I will make your cover up in your choice of the fabrics below. Please add a note to your Paypal payment or email me with the name of the fabric you would like.
I am pretty flexible, so if you have a special request, don't hesitate to ask, and I will see what I can do.
The  purple flowers  fabrics are wider than the others. This would be excellent for fuller figures, or those who want a little extra coverage.
I try to take the best possible pictures of my fabrics, but due to the variations of different computer monitors, some fabrics may be slightly lighter or darker than they appear on your screen.

Click on thumbnails to view a larger picture.



Description created using FreeForm Auction Description and Template Builder
---
---


00038