Add to Cart
Magik #1 Comic Book Storm and Illyana (1983)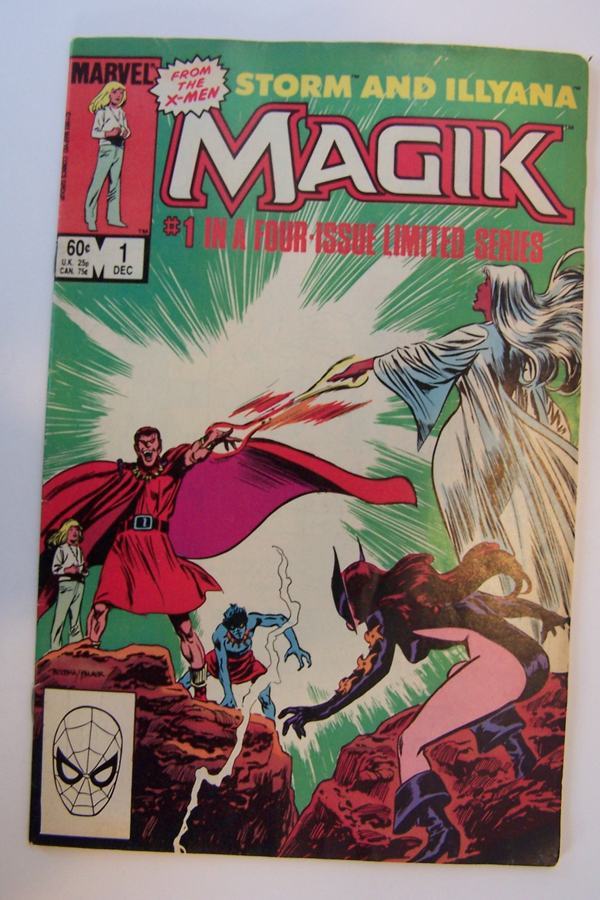 Free Shipping
Buy with Confidence
Accepted Secure Payment Options
Need help buying?
Seller Information:
kokomousse
View seller's other items
Item Information
| | |
| --- | --- |
| Condition | Good |
| Format | Paperback |
| Language | English |
| Special attributes | Illustrated |
| Subject | Fantasy |
| Estimated Shipping | 15 - 20 Days |
Item Description
Magik #1 Comic Book Storm and Illyana (1983)
Description



This auction is for a Comic Book Magik (1983) #1 Storm and Illyana.

Marvel: Dec 1983
Original cover price: $0.60
Chris Claremont script; John Buscema / Tom Palmer art

Magik was a four-issue comic book limited series published by Marvel Comics in 1983–1984, starring the fictional characters Magik and Storm. The series title is consistently displayed on the covers as Storm and Illyana: Magik, but the official title as listed in the indicia is the reverse: Magik: Illyana and Storm. It was written by Chris Claremont and illustrated by John Buscema, Ron Frenz, Sal Buscema, and Tom Palmer.

Plot:
Magik tells the story of Illyana Rasputin from a six-year-old child to a thirteen-year-old mutant/sorceress. The narrative is framed by Illyana reflecting on these events on her fourteenth birthday.
Belasco, demon lord of Limbo, wants to use Illyana to help the Elder Gods destroy Earth. To do this he has to place five bloodstones in a pentagon locket he has given to Illyana. When he first captures her at age six, he takes part of her soul and remakes it in his image, creating a bloodstone which he places in the locket. An elderly sorceress version of Storm (a former apprentice of Belasco) and an elderly, part beast version of Kitty Pryde (codenamed Cat) rescue Illyana. Storm transports them to her garden sanctuary in Limbo. Unable to remove Belasco's corruption from Illyana, Storm decides to help her combat it by taking her on as an apprentice. She spends a year showing Illyana how to separate her astral body from her physical form, while showing her a massive oak that grew from an acorn she created. Disapproving of Illyana being trained in sorcery, Cat kidnaps her.
Cat takes Illyana to a replica of the Savage Land in Limbo, where she trains her physically and teaches her to sword fight. They then storm Belasco's tower. It is protected by a corrupted version of Nightcrawler, whom Cat kills. Cat then attempts to use her phasing power to take her and Illyana to Earth, but Belasco intercepts them. Belasco turns Cat into a feline demon and gives Illyana a knife. Illyana cuts herself, and the blood forms the second bloodstone in the locket.
Illyana spends two years learning magic from Belasco, while secretly reading every book in his library, plotting his downfall. Alone in her room, she attempts to imitate the creation powers Storm showed her by forming an acorn from a part of herself, only to find the acorn is black and rotten. Hearing Belasco's voice outside her room, she panics, and her mutant power to create teleportational light discs manifests itself. Illyana uses a disc to enter Belasco's library, hoping to steal his grimoire, but Storm intervenes, accidentally sending her into another disc. She finds herself in the past, witnessing Storm "killing" Belasco, who claims to be immune to death while in Limbo; it is this act which binds Storm to Belasco. She teleports back to the present to find Storm battling Belasco. Cat fatally wounds Storm, then attacks Illyana. She kills Cat in self-defense. Belasco orders her to sacrifice Storm's soul to the Elder Gods. Instead, she kills Storm to save her soul and teleports to Storm's garden, where she buries her. Enraged by her defiance, Belasco captures Illyana, extracts another bloodstone from her essence, and casts her out into a wintery wilderness as punishment.
Illyana finds Storm's massive oak and spends years trying to use it to help create a living acorn from her essence, only to produce still more rotten acorns. When the oak finally crumbles to dust from her efforts, Illyana realizes that she was only trying to create life as a means to an end: destroying Belasco. She tries instead to manifest her desire directly, using the last of her power to create a "Soulsword". The enchantment that held her in Storm's garden is banished in the process and she takes a stepping disc to confront Belasco. While fighting Belasco she realizes she is replaying the same scene by which Storm was corrupted, so she spares his life and he escapes. She then uses a light circle to return to Earth, rejoining the X-Men seconds after she had left them.

Please see our other listings as we have many related items and various other treasures you may be interested in!!! I do combine winning auctions for savings on shipping and try to keep shipping charges as close to accurate as possible. Thanks for visiting our listings and especially for bidding!!!





PLEASE DISREGARD EBAY 'S DATABASE RESULTS ON BOOKS AS THEY ARE OFTEN INCORRECT EDITIONS OR VERSIONS. I PROVIDE THE DETAILS REGARDING EACH ITEM IN THE ITEM DESCRIPTION. PLEASE READ THIS INFORMATION THAT I PROVIDE BEFORE PURCHASING.

We try to describe the items details as accurately as possible. However, if you are completely unsatisfied, you may return the item for a refund (this would be the cost of your purchase, not for any shipping costs). You must notify us within 14 days of receiving the item, ship them back to us at your own cost, and it must arrive in the condition that we have sent it to you. Return Shipping costs are non-refundable. Upon receipt of the items received, we will promptly refund your money. If you do encounter a problem, please contact us to let us know, so that we can try to work things out first. Thanks! Once again, please be advised international buyers, custom forms will be filled out correctly and you are responsible for duties, taxes, and the such related to your purchase and shipment of your package. Delays thru customs are out of our control, and your package may take several weeks or longer in some cases, to arrive depending where its going to. Please be patient awaiting for your package to arrive, thanks! Also returns must be returned postmarked no later than 14 days after received.

I have included picture/pictures of this item and all pictures are of the item(s) you will be receiving (we dont use stock photos unless eBay inserts them in on us), but if for some reason you are unable to view it, please email me and I will be happy to email them to you. Please check out my other listings as I usually have related items listed and will combine shipping to save costs for you! Thanks for stopping by and purchase with confidence!

Grading/Condition Definitions: We are not experts by any means in anything we sell. Most of our stuff is used unless otherwise noted. That being said, grading or condition is a subjective matter. I try to be conservative in my description and grading/condition details so that you get better than you expect, but as the saying goes, "You can't please ALL the people ALL the time!" If you are super particular about condition either ASK A QUESTION BEFORE PURCHASE or move on to someone else (neither of us need the headaches). Bottomline, I try to insure that what's listed is something I would want in my collection and of good/fair quality, otherwise, I wont sell it. Ultimately, if you're not satisfied, see the return policy above!


PLEASE FEEL FREE TO CONTACT ME WITH ANY QUESTIONS!



for more great items!




Payment
PAYPAL is accepted. Payment is expected within 5 days of closed auction. PLEASE MAKE SURE YOUR PAYPAL ADDRESS IS CORRECT, that you are not using 2 different last names, or two different addresses. Please make sure your Ebay and Paypal addresses match. We do offer combined shipping for multiple lots, so IF YOU ARE PURCHASING MORE THAN ONE ITEM, PLEASE LET US KNOW ...and wait for us to send you an invoice with a combined total and a combined shipping total. DO NOT SEND 2 PAYMENTS...Paypal charges us a transaction fee on each payment you send, so only 1 payment for the combined items will be accepted. You are responsible for sending the correct amount, so pay close attention that you are sending the correct amount. Overpayments will not be refunded...it takes too long to recalculate, refund payments and start from square one.
Shipping
Buyer to pay shipping. I offer combined shipping. By default, I ship to the confirmed PAYPAL address (if thats how you pay) unless otherwise instructed. Actual shipping may vary from what item states, but we try to keep it as close as possible. It could be less or more, based on weight of item and distance it's gotta travel! I try my best to keep your shipping costs very reasonable! Combine multiple items for savings on shipping costs! PLEASE DO NOT SEND PAYMENT UNTIL YOUR TOTAL IS GIVEN FOR MULTI-ITEM PURCHASES.
For international buyers, if I have not included a shipping charge in my item, please feel free to email us for an international shipping quote by using the Ask Seller Question feature. INTERNATIONAL BUYERS SHOULD WAIT FOR AN INVOICE AS SHIPPING CHARGES VARY PER COUNTRY AND SHIPPING MAY BE LESS THAN ACTUALLY LISTED ON EBAY!!! International buyers, please understand that all customs forms will be filled out properly. Please also be advised that your package may be delayed thru customs and it is common for packages to take several weeks to arrive. Just because you received a package from a different ebay seller in no time flat, ours may not arrive as quickly....and this is not in our control. You are responsible for all fees associated with delivery and purchase of your item such as taxes and the such.
txzj pxzj229 txzj-4 txzj1
Recent Reviews
"Great transaction"
US 99.5 Live Country CD Volume 2
dlj4103 - Livermore, CA
(40 Purchases)
Is this review helpful?
Thanks for your feedback!
"Thanks. It was a great video!"
Prince and The Revolution Live VHS Tape 1991
novascot73 - Spooner, WI
(28 Purchases)
Is this review helpful?
Thanks for your feedback!
"As Descibed! THANKS!"
2 Walmart Pink Bunny Rabbits Easter stuffed plush anima
julierotter7 - Ladera Ranch, CA
(2 Purchases)
Is this review helpful?
Thanks for your feedback!
"A+++ here. Been have computer trouble. Really great on everything. recommended."
World Series Baseball Records Books Dan Gutman 1973
thekingrocks - Topmost, KY
(15 Purchases)
Is this review helpful?
Thanks for your feedback!
"Prompt shipping and item quality as advertised. Happy with my purchase.Thank you!"
Kohls Cares for Kids Animal Planet Zebra plush animal
timanahaf - El Paso, TX
(1 Purchase)
Is this review helpful?
Thanks for your feedback!
"Mint Card...Excellent Seller and Fast Shipment"
Sports Illustrated Sports Events Calendar
ncmfan - Oklahoma City, OK
(2 Purchases)
Is this review helpful?
Thanks for your feedback!
"Very happy with items. Thank you!"
CSI Novels Vegas & New York Paperback Lot
lindsey932 - Canada
(13 Purchases)
Is this review helpful?
Thanks for your feedback!
"fast shipping!! great communication!!! will do business again"
14 Carla Neggers Books Book lot suspense romance novels
rarapttech - Magnolia, MS
(42 Purchases)
Is this review helpful?
Thanks for your feedback!
"I received my items in a timely manner. I am very happy with the purchase."
(2 Purchases)
Is this review helpful?
Thanks for your feedback!
"I would definitely make another purchase from this seller again."
The Secret by Rhonda Byrne
ciroc77 - Brookhaven , NY
(2 Purchases)
Is this review helpful?
Thanks for your feedback!
Recent Questions & Answers
How long is shipping to ?
Answer:
Approximately 15 - 20 Days
What is your best price for this item?
Answer:
The lowest price I accepted including shipping
$16.42
Buy Now
Magik #1 Comic Book Storm and Illyana (1983)