Add to Cart
Historical Fiction Lot - Damascus Gate, Historian, Ange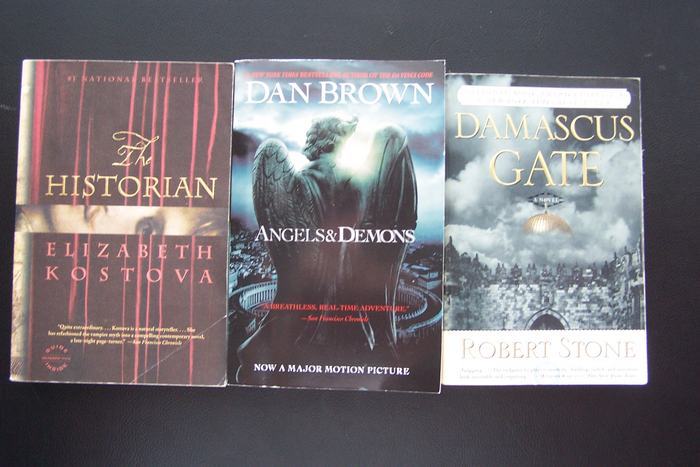 Free Shipping
Buy with Confidence
Accepted Secure Payment Options
Need help buying?
Seller Information:
kokomousse
View seller's other items
Item Information
| | |
| --- | --- |
| Condition | Very Good |
| Ean | 9780316070638 |
| Format | Paperback |
| Isbn | 9780316070638 |
| Language | English |
| Publication year | 2009 |
| Estimated Shipping | 15 - 20 Days |
Item Description
Historical Fiction Lot - Damascus Gate, Historian, Angels & Demons



This listing is for Historical Fiction Lot - Damascus Gate, Historian, Angels & Demons.
* Damascus Gate - Robert Stone
On the cusp of the millennium, Jerusalem has become a battleground in the race for redemption. American journalist Christopher Lucas is investigating religious fanatics when he discovers a plot to bomb the sacred Temple Mount. A violent confrontation in the Gaza Strip, a race through riot-filled streets, a cat-and-mouse game in an underground maze -- as Lucas follows his leads, he uncovers an attempt to seize political advantage that reveals duplicity and depravity on all sides of Jerusalem's sacred struggle.
Ambitious, passionate, darkly comic, Damascus Gate is not only Robert Stone's biggest and best novel to date, but a timely and brilliant story of belief, power, salvation, and apocalypse.
* The Historian - Elizabeth Kostova
To you, perceptive reader, I bequeath my history....Late one night, exploring her father's library, a young woman finds an ancient book and a cache of yellowing letters. The letters are all addressed to "My dear and unfortunate successor," and they plunge her into a world she never dreamed of-a labyrinth where the secrets of her father's past and her mother's mysterious fate connect to an inconceivable evil hidden in the depths of history.The letters provide links to one of the darkest powers that humanity has ever known-and to a centuries-long quest to find the source of that darkness and wipe it out. It is a quest for the truth about Vlad the Impaler, the medieval ruler whose barbarous reign formed the basis of the legend of Dracula. Generations of historians have risked their reputations, their sanity, and even their lives to learn the truth about Vlad the Impaler and Dracula. Now one young woman must decide whether to take up this quest herself-to follow her father in a hunt that nearly brought him to ruin years ago, when he was a vibrant young scholar and her mother was still alive. What does the legend of Vlad the Impaler have to do with the modern world? Is it possible that the Dracula of myth truly existed-and that he has lived on, century after century, pursuing his own unknowable ends? The answers to these questions cross time and borders, as first the father and then the daughter search for clues, from dusty Ivy League libraries to Istanbul, Budapest, and the depths of Eastern Europe. In city after city, in monasteries and archives, in letters and in secret conversations, the horrible truth emerges about Vlad the Impaler's dark reign-and about a time-defying pact that may have kept his awful work alive down through the ages.Parsing obscure signs and hidden texts, reading codes worked into the fabric of medieval monastic traditions-and evading the unknown adversaries who will go to any lengths to conceal and protect Vlad's ancient powers-one woman comes ever closer to the secret of her own past and a confrontation with the very definition of evil. Elizabeth Kostova's debut novel is an adventure of monumental proportions, a relentless tale that blends fact and fantasy, history and the present, with an assurance that is almost unbearably suspenseful-and utterly unforgettable.
* Angels & Demons - Movie Tie-In: A Novel - Dan Brown
It takes guts to write a novel that combines an ancient secret brotherhood, the Swiss Conseil Européen pour la Recherche Nucléaire, a papal conclave, mysterious ambigrams, a plot against the Vatican, a mad scientist in a wheelchair, particles of antimatter, jets that can travel 15,000 miles per hour, crafty assassins, a beautiful Italian physicist, and a Harvard professor of religious iconology. It takes talent to make that novel anything but ridiculous. Kudos to Dan Brown (Digital Fortress) for achieving the nearly impossible. Angels & Demons is a no-holds-barred, pull-out-all-the-stops, breathless tangle of a thriller--think Katherine Neville's The Eight (but cleverer) or Umberto Eco's Foucault's Pendulum (but more accessible).
Harvard symbologist Robert Langdon is shocked to find proof that the legendary secret society, the Illuminati--dedicated since the time of Galileo to promoting the interests of science and condemning the blind faith of Catholicism--is alive, well, and murderously active. Brilliant physicist Leonardo Vetra has been murdered, his eyes plucked out, and the society's ancient symbol branded upon his chest. His final discovery, antimatter, the most powerful and dangerous energy source known to man, has disappeared--only to be hidden somewhere beneath Vatican City on the eve of the election of a new pope. Langdon and Vittoria, Vetra's daughter and colleague, embark on a frantic hunt through the streets, churches, and catacombs of Rome, following a 400-year-old trail to the lair of the Illuminati, to prevent the incineration of civilization.
Brown seems as much juggler as author--there are lots and lots of balls in the air in this novel, yet Brown manages to hurl the reader headlong into an almost surreal suspension of disbelief. While the reader might wish for a little more sardonic humor from Langdon, and a little less bombastic philosophizing on the eternal conflict between religion and science, these are less fatal flaws than niggling annoyances--readers should have no trouble skimming past them and immersing themselves in a heck of a good read. "Brain candy" it may be, but my! It's tasty.
Please see our other listings as we have many related items and various other treasures you may be interested in!!! I do combine winning auctions for savings on shipping and try to keep shipping charges as close to accurate as possible. Thanks for visiting our listings and especially for bidding!!!





PLEASE DISREGARD EBAY 'S DATABASE RESULTS ON BOOKS AS THEY ARE OFTEN INCORRECT EDITIONS OR VERSIONS. I PROVIDE THE DETAILS REGARDING EACH ITEM IN THE ITEM DESCRIPTION. PLEASE READ THIS INFORMATION THAT I PROVIDE BEFORE PURCHASING.

We try to describe the items as accurately as possible. However, if you are completely unsatisfied, you may return the item for a refund (this would be the cost of your purchase, not for any shipping costs.)You must notify us within 3 days of receiving the item, ship them back to us at your own cost, and it must arrive in the condition that we have sent it to you. Shipping costs are non-refundable. Upon receipt of the items received, we will promptly refund your money. If you do encounter a problem, please contact us to let us know, so that we can try to work things out first. Thanks! Once again, please be advised international buyers, custom forms will be filled out correctly and you are responsible for duties, taxes, and the such related to your purchase and shipment of your package. Delays thru customs are out of our control, and your package may take several weeks or longer in some cases, to arrive. Please be patient awaiting for your package to arrive, thanks! Also returns must be returned postmarked no later than 3 days after received.

I have included picture/pictures of this item , but if for some reason you are unable to view it, please email me and I will be happy to email them to you. Please check out my other auctions as I usually have related items listed! Thanks for stopping by and best of luck bidding!


PLEASE FEEL FREE TO CONTACT ME WITH ANY QUESTIONS!



for more great items!


PAYPAL is accepted. Payment is expected within 5 days of closed auction. PLEASE MAKE SURE YOUR PAYPAL ADDRESS IS CORRECT, that you are not using 2 different last names, or two different addresses. Please make sure your Ebay and Paypal addresses match. We do offer combined shipping for multiple lots, so IF YOU ARE PURCHASING MORE THAN ONE ITEM, PLEASE LET US KNOW ...and wait for us to send you an invoice with a combined total and a combined shipping total. DO NOT SEND 2 PAYMENTS...Paypal charges us a transaction fee on each payment you send, so only 1 payment for the combined items will be accepted. You are responsible for sending the correct amount, so pay close attention that you are sending the correct amount. Overpayments will not be refunded...it takes too long to recalculate, refund payments and start from square one.

Buyer to pay shipping. I offer combined shipping. By default, I ship to the confirmed PAYPAL address (if thats how you pay) unless otherwise instructed. Actual shipping may vary from what item states, but we try to keep it as close as possible. It could be less or more, based on weight of item and distance it's gotta travel! I try my best to keep your shipping costs very reasonable! Combine multiple items for savings on shipping costs! PLEASE DO NOT SEND PAYMENT UNTIL YOUR TOTAL IS GIVEN FOR MULTI-ITEM PURCHASES.
For international buyers, if I have not included a shipping charge in my item, please feel free to email us for an international shipping quote by using the Ask Seller Question feature. International buyers, please understand that all customs forms will be filled out properly. Please also be advised that your package may be delayed thru customs and it is common for packages to take several weeks to arrive. Just because you received a package from a different ebay seller in no time flat, ours may not arrive as quickly....and this is not in our control. You are responsible for all fees associated with delivery and purchase of your item such as taxes and the such.
txzj pxzj43 txzj1
---
---
On Feb-11-14 at 19:33:04 PST, seller added the following information:
Recent Reviews
Recent Questions & Answers
How long is shipping to Ashburn, VA?
Answer:
Approximately 15 - 20 Days
What is your best price for this item?
Answer:
The lowest price I accepted including shipping
$10.64
Buy Now
Historical Fiction Lot - Damascus Gate, Historian, Ange