Add to Cart
Halo 3: The Official Strategy Guide (Prima Official Gam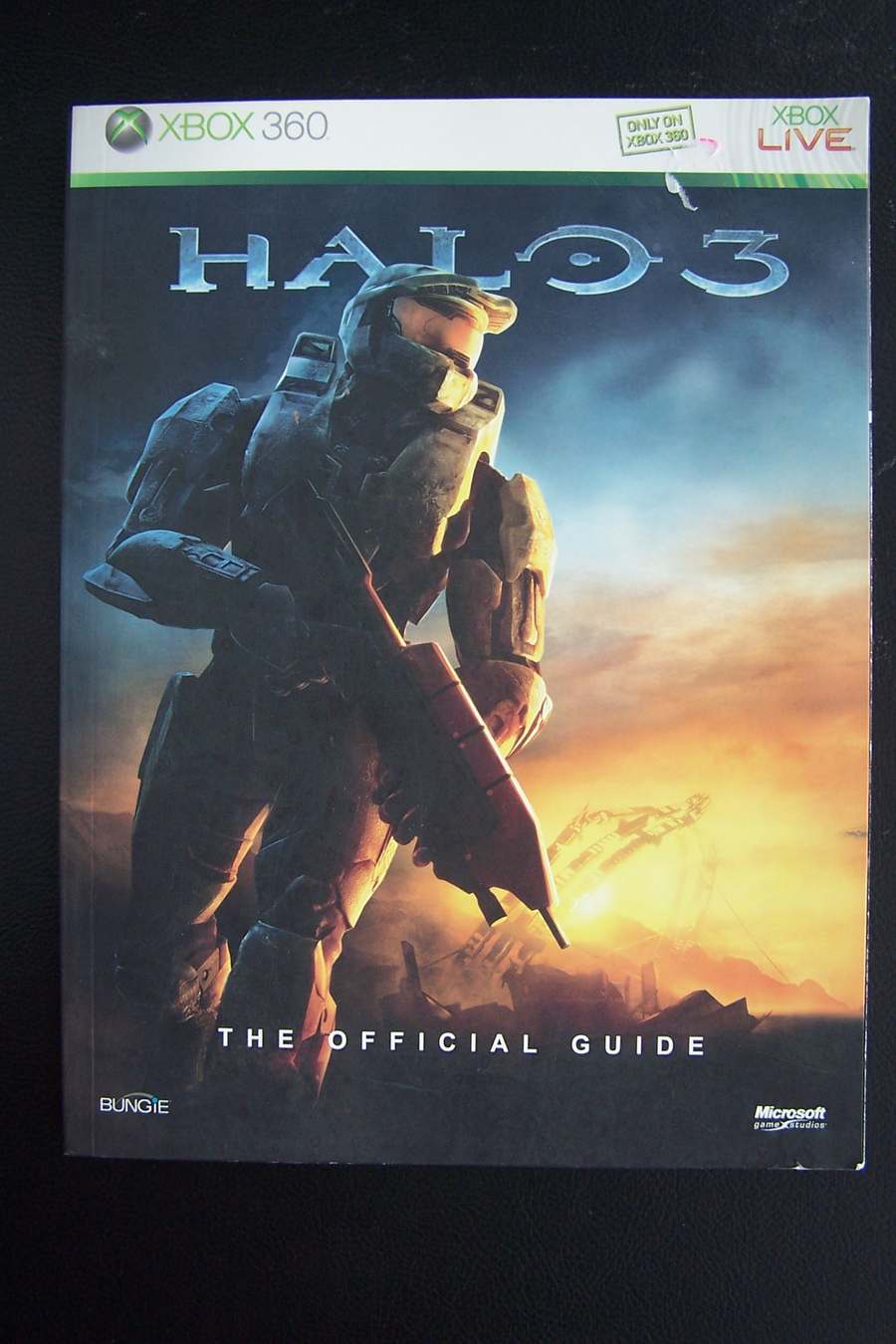 Free Shipping
Buy with Confidence
Accepted Secure Payment Options
Need help buying?
Seller Information:
kokomousse
View seller's other items
Item Information
| | |
| --- | --- |
| Condition | Very Good |
| Format | Paperback |
| Subject | Computers &Amp; Internet |
| Topic | Reference |
| Estimated Shipping | 15 - 20 Days |
Item Description
Halo 3: The Official Strategy Guide (Prima Official Game Guides)



This listing is for Halo 3: The Official Strategy Guide (Prima Official Game Guides).
Age Range: 12 and up
Paperback: 208 pages
Publisher: Prima Games (September 25, 2007)
Language: English
ISBN-10: 0761556990
ISBN-13: 978-0761556992
· Detailed annotated maps for all levels
· Learn how to dominate multiplayer matches with information on weapon locations and expert tips
· Learn about every enemy, vehicle and weapon — their strengths and weaknesses and how you can exploit them
· Confidently navigate the huge Campaign mode with our exclusive maps and step-by-step walkthrough
· Complete list of all Achievements and how to unlock each one
· Packed with tips, tactics and techniques direct from Bungie
There isn't so much complexity, nor are there really a handful of secrets in Halo 3 which require you to actually use a guide. That shouldn't suggest a guide is bad, though. It's a great guide, just not one you'll find yourself in dire need of. However, for what you get you'll more than likely be pleased. It's a very well designed guide and is very well organized. There's a lot of content to swallow but at least the guide is organized and easy to use. Just don't be surprised if you spend a bit more time reading it instead of playing the game.
This guide actually begins with a foreward that explains what you'll find in the guide. Noting that it won't spend a lot of time on the basics and that they really did want to design a good guide. They succeed... almost too well because this is certainly an exhaustive guide. Don't let the size fool you, this is far more detailed than any guide I've ever seen.
Halo 3 doesn't exactly reinvent the wheel. In fact, it plays almost exactly like Halo 2 did. For that the basics section of this guide spends a little too much time reiterating what Halo fans already know. At least it doesn't spend too much time here and if you are new to Halo it'll get you acquainted with the game. In the basics it'll go over basic controls and how to control vehicles and such. Again, nothing veterans will need, but it is good for beginners to take a look here.
The Campaign is where this guide gets interesting. Many strategy guides out there simply focus on one difficulty level: Normal. That's not the case with Piggyback Interactive's guide. This walkthrough has been designed for all difficulty levels. The way they organized it is how it succeeds in doing this. Each section begins with a map. These maps are basically from a birds eye view of the level. They point out weapons, enemy packs etc. for you.
However, the layout is what's interesting. On the map they point out what you should do at each spot. It's brief and to the point. These call outs on the maps are for those going through Easy and Normal. On the facing page is where they give you a ton of detail for what to do on Legendary. Things to do on Legendary are also called out on the map but in the A, B, C format established in other guides. So if you see "A" on the map, look on the facing page at what to do. The walkthrough is designed to help with all the difficulty levels but written with the assumption that you'll be playing through Legendary. Needless to say you can easily use the Legendary tips for the lower difficult levels.
For the gamer who fears spoilers, the walkthrough in all its detailed glory is spoiler free. There's a lot of reading, but it makes sure not to tell you about the story. It also will debrief you after each chapter of the campaign.
The extras chapter is a different story. It doesn't spoil anything, but it is meant to be read only after you've completed the campaign. Here it'll tell you more about Legendary Mode and give you tips. It also talks about the skulls. However, Bungie would not let the authors of the guide reveal the location of the skulls. You know which mission it can be found in but not where in the mission. That doesn't stop them from revealing the effects of the skulls.
There's also a bestiary, info on vehicles and most useful of all, talking about the Score System and the list of achievements. For the score system they also provide great tips to reach the score needed to net yourself achievements.
There is then a huge section of the guide dedicated to multiplayer. Most of this is just showing you maps of the area and providing tips, but they talk briefly about co-op here and they also talk about all the different modes and all the weapons you can get as well. The last thing they mention here is about Forging. It's another section that is generally brief, only helping you to get the basic feel of it.
It's an exhaustive guide, but a good one. You might find yourself a little exhausted with information at times, but at least you know its all there.
Please see our other listings as we have many related items and various other treasures you may be interested in!!! I do combine winning auctions for savings on shipping and try to keep shipping charges as close to accurate as possible. Thanks for visiting our listings and especially for bidding!!!





PLEASE DISREGARD EBAY 'S DATABASE RESULTS ON BOOKS AS THEY ARE OFTEN INCORRECT EDITIONS OR VERSIONS. I PROVIDE THE DETAILS REGARDING EACH ITEM IN THE ITEM DESCRIPTION. PLEASE READ THIS INFORMATION THAT I PROVIDE BEFORE PURCHASING.

We try to describe the items details as accurately as possible. However, if you are completely unsatisfied, you may return the item for a refund (this would be the cost of your purchase, not for any shipping costs). You must notify us within 14 days of receiving the item, ship them back to us at your own cost, and it must arrive in the condition that we have sent it to you. Return Shipping costs are non-refundable. Upon receipt of the items received, we will promptly refund your money. If you do encounter a problem, please contact us to let us know, so that we can try to work things out first. Thanks! Once again, please be advised international buyers, custom forms will be filled out correctly and you are responsible for duties, taxes, and the such related to your purchase and shipment of your package. Delays thru customs are out of our control, and your package may take several weeks or longer in some cases, to arrive depending where its going to. Please be patient awaiting for your package to arrive, thanks! Also returns must be returned postmarked no later than 14 days after received.

I have included picture/pictures of this item and all pictures are of the item(s) you will be receiving, but if for some reason you are unable to view it, please email me and I will be happy to email them to you. Please check out my other listings as I usually have related items listed and will combine shipping to save costs for you! Thanks for stopping by and purchase with confidence!


PLEASE FEEL FREE TO CONTACT ME WITH ANY QUESTIONS!



for more great items!

PAYPAL is accepted. Payment is expected within 5 days of closed auction. PLEASE MAKE SURE YOUR PAYPAL ADDRESS IS CORRECT, that you are not using 2 different last names, or two different addresses. Please make sure your Ebay and Paypal addresses match. We do offer combined shipping for multiple lots, so IF YOU ARE PURCHASING MORE THAN ONE ITEM, PLEASE LET US KNOW ...and wait for us to send you an invoice with a combined total and a combined shipping total. DO NOT SEND 2 PAYMENTS...Paypal charges us a transaction fee on each payment you send, so only 1 payment for the combined items will be accepted. You are responsible for sending the correct amount, so pay close attention that you are sending the correct amount. Overpayments will not be refunded...it takes too long to recalculate, refund payments and start from square one.
Buyer to pay shipping. I offer combined shipping. By default, I ship to the confirmed PAYPAL address (if thats how you pay) unless otherwise instructed. Actual shipping may vary from what item states, but we try to keep it as close as possible. It could be less or more, based on weight of item and distance it's gotta travel! I try my best to keep your shipping costs very reasonable! Combine multiple items for savings on shipping costs! PLEASE DO NOT SEND PAYMENT UNTIL YOUR TOTAL IS GIVEN FOR MULTI-ITEM PURCHASES.
For international buyers, if I have not included a shipping charge in my item, please feel free to email us for an international shipping quote by using the Ask Seller Question feature. INTERNATIONAL BUYERS SHOULD WAIT FOR AN INVOICE AS SHIPPING CHARGES VARY PER COUNTRY AND SHIPPING MAY BE LESS THAN ACTUALLY LISTED ON EBAY!!! International buyers, please understand that all customs forms will be filled out properly. Please also be advised that your package may be delayed thru customs and it is common for packages to take several weeks to arrive. Just because you received a package from a different ebay seller in no time flat, ours may not arrive as quickly....and this is not in our control. You are responsible for all fees associated with delivery and purchase of your item such as taxes and the such.
txzj pxzj30 txzj1
---
---
On Feb-12-14 at 18:13:11 PST, seller added the following information:
Recent Reviews
Recent Questions & Answers
How long is shipping to Ashburn, VA?
Answer:
Approximately 15 - 20 Days
What is your best price for this item?
Answer:
The lowest price I accepted including shipping
$10.64
Buy Now
Halo 3: The Official Strategy Guide (Prima Official Gam