Add to Cart
Ebony Magazine 2 Issue Lot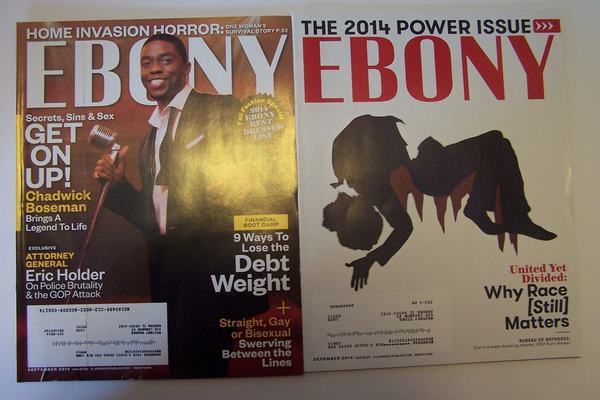 Free Shipping
Buy with Confidence
Accepted Secure Payment Options
Need help buying?
Seller Information:
kokomousse
View seller's other items
Item Information
| | |
| --- | --- |
| Condition | Very Good |
| Features | Lot |
| Language | English |
| Publication name | Ebony |
| Special attributes | Illustrated |
| Subject | Fashion |
| Type | Magazine |
| Estimated Shipping | 15 - 20 Days |
Item Description
Ebony Magazine 2 Issue Lot
Description



This listing is for Ebony Magazine 2 Issue Lot.
Ebony is a monthly magazine for the African-American market. It was founded by John H. Johnson and has published continuously since the autumn of 1945. A digest-sized sister magazine, Jet, is also published by Johnson Publishing Company. Ebony has been the general interest magazine of choice for intelligent, sophisticated Black-American readers since 1945. Its timely articles and smart photography explore education, history and entertainment, the arts, health, sports and social events. This monthly also is noted for its music and book reviews and fashion tips. It's more than a magazine, it's a movement.
This lot includes issues from the following months:
* 2014 September - Volume LXIX No 11 - Chadwick Boseman: Get On UP!, Attorney General Eric Holder, Financial Boot Camp, Home Invasion Horror
* 2014 December - Volume LXX No 2 - The 2014 Power Issue, United Yet Divided, Why Race [Still] Matters, Bureau of Refugees
Ebony was founded by John H. Johnson in 1945. The magazine has evolved over the years; in 2010 it began a redesign process to update its longtime brand. In the past, the magazine was persistently upbeat, much like its postwar contemporary Life. Ebony, edited by John H. Johnson, has striven always to address African-American issues, personalities and interests in a positive and self-affirming manner. Its cover photography has focused on prominent African-American public figures, including actors and entertainers, and politicians, such as Dorothy Dandridge, Mariah Carey, Diana Ross, Michael Jackson, US Senator Carol Moseley Braun, President Barack Obama, Zoe Saldana, Tyrese Gibson and Tyler Perry.
For decades, advertisers created ads specifically for Ebony, which featured black models using their products. In the 21st century, many ads in widespread publications already feature black people; Ebony contributes to diversity by also running ads that feature non-black models.
In November 2010, the magazine featured a special 65th-anniversary edition cover featuring Taraji P. Henson, Samuel L. Jackson, Usher and Mary J. Blige. A second cover showcased Nia Long atop a birthday cake – Marilyn Monroe-style. The issue included eight cover recreations from historic and iconic previous covers of Ebony. Blair Underwood posed inside, as did Omar Epps and Jurnee Smollett. Mary J. Blige used her 1940s-style image from Ebony to update her Twitter profile picture.
National Public Radio marked this anniversary edition as the beginning of redesign of Ebony. Former White House Social Secretary Desiree Rogers, of the Obama administration, had become the CEO of the magazine. In August 2008 the magazine had published a special 8-cover edition featuring the "25 Coolest Brothers of All Time". The lineup featured Jay-Z, Barack Obama, Prince, Samuel L. Jackson, Denzel Washington, Marvin Gaye, Muhammad Ali and Billy Dee Williams.
In the 21st century, Ebony frequently makes headlines in the blogosphere and in the mainstream press. The November 2011 cover featured a pregnant Nia Long, reminiscent of the iconic image of actress Demi Moore featured naked while pregnant on a magazine cover two decades before. Some of Ebony's more conservative readers disagreed with the cover choice, stating it inappropriate to feature an unwed, pregnant woman on the cover. The cover was featured in US Weekly and in a five-minute segment on CNN. Zoe Saldana was featured on the August 2011 issue, and some readers questioned a Black latina cover star. However, the Avatar actress seemed to open Ebony to a new segment: Americans of mixed African-American and Hispanic ancestry. Recent issues question whether President Obama is still right for black America and whether biracial Americans need more acknowledgement in today's society. In June 2010, Ebony ran an article about radio personality Robin Quivers, long-time sidekick of radio host Howard Stern, in which Quivers was asked if she considered herself a "sell out" for working with a predominantly white media. Quivers dismissed the question.
Please see our other listings as we have many related items and various other treasures you may be interested in!!! I do combine winning auctions for savings on shipping and try to keep shipping charges as close to accurate as possible. Thanks for visiting our listings and especially for bidding!!!





PLEASE DISREGARD EBAY 'S DATABASE RESULTS ON BOOKS AS THEY ARE OFTEN INCORRECT EDITIONS OR VERSIONS. I PROVIDE THE DETAILS REGARDING EACH ITEM IN THE ITEM DESCRIPTION. PLEASE READ THIS INFORMATION THAT I PROVIDE BEFORE PURCHASING.

We try to describe the items details as accurately as possible. However, if you are completely unsatisfied, you may return the item for a refund (this would be the cost of your purchase, not for any shipping costs). You must notify us within 14 days of receiving the item, ship them back to us at your own cost, and it must arrive in the condition that we have sent it to you. Return Shipping costs are non-refundable. Upon receipt of the items received, we will promptly refund your money. If you do encounter a problem, please contact us to let us know, so that we can try to work things out first. Thanks! Once again, please be advised international buyers, custom forms will be filled out correctly and you are responsible for duties, taxes, and the such related to your purchase and shipment of your package. Delays thru customs are out of our control, and your package may take several weeks or longer in some cases, to arrive depending where its going to. Please be patient awaiting for your package to arrive, thanks! Also returns must be returned postmarked no later than 14 days after received.

I have included picture/pictures of this item and all pictures are of the item(s) you will be receiving (we dont use stock photos unless eBay inserts them in on us), but if for some reason you are unable to view it, please email me and I will be happy to email them to you. Please check out my other listings as I usually have related items listed and will combine shipping to save costs for you! Thanks for stopping by and purchase with confidence!

Grading/Condition Definitions: We are not experts by any means in anything we sell. Most of our stuff is used unless otherwise noted. That being said, grading or condition is a subjective matter. I try to be conservative in my description and grading/condition details so that you get better than you expect, but as the saying goes, "You can't please ALL the people ALL the time!" If you are super particular about condition either ASK A QUESTION BEFORE PURCHASE or move on to someone else (neither of us need the headaches). Bottomline, I try to insure that what's listed is something I would want in my collection and of good/fair quality, otherwise, I wont sell it. Ultimately, if you're not satisfied, see the return policy above!


PLEASE FEEL FREE TO CONTACT ME WITH ANY QUESTIONS!



for more great items!




Payment
PAYPAL is accepted. Payment is expected within 5 days of closed auction. PLEASE MAKE SURE YOUR PAYPAL ADDRESS IS CORRECT, that you are not using 2 different last names, or two different addresses. Please make sure your Ebay and Paypal addresses match. We do offer combined shipping for multiple lots, so IF YOU ARE PURCHASING MORE THAN ONE ITEM, PLEASE LET US KNOW ...and wait for us to send you an invoice with a combined total and a combined shipping total. DO NOT SEND 2 PAYMENTS...Paypal charges us a transaction fee on each payment you send, so only 1 payment for the combined items will be accepted. You are responsible for sending the correct amount, so pay close attention that you are sending the correct amount. Overpayments will not be refunded...it takes too long to recalculate, refund payments and start from square one.
Shipping
Buyer to pay shipping. I offer combined shipping. By default, I ship to the confirmed PAYPAL address (if thats how you pay) unless otherwise instructed. Actual shipping may vary from what item states, but we try to keep it as close as possible. It could be less or more, based on weight of item and distance it's gotta travel! I try my best to keep your shipping costs very reasonable! Combine multiple items for savings on shipping costs! PLEASE DO NOT SEND PAYMENT UNTIL YOUR TOTAL IS GIVEN FOR MULTI-ITEM PURCHASES.
For international buyers, if I have not included a shipping charge in my item, please feel free to email us for an international shipping quote by using the Ask Seller Question feature. INTERNATIONAL BUYERS SHOULD WAIT FOR AN INVOICE AS SHIPPING CHARGES VARY PER COUNTRY AND SHIPPING MAY BE LESS THAN ACTUALLY LISTED ON EBAY!!! International buyers, please understand that all customs forms will be filled out properly. Please also be advised that your package may be delayed thru customs and it is common for packages to take several weeks to arrive. Just because you received a package from a different ebay seller in no time flat, ours may not arrive as quickly....and this is not in our control. You are responsible for all fees associated with delivery and purchase of your item such as taxes and the such.
txzj pxzj229 txzj-4 txzj1
Recent Reviews
"I received my items in a timely manner. I am very happy with the purchase."
(2 Purchases)
Is this review helpful?
Thanks for your feedback!
"As Descibed! THANKS!"
2 Walmart Pink Bunny Rabbits Easter stuffed plush anima
julierotter7 - Ladera Ranch, CA
(2 Purchases)
Is this review helpful?
Thanks for your feedback!
"fast shipping!! great communication!!! will do business again"
14 Carla Neggers Books Book lot suspense romance novels
rarapttech - Magnolia, MS
(42 Purchases)
Is this review helpful?
Thanks for your feedback!
"Thanks. It was a great video!"
Prince and The Revolution Live VHS Tape 1991
novascot73 - Spooner, WI
(28 Purchases)
Is this review helpful?
Thanks for your feedback!
"Mint Card...Excellent Seller and Fast Shipment"
Sports Illustrated Sports Events Calendar
ncmfan - Oklahoma City, OK
(2 Purchases)
Is this review helpful?
Thanks for your feedback!
"A+++ here. Been have computer trouble. Really great on everything. recommended."
World Series Baseball Records Books Dan Gutman 1973
thekingrocks - Topmost, KY
(15 Purchases)
Is this review helpful?
Thanks for your feedback!
"Great transaction"
US 99.5 Live Country CD Volume 2
dlj4103 - Livermore, CA
(40 Purchases)
Is this review helpful?
Thanks for your feedback!
"I would definitely make another purchase from this seller again."
The Secret by Rhonda Byrne
ciroc77 - Brookhaven , NY
(2 Purchases)
Is this review helpful?
Thanks for your feedback!
"Prompt shipping and item quality as advertised. Happy with my purchase.Thank you!"
Kohls Cares for Kids Animal Planet Zebra plush animal
timanahaf - El Paso, TX
(1 Purchase)
Is this review helpful?
Thanks for your feedback!
"Very happy with items. Thank you!"
CSI Novels Vegas & New York Paperback Lot
lindsey932 - Canada
(13 Purchases)
Is this review helpful?
Thanks for your feedback!
Recent Questions & Answers
How long is shipping to ?
Answer:
Approximately 15 - 20 Days
What is your best price for this item?
Answer:
The lowest price I accepted including shipping
$11.64
Buy Now
Ebony Magazine 2 Issue Lot