Add to Cart
Camelot Original Broadway Cast Vinyl LP Record Album OS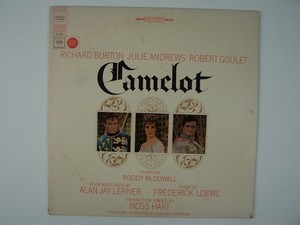 Free Shipping
Buy with Confidence
Accepted Secure Payment Options
Need help buying?
Item Information
| | |
| --- | --- |
| Condition | Used |
| Duration | Album |
| Genre | Soundtracks &Amp; Musicals |
| Record size | 12&Quot; |
| Speed | 33 Rpm |
| Style | Musical/Original Cast |
| Estimated Shipping | 15 - 20 Days |
Item Description
This listing is for Alan Jay Lerner, Frederick Loewe / Julie Andrews, Richard Burton Camelot Original Broadway Cast Vinyl LP Record Album OS 2031.
Label: Columbia Masterworks – OS 2031
Format: Vinyl, LP, Reissue, Stereo
Condition: Jacket: Very Good Vinyl: Very Good
A2

–Richard Burton I Wonder What The King Is Doing Tonight
A3

–Julie Andrews

The Simple Joys Of Maidenhood
A4

–Julie Andrews, Richard Burton Camelot
A5

–Mary Sue Berry

Follow Me
A6

–Julie Andrews, Ensemble

The Lusty Month Of May
A7

–Robert Goulet

C'Est Moi
A8

–Julie Andrews, Bruce Yarnell, James Gannon, John Cullum

Then You May Take Me To The Fair
A9

–Richard Burton How To Handle A Woman
B1

–Robert Goulet

If Ever I Would Leave You
B3

–Julie Andrews

Before I Gaze At You Again
B4

–Roddy McDowall

The Seven Deadly Virtues
B5

–Richard Burton, Julie Andrews

What Do The Simple Folk Do?
B6

–Knights

Fie On Goodness!
B7

–Julie Andrews

I Loved You Once In Silence
B9

–Richard Burton Camelot (Reprise)
Camelot is a musical by Alan Jay Lerner (book and lyrics) and Frederick Loewe (music). It is based on the King Arthur legend as adapted from the T. H. White novel The Once and Future King.
The original 1960 production, directed by Moss Hart and orchestrated by Robert Russell Bennett and Philip J. Lang, ran on Broadway for 873 performances, winning four Tony Awards and spawning several revivals, foreign productions, and the 1967 film Camelot. The original cast album was America's top-selling LP for 60 weeks. The musical has become associated with the Kennedy Administration, which is sometimes called the "Camelot Era".
I base the condition of each of my Records off of Ebay's Grading System.
• MINT (M) Looks new and unplayed. Very high vinyl luster and no noticeable label defects. Sounds new. With 45rpm records, this does not always mean there is no surface noise at all.
• NEAR MINT (NM) Looks almost new, but has some minor flaws such as a drill hole; unobtrusive writing on label (e.g., an X on a promo copy); minor scuffing on vinyl; minor color flaking on label, or other insignificant flaws that only slightly detract from visual appeal. May have some minor surface noise, but nothing distracting.
• VERY GOOD (VG) There may be light scuffing and some of the original vinyl luster may be lost. The vinyl and label may appear used, but well cared for. Records may have some more obvious flaws that are not visually degrading such as a sticker on the label; more noticeable writing on the label; scuffing and minor scratches on the vinyl; or minor discoloration of the label. There may be very minor warping of the vinyl. There may be a slight scratch not affecting play.
• GOOD (G) Record has visible signs of handling and playing, such as loss of vinyl luster, minor surface scratches, groove wear, and audible surface noise. Appears well used but not abused. May have a few major flaws, such as scratches, label tears, or stickers, and/or writing.
• FAIR (F) Appears well used and somewhat abused. Audio is not great due to surface noise and scratches. The record may have a stick or a skip. Records in this condition are those you might purchase to fill a hole in your collection until a better copy comes along.
• POOR (P) Well played with little luster and significant surface noise, but still not cracked or broken. Record likely skips and/or sticks. Typically so bad looking that a true "collector" would just toss it out. More useful as a Frisbee. I try not to sell records in this condition.
Thanks for checking out all of our various treasures! We have many similar items by similar artists, so make sure you search our store and combine purchases for additional discounts and savings on shipping! We also have a ton of stuff not listed yet, so if you're looking for a specific title or additional artist items, please inquire as we may have it sitting here someplace or can easily find it for you! Thanks again for the visit and good luck in your "Treasure" search!
Recent Reviews
Recent Questions & Answers
How long is shipping to Ashburn, VA?
Answer:
Approximately 15 - 20 Days
What is your best price for this item?
Answer:
The lowest price I accepted including shipping
$13.98
Buy Now
Camelot Original Broadway Cast Vinyl LP Record Album OS