Add to Cart
Battlezone - PC by Activision CD-ROM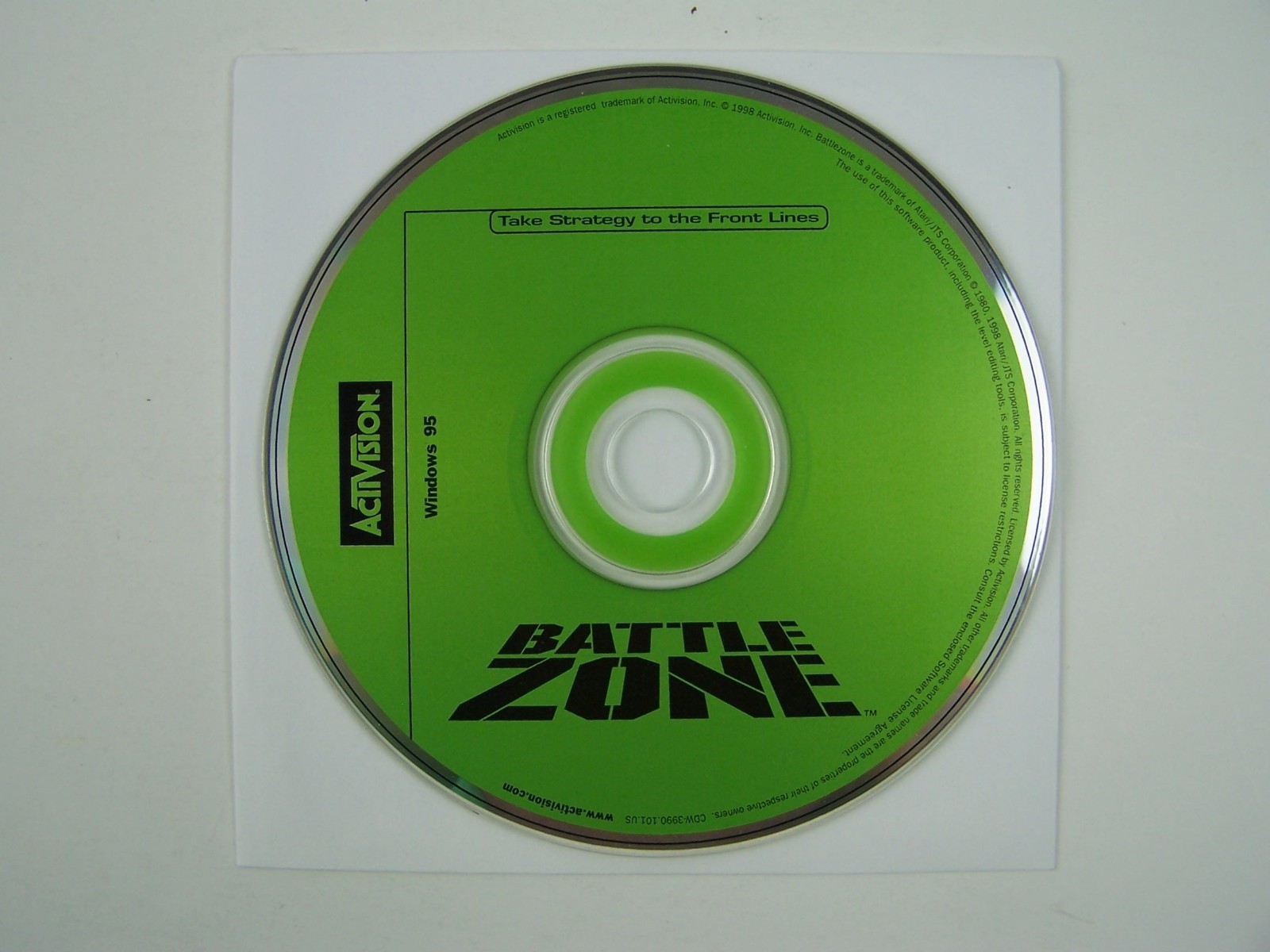 Free Shipping
Buy with Confidence
Accepted Secure Payment Options
Need help buying?
Seller Information:
kokomousse
View seller's other items
Item Information
| | |
| --- | --- |
| Condition | Very Good |
| Format | Cd |
| Language | English |
| Platform | Windows |
| Estimated Shipping | 15 - 20 Days |
Item Description
This listing is for Battlezone - PC by Activision CD-ROM.
Developer(s): Activision, Climax Development (N64), Big Boat Interactive (Redux)
Publisher(s): Activision, Crave Entertainment (N64), Rebellion Developments (Redux)
Platform: Windows 98, Windows Me, Windows 95
Battlezone is a first-person shooter real-time strategy video game, developed and published by Activision. A remake of the arcade game the same name, it was released for Microsoft Windows in 1998. In 2000, a Nintendo 64 port was released under the name Battlezone: Rise of the Black Dogs. Aside from the name and presence of tanks, this game bears little resemblance to the original. Activision remade it into a hybrid of a tank simulation game, a first-person shooter and a real-time strategy game. In Battlezone the player is controlling everything on the battlefield from the first person view.
The primary resource in Battlezone is bio-metal scrap which is used to produce new units and construct new buildings. Building and directing units is done via interface either by selecting onscreen object with the mouse or by using number keys on keyboard. Starting with a bio-metal recycler (the most basic construction unit), the player constructs vehicles to scavenge scraps of bio-metal, build base defenses, and construct new base vehicles capable of building more advanced structures and vehicles.
Battlezone places you in the midst of the cold war--as it's being fought in outer space. Play either the Soviet or American side; command and create over 30 units, such as antigravity tanks, walkers, guntowers, barracks, and recyclers--all while fighting from inside your own vehicle in single-player or multiplayer skirmishes.
Some folks might accuse Activision of duplicity for naming its newest action/strategy game Battlezone, but aside from the fact that both games put you in the cockpit of a tank, it has about as much in common with that arcade classic as an IBM PC Jr. does with a full-blown Pentium gaming system. Yep, anyone who picks up this Battlezone expecting a graphics-heavy retread of the original will be in for a big surprise - but luckily it'll be an extremely pleasant one. Simply put, Battlezone is one of the best strategy games I've wrapped my brain (and trigger finger) around in a long, long time. And I've got three words for anyone who does complain that Activision stuck the Battlezone name on this product just to boost sales: get over it. Hell, I wouldn't care if they'd somehow managed to call it Super Mario's Metal Mayhem if it meant more people would be tempted to check it out.
Battlezone has the look and feel of a futuristic shooter, but it's actually set in the late 1960s and early 1970s. Seems that a meteor shower a decade earlier left behind some other-worldly stuff called "bio-metal" - the product of an alien technology that can not only be used to craft weapons of incredible power and durability, but which also seems to be sentient. (Now that would have made a decent Pet Rock!) Uncle Sam wants to use the bio-metal to bring the Cold War to an end, but - you guessed it - the Soviets found out about the bio-metal and are just as desperate as you to get their Commie hands on it first.
Thanks for checking out all of our various treasures! We have many similar items by similar artists, so make sure you search our store and combine purchases for additional discounts and savings on shipping! We also have a ton of stuff not listed yet, so if you're looking for a specific title or additional artist items, please inquire as we may have it sitting here someplace or can easily find it for you! Thanks again for the visit and good luck in your "Treasure" search!
Recent Reviews
Recent Questions & Answers
How long is shipping to ?
Answer:
Approximately 15 - 20 Days
What is your best price for this item?
Answer:
The lowest price I accepted including shipping
$21.41
Buy Now
Battlezone - PC by Activision CD-ROM