Add to Cart
All About Beer 2016-2018 Magazine Lot #1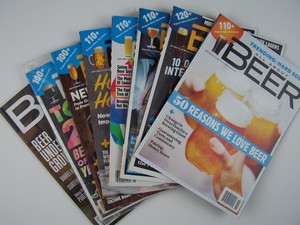 Free Shipping
Buy with Confidence
Accepted Secure Payment Options
Need help buying?
Item Information
| | |
| --- | --- |
| Condition | Very Good |
| Era year | 2016 |
| Features | Lot |
| Language | English |
| Special attributes | Illustrated |
| Subject | Cooking, and Food &Amp; Wine |
| Type | Magazine |
| Year | 2018 |
| Estimated Shipping | 15 - 20 Days |
Item Description
This listing is for All About Beer 2016-2018 Magazine Lot #1.
This lot includes the following issues from 2016 to 2018:
* November 2016 V37 No 5 - 50 Reasons We Love Beer
* January 2017 V37 No 6 - 10 Of America's Most Interesting Breweries
* March 2017 V38 No 1 - The Future Of Beer
* May 2017 V38 No 2 - Wild Beer
* July 2017 V38 No 3 - Hops & Honey - How Bees Impact Your Beer
* September 2017 V38 No 4 - New-Look Imports (From Green Bottles to Premium Cans)
* November 2017 V38 No 5 - Farm Fresh (Growers, Maltsters, Brewers & More)
* January 2018 V38 No 6 - Top 25 Beers Of The Year
* March 2018 V39 No 1 - Beer Under Ground
All About Beer Magazine is America's leading beer magazine, dedicated to covering the people, places, news, trends and events that define the beer community. For 35 years, it's been our mission to celebrate the world of beer culture and enrich the lives of beer lovers through education, enjoyment and events like the World Beer Festivals. All About Beer is an English-language magazine published by Chautauqua, Inc., located in Durham, NC, USA. It is published six times per year, plus one special annual issue, and has a distribution of over 46,000, with subscribers and newsstand sales in more than 40 countries. All About Beer is the oldest American publication for beer consumers. It is written for the beer drinker, particularly those interested in new developments in craft beer and specialty brewing.
All About Beer was founded in Los Angeles in 1979 by printing executive Mike Bosak and six colleagues from the print and publishing world. The first issue appeared in March of that year. None of the original founders was a beer expert. In 1982, ownership of All About Beer passed to MacMullen Publishing of Anaheim, CA, though Bosak and fellow founders Kenneth Yee and Terry Bratcher remained involved. By its third volume, the publication had adopted a conventional four-color magazine format. In 1988, Mike Bosak and his wife Bunny re-acquired the magazine. When Bosak retired in 1992, he sold All About Beer to Daniel Bradford, one of the founders and the first general director of the Great American Beer Festival in Denver, and an occasional contributor to the magazine. Bradford moved the magazine to Durham, NC. Julie Johnson served as editor from 2000 to 2011, with Bradford as publisher. The magazine is co-owned today by Bradford and Johnson. In 1995, All About Beer Magazine entered into an agreement with the Beverage Testing Institute (BTI, later Tastings.com) of Chicago to publish the results of the institute's regular sampling of beers, grouped by style family. Each issue of All About Beer publishes a survey article on the most recent tasting results, a guide to what readers should expect from each style, and tasting notes on various beers.
Please see our other listings as we have many related items and various other treasures you may be interested in!!! I do combine winning auctions for savings on shipping and try to keep shipping charges as close to accurate as possible. Thanks for visiting our listings and especially for bidding!!!
Recent Reviews
Recent Questions & Answers
How long is shipping to Ashburn, VA?
Answer:
Approximately 15 - 20 Days
What is your best price for this item?
Answer:
The lowest price I accepted including shipping
$26.73
Buy Now
All About Beer 2016-2018 Magazine Lot #1