Add to Cart
Carlos Montoya - Montoya Vinyl LP Record Album ABC-202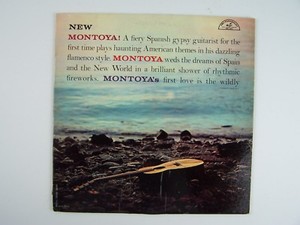 Free Shipping
Buy with Confidence
Accepted Secure Payment Options
Need help buying?
Item Information
| | |
| --- | --- |
| Artist | Carlos Montoya |
| Condition | Used |
| Custom bundle | No |
| Duration | Lp |
| Genre | World Music |
| Modified item | No |
| Non domestic product | No |
| Record label | Abc Records |
| Record size | 12&Quot; |
| Speed | 33 Rpm |
| Style | Spain &Amp; Portugal |
| Estimated Shipping | 15 - 20 Days |
Item Description
This listing is for Carlos Montoya - Montoya Vinyl LP Record Album ABC-202.
Label: ABC-Paramount – ABC-202
Genre: Latin, Folk, World, & Country
Condition: Jacket: Very Good Vinyl: Very Good
A4

Alegrías Flamencas

3:45
B1

You Belong To My Heart

2:45
Carlos García Montoya (13 December 1903 – 3 March 1993) in Madrid, Spain, was a prominent flamenco guitarist and a founder of the modern-day popular flamenco style of music. In the 1920s and 1930s he performed extensively in Europe, North America, and Asia with the likes of La Teresina. The outbreak of World War II brought him to the United States where he began his most successful days as a musician, and frequently toured with the dancer La Argentina, bringing his fiery style to concert halls and universities. He also accompanied orchestras. During this period he made a few recordings for several major and independent labels including RCA Victor, Everest and Folkways, performing traditional flamenco music such as Farruca., Malaga and Hokie.
When World War II broke out in Europe in 1939, he was on tour in the United States, and decided to settle in New York City, eventually becoming a U.S. citizen. By the end of the war in 1945, his repertoire had broadened to include blues, jazz and folk music. He again toured internationally, and was the first flamenco guitarist to tour the world with symphonies and orchestras, and dominated the field of flamenco in the U.S. During his career he also performed on television and recorded over forty albums, including Suite Flamenco, a concerto he performed with the Saint Louis Symphony Orchestra in 1966. His performances helped popularize flamenco guitar music worldwide.
Montoya is credited with having transformed flamenco guitar music into a separate music style, beyond being a traditional dance accompaniment. He adapted flamenco to other genres of music to create his own recognizable style, becoming an international star. However, his style was not particularly appreciated by some serious flamenco students, who considered it less traditional than many others. That he was unpopular among aficionados was possibly because he abandoned the compás that had evolved within flamenco over hundreds of years. Many of his works do not even keep perfect tempo, increasing and decreasing in speed almost whimsically. He was admired for the speed of his picados and found popularity on the international stage as a result of this technically impressive pace.
I base the condition of each of my Records off of Ebay's Grading System.
• MINT (M) Looks new and unplayed. Very high vinyl luster and no noticeable label defects. Sounds new. With 45rpm records, this does not always mean there is no surface noise at all.
• NEAR MINT (NM) Looks almost new, but has some minor flaws such as a drill hole; unobtrusive writing on label (e.g., an X on a promo copy); minor scuffing on vinyl; minor color flaking on label, or other insignificant flaws that only slightly detract from visual appeal. May have some minor surface noise, but nothing distracting.
• VERY GOOD (VG) There may be light scuffing and some of the original vinyl luster may be lost. The vinyl and label may appear used, but well cared for. Records may have some more obvious flaws that are not visually degrading such as a sticker on the label; more noticeable writing on the label; scuffing and minor scratches on the vinyl; or minor discoloration of the label. There may be very minor warping of the vinyl. There may be a slight scratch not affecting play.
• GOOD (G) Record has visible signs of handling and playing, such as loss of vinyl luster, minor surface scratches, groove wear, and audible surface noise. Appears well used but not abused. May have a few major flaws, such as scratches, label tears, or stickers, and/or writing.
• FAIR (F) Appears well used and somewhat abused. Audio is not great due to surface noise and scratches. The record may have a stick or a skip. Records in this condition are those you might purchase to fill a hole in your collection until a better copy comes along.
• POOR (P) Well played with little luster and significant surface noise, but still not cracked or broken. Record likely skips and/or sticks. Typically so bad looking that a true "collector" would just toss it out. More useful as a Frisbee. I try not to sell records in this condition.
Please see our other listings as we have many related items and various other treasures you may be interested in!!! I do combine winning auctions for savings on shipping and try to keep shipping charges as close to accurate as possible. Thanks for visiting our listings and especially for bidding!!!
Recent Reviews
"I would definitely make another purchase from this seller again."
The Secret by Rhonda Byrne
ciroc77 - Brookhaven , NY
(2 Purchases)
Is this review helpful?
Thanks for your feedback!
"fast shipping!! great communication!!! will do business again"
14 Carla Neggers Books Book lot suspense romance novels
rarapttech - Magnolia, MS
(42 Purchases)
Is this review helpful?
Thanks for your feedback!
"Thanks. It was a great video!"
Prince and The Revolution Live VHS Tape 1991
novascot73 - Spooner, WI
(28 Purchases)
Is this review helpful?
Thanks for your feedback!
"Great transaction"
US 99.5 Live Country CD Volume 2
dlj4103 - Livermore, CA
(40 Purchases)
Is this review helpful?
Thanks for your feedback!
"Mint Card...Excellent Seller and Fast Shipment"
Sports Illustrated Sports Events Calendar
ncmfan - Oklahoma City, OK
(2 Purchases)
Is this review helpful?
Thanks for your feedback!
"As Descibed! THANKS!"
2 Walmart Pink Bunny Rabbits Easter stuffed plush anima
julierotter7 - Ladera Ranch, CA
(2 Purchases)
Is this review helpful?
Thanks for your feedback!
"I received my items in a timely manner. I am very happy with the purchase."
(2 Purchases)
Is this review helpful?
Thanks for your feedback!
"A+++ here. Been have computer trouble. Really great on everything. recommended."
World Series Baseball Records Books Dan Gutman 1973
thekingrocks - Topmost, KY
(15 Purchases)
Is this review helpful?
Thanks for your feedback!
"Prompt shipping and item quality as advertised. Happy with my purchase.Thank you!"
Kohls Cares for Kids Animal Planet Zebra plush animal
timanahaf - El Paso, TX
(1 Purchase)
Is this review helpful?
Thanks for your feedback!
"Very happy with items. Thank you!"
CSI Novels Vegas & New York Paperback Lot
lindsey932 - Canada
(13 Purchases)
Is this review helpful?
Thanks for your feedback!
Recent Questions & Answers
How long is shipping to ?
Answer:
Approximately 15 - 20 Days
What is your best price for this item?
Answer:
The lowest price I accepted including shipping
$17.41
Buy Now
Carlos Montoya - Montoya Vinyl LP Record Album ABC-202