Add to Cart
25*60 Tablet Himalaya Liv.52 DS EXPIRY MARCH 2022 free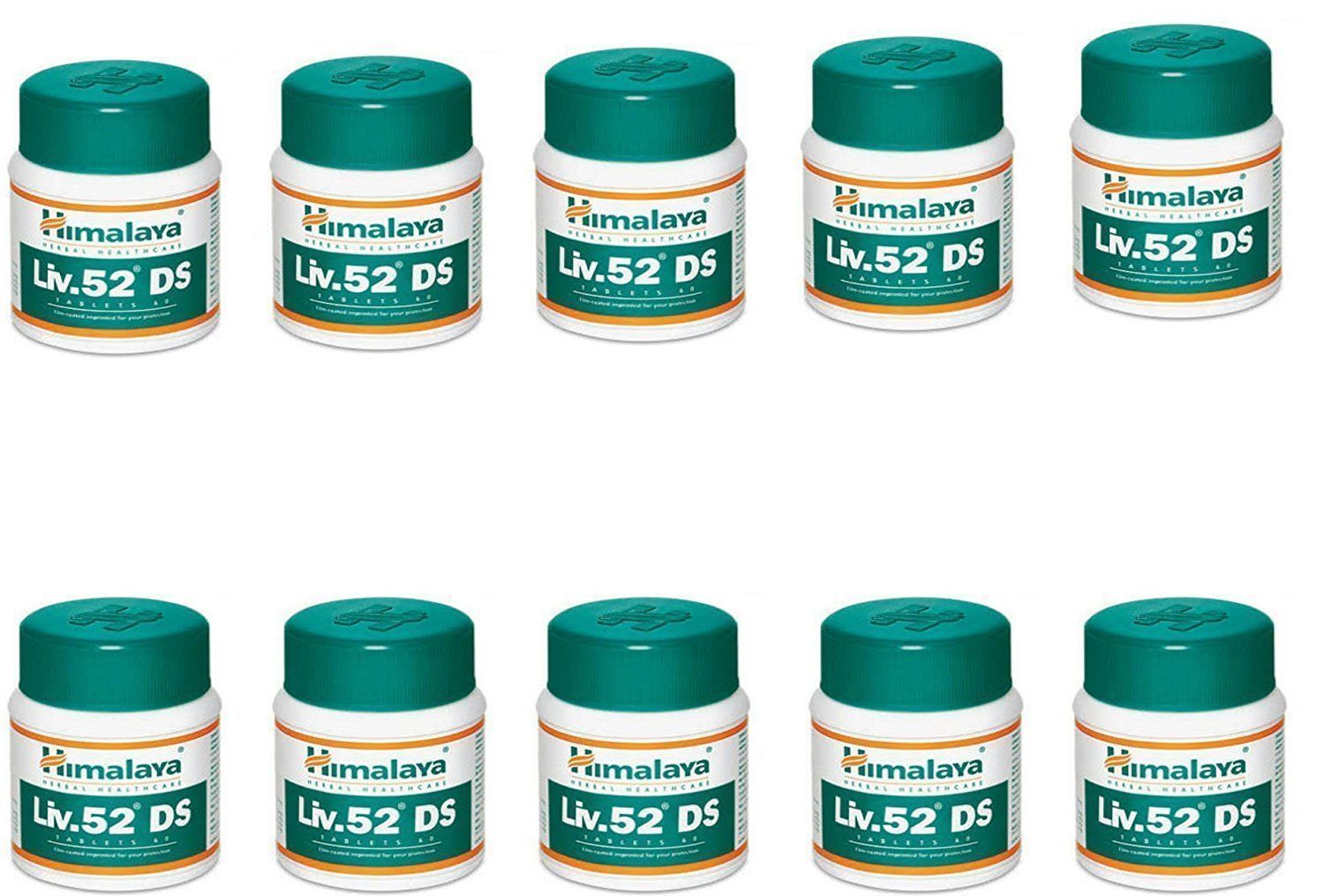 Free Shipping
Buy with Confidence
Accepted Secure Payment Options
Need help buying?
Seller Information:
wholesales2018
Member Since: August 2019
View seller's other items
Item Information
| | |
| --- | --- |
| Brand | Himalaya Health Care |
| Condition | New |
| Country region of manufacture | India |
| Formulation | Tablet |
| Modified item | No |
| Purpose | Liver Health |
| Upc | Does Not Apply |
| Estimated Shipping | 15 - 20 Days |
Item Description
Known As Liver CARE
Liver Care, Detoxification, World's #1 Liver Support Formula
Liv-52® also known as LiverCare® is a herbal formulation that is the World's #1 Liver Support Formula. Liv52 has been validated by 276 clinical trials and research studies.Liv.52 maintains the functional efficiency of the liver. It detoxifies and protects liver cells from harmful toxins and supports the liver's ability to regenerate itself . Liv.52 promotes optimum liver function and as a daily health supplement, it helps to improve appetite and the digestion and assimilation processes.Liv52 also supports the liver's function when challenged by toxins not just in our food, water and air, but also increased consumption of protein and prohormones. Liv52 does not interfere with medications when taken together which is a benefit it has over Milk Thistle. Liv.52 facilitates rapid elimination of acetaldehyde, the toxic intermediate metabolite of alcohol metabolism, and detoxifies liver cells.
Benefits of Liv52 DS
Liv 52 improves the functional efficiency of the liver
Liv 52 promotes detoxification and protection from harmful food and medication toxins
Liv 52 helps to maintain healthy levels of liver enzymes
Liv 52 helps in absorption and digestion
Liv 52 helps in the liver's ability of regenerating itself
Liv 52 is useful during convalescence
Liv 52 supports the liver's normal ability to burn fat
Liv 52 helps support the body's metabolic process
Liv52 DS/ LiverCare Ingredients (Per Tablet):
Capers / Himsra (Capparis spinosa) 65mg
Wild chicory / Kasani (Cichorium intybus) 65mg
Ferric Oxide Calx / Mandur Bhasma 33mg
Black Nightshade / Kakamachi (Solanum nigrum) 32mg
Arjuna (Terminalia arjuna) 32mg
Negro coffee / Kasamarda (Cassia occidentalis) 16mg
Yarrow / Biranjasipha (Achillea millefolium) 16mg
Tamarisk / Jhavuka (Tamarix gallica ) 16mg
Processed in Bhringaraja,Bhumyaamlaki, Punarnava, Guduchi, Daruhardra, Mulaka, Amalaki, Chitraka,Vidanga,Haritaki & Parpata.Preservatives: Methylparaben, Propylparaben, Methylparaben Sodium, Propylparaben Sodium.Liv52 DSPackaging
The Liv.52 plastic container stands at 6.5cms x 4.5 cm's and consists of 60 tablets. The bottle is foil sealed for your protection - confidence that there has been no tampering; and each tablet has an "H" imprinted on it - standing for Himalaya. The container has a 3 year shelf life so buy in bulk and save. The tablets have a sweet, red coating on them and are not bitter or foul tasting at all. The tablets themselves are small at about 0.5 cm's so are very easy to swallow.
Directions for taking Liv52 DS
2 - 3 tablets twice daily with meals or as prescribed by your physician.Liv52 DS / Livercare from Himalaya Herbals
Liv52 / LiverCare is from the renowned Himalaya Herbals brand endorsed by over 250,000 doctors worldwide and used by customers in over 60 countries. Liv-52 was introduced in 1955 by Himalaya Herbal Healthcare. Since then, it has been sold worldwide and is recognized by thousands of health professionals as one of the most effective liver formulas, with beneficial effects reported in over 300 studies.Himalaya's Liv-52 has been approved as an herbal drug for liver in Switzerland by its FDA equivalent. It is believed to be the first multi-herb remedy granted regulatory approval as a drug, which is an outstanding feat for an herbal product.Himalaya Herbals products have been researched clinically and standardized to guarantee bioequivalence. Bioequivalence refers to ensuring that the product on the market is equivalent to the one on which clinical trials were successfully conducted. Himalaya Herbal Healthcare uses chromatographic fingerprinting, one of the most sophisticated standardization techniques, to ensure consistent quality and performance.Liv52 DS/ Livercare herbs
The herbs in Liv.52 have been selected due to their well known ayurvedic properties that are beneficial for the liver and for overall well being. Capers (Capparis spinosa) are well known to improve the functional efficiency of the liver and protect and stimulate the liver. Wild Chicory (Cichorium intybus) is also known as a powerful hepatic stimulant which increases bile secretion and promotes digestion. Black Nightshade (Solanum nigrum) – protects the liver from toxicity induced by drugs. Arjuna (Terminalia arjuna) – helps to protect against toxins and is a tonic for the heart and liver. It also regulates hepatic cholesterol biosynthesis. Negro Coffee (Cassia occidentalis) promotes detoxification of the liver and helps in promoting digestion. Yarrow (Achillea millefolium) – helps to improve appetite and to relieve infections and inflammation of internal organs. Tamarisk (Tamarix gallica) - also helps to stimulate the liver and improves digestion.
Latest Expiry date Guaranteed
Kindly Inbox for any Himalaya Product For an awesome price
Recent Questions & Answers
How long is shipping to ?
Answer:
Approximately 15 - 20 Days
What is your best price for this item?
Answer:
The lowest price I accepted including shipping
$75.00
Buy Now
25*60 Tablet Himalaya Liv.52 DS EXPIRY MARCH 2022 free