Item Description
Here is a copy of:
" WINNIE RUTH JUDD: THE TRUNK MURDERS "
( The True Story of the Most Incredible Murderess of This Century and the Strange Events After, 1931-1972
)
by: J. Dwight and Hendricks, Robert J Dobkins. Hardcover, 1973, Book Club Edition.

This book is in overall excellent, solid condition. Has a few blemishes on the dust jacket.

<<<<< Please feel free to contact me for more specific information on this item >>>>>

Review(s) from the satisfied consumer:



... Winnie Ruth Judd never stood a chance in Phoenix, Arizona for justice. I read this book and now everytime I drive by the State Mental Hospital on Van Buren Street in Phoenix, I think of all the years that Winnie Ruth Judd spent there. This author's brilliant and time consuming research, plus she actually visited and slept at Winnie Ruth Judd's apartment and got the "true" story of all that happened from Winnie Ruth Judd, herself. The story took place in 1931, long before Phoenix became a major city, and is one of the most bizarre stories I have ever read. This is a fascinating story, and I could not put the book down until I had read from the front page to the last page ...


*****     *****    *****     *****     *****

... the first book on the Judd case "Winnie Ruth Judd: The Trunk Murderess", is a better read than this one, probably because it's authors were screenwriters. But Ms Bomersbach's book has far more information, much of it new and some culled from personal interviews with Winnie Ruth Judd herself! The author is a top notch researcher to be sure, but not a great storyteller. This book works best as a supplement to its predecessor; I think of them as a set, and with Amazon's used book section, they will both be available for years to come for only a couple of dollars each. Note: Get the Sanctuary paperback reprint of this book--updated after Winnie's death, it has more pictures than the hardcover and an expanded text. ...
*****     *****    *****     *****     *****

... Being a native of Phoenix Arizona, I found this book very interesting and it tells what makes the most sense. The frightning story and distasteful jokes of Winnie Ruth Judd has been told and re-told for years. "The small beautiful trunk murderess who killed two people..chopped them up..loaded them both into trunks...and took them to LA on a train......alone!!" This never did make sense to me. Except for a few secrets Winnie kept until her death...this book explains what happened. ...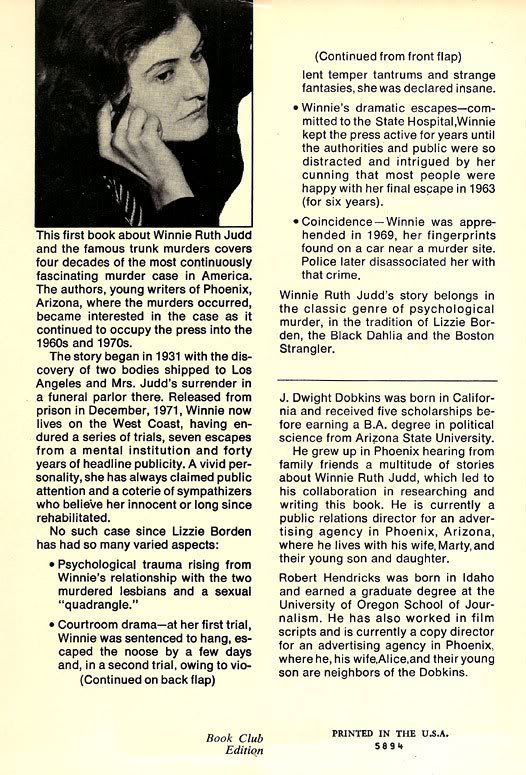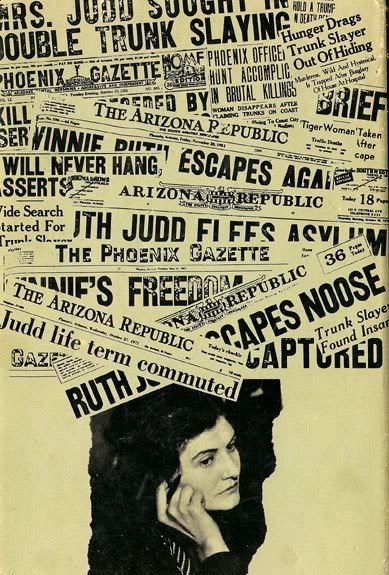 Thanks for Looking!



***

U.S. Buyers pay

$2.99

shipping charges ***
( Default shipping for books is Media Mail, with Priority shipping as an option )


*** PLEASE NOTE THAT MEDIA MAIL CAN SOMETIMES TAKE 10 DAYS OR MORE TO ARRIVE ***



- I will also gladly

combine shipping

charges for

multiple purchases

. Just contact me and let me know before the purchases are made!



*** 

MEDIA SHIPPING DISCOUNT

  ***
 Shipping Charges For Multiple Media Purchases
( Including: Books, Records, Mags, Music & Movies )
<<< WILL NEVER EXCEED $10 >>>
Yep, that's right - Buy 1 Media Item or 100 - The Shipping costs Will Never Exceed Ten Bucks !
*** Discount is Valid for

U.S.

Addresses only ***

---

*** INTERNATIONAL ***
I will ship to other countries - consult the shipping chart below (if present),
otherwise, you need to contact me for a shipping quote.
We accept
for international orders
*** Add an extra 3-4 days Handling Time for ALL international Orders ***

and please subscribe to our store to take advantage of our occasional specials!
Thank You!


Thanks!
---