Item Description
TWINS OF EVIL (1971)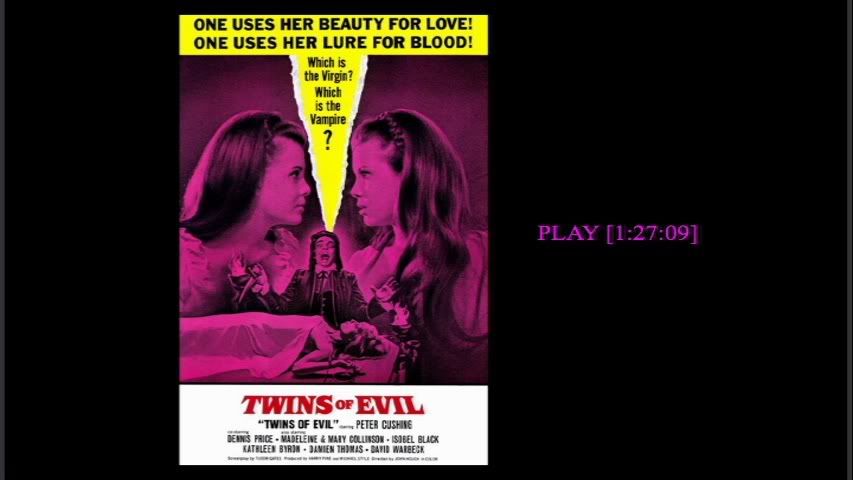 Directed by John Hough


This DVD-R is in NTSC format and will play in ALL USA DVD players.
UNAVAILABLE ON DVD ANYWHERE IN THE WORLD AT THE PROPER SPEED AND TOTALLY UNCUT AND UNCENSORED!
24 frames per second - NO 25 fps SPEED-UP!
MASTERED FROM THE BEST AVAILABLE EDITION!
NOT FROM A VHS OR LASERDISC!

Running time: 1:27:09 - Rated R - Dolby Digital Mono
Mastered in 1.78:1 Anamorphic Widescreen
Progressive-encoded (24 frames per second)
Twins of Evil, Hammer's third entry in the Karnstein trilogy, stands as the most erotic and visually stimulating of all Hammer's films. Unavailable for many years in the United States as a result of claims that one of the actresses appearing disrobed was underaged, the film concerns two orphaned sisters who travel from 18th century Venice to the village of Karnstein as wards of their uncle. The village elders, led by Peter Cushing,practice a reign of terror against supposed witches- primarily single, young women, as a symbol of their frustration against the real evil and debauchery of Count Karnstein. Karstein, protected by the Emperor, spends his evenings attending mock satanic ceremonies in the attendance of nubile young peasant girls. However, he becomes increasingly bored and finally raises the spirit of the long dead carmilla Karnstein who transforms him into a vampire. It is here that the real evil begins. Twins of Evil is fascinating for a number of reasons. Unlike its predecessors- Lust for a Vampire and The Vampire Lovers- Twins of Evil captures the tension between the 18th century Age of Enlightenment and a refusal to let go of superstitions deeply rooted in the history of Europe. Furthermore it pits the tyranny of European monarchies against that of religious fanaticism.Cushing is outstanding as Gustav Vile, as he is tortured by his helplessness against Karnstein and his desire to see God's will done. Cushing had lost his wife prior to the shooting of the film and his greif is evident in the film adding to the darkness and angst of Cushing's character. Lastly, Hammer's use of the Collinson twins adds to the visual beauty of the film juxtaposed against vivid scenes of violence. As a lover of the Hammer genre I quickly snatched this film into my possession and it certainly belongs in the collection of any true horror fan.
Here are some images grabbed directly from this DVD-R up for sale for you to judge the video quality.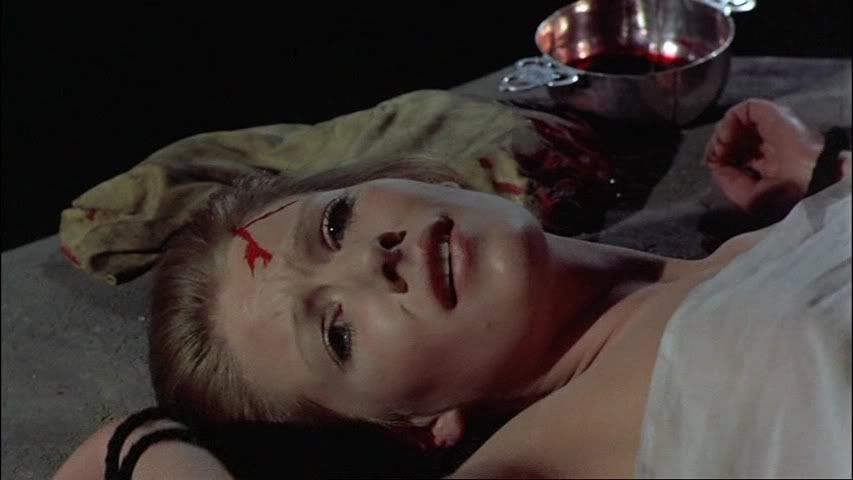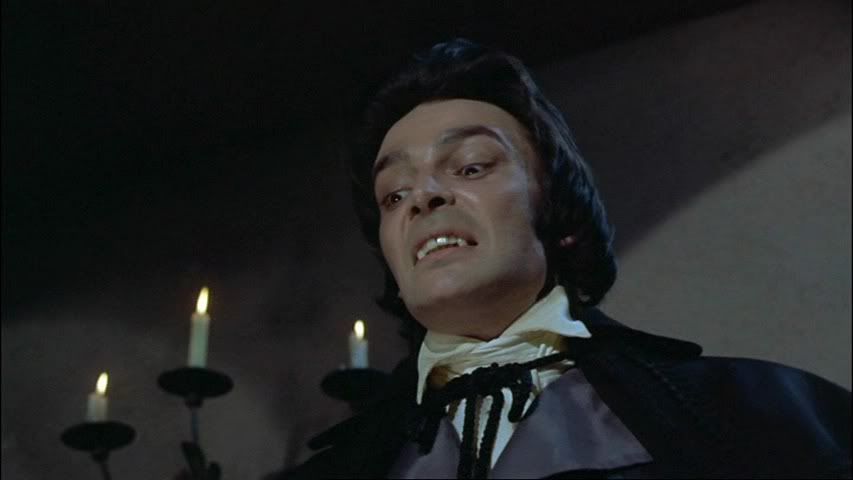 The DVD-R will have a menu and chapter stops. The DVD-R will arrive in a plain paper sleeve with no labels or printing attached (it often warps discs and makes them unplayable) on A+ media, either Sony or Taiyo Yuden, both highly rated for quality, durability, compatibility, and longevity.
By viewing/purchasing this DVD-R, you acknowledge the following statements: You aren't working for any television or movie production studio/network or affiliated organizations, aren't employed by, or a member of a professional organization such as ASCAP or MPAA or any other such groups or associations, aren't employed by the federal government, affiliated agency or any type of sub-contractor or independent agent, are not a postal inspector, nor an individual wishing/wanting to pursue any copyright violation and/or situation or trying to bring legal action against the creator or distributor of this DVD-R. This DVD-R has been produced for collector-to-collector trades/sales and is intended for home viewing only, not for profit. The creation of and distribution of this DVD-R is not meant to infringe on any existing copyright issues and any profit is spent on the reproduction of video and is merely reimbursement for the time, materials, equipment wear and tear, and shipping. You agree with all of the above listed conditions/terms and that your profile does not match anything listed during this message. To the best of my knowledge, this title is in the public domain. If a COPYRIGHT HOLDER has a problem with the film presented herein, please notify the producer of this DVD-R on your OFFICIAL LETTERHEAD with complete copyright notification and the title(s) will be deleted. This DVD-R is fan-created and makes no claims of official affiliation or representation. All original content - including, but not limited to, the authoring/conversion/alteration of the motion pictures, all menus, and DVD production files - contained on this DVD-R is © 2010 DVDVentures@AOL.com LLC, all rights reserved, and may not be duplicated in part or in whole without express written permission.