Item Description
Item: i18586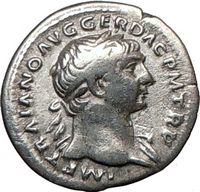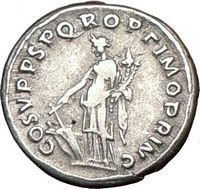 Certified Authentic Ancient Coin of:
Trajan - Roman Emperor: 98-117 A.D. -
Silver Denarius 18mm (2.85 grams) Rome mint: 103-112 A.D.
Reference: RIC 122; Coh. 87; BMC 306
IMP TRAIANO AVG GER DAC P M TR P - Laureate head right.
COS V P P S P Q R OPTIMO PRINC - Fortuna left, holding rudder and cornucopiae.
You are bidding on the exact item pictured, provided with a Certificate of Authenticity and Lifetime Guarantee of Authenticity.  
In Roman mythology , Fortuna (equivalent to the Greek goddess Tyche ) goddess of fortune, was the personification of luck ; hopefully she brought good luck, but she could be represented veiled and blind, as modern depictions of Justice are seen, and came to represent the capriciousness of life. Atrox Fortuna claimed the lives of Augustus ' two hopeful grandsons, educated to take up princely roles, for she was also a goddess of fate . Her father was Jupiter, and though she had no lovers or children of her own, Fortuna was propitiated by mothers.
Fortuna had a retinue that included Copia , "bounty", among her blessings. Under the name Annonaria she protected grain supplies. In the Roman calendar, June 11 was sacred to Fortuna, with a greater festival to Fors Fortuna on the 24th.
Roman writers disagreed whether her cult was introduced to Rome by Servius Tullius . or Ancus Marcius . Fortuna had a temple in the Forum Boarium and a public sanctuary on the Quirinalis , as the tutelary genius of Roma herself, Fortuna Populi Romani, the "Fortune of the Roman people", for Fortuna, the embodiment of the chaotic chance event as modern historians would see it, was closely tied by the Romans to virtus , strength of character; flaws in the main public actors brought on the calamities of ill fortune, as Roman historians like Sallust saw her role: "Truly, when in the place of work, idleness, in place of the spirit of measure and equity , caprice and pride invade, fortune is changed just as with morality".
Marcus Ulpius Nerva Traianus , commonly known as Trajan (18 September, 53 ? 8 August, 117), was a
Roman Emperor who reigned from AD 98 until his death in AD 117. Born Marcus Ulpius Traianus into a non- patrician family in the Hispania Baetica province (modern day Spain ), Trajan rose to prominence during the reign of emperor Domitian , serving as a general in the Roman army along the German frontier , and successfully crushing the revolt of Antonius Saturninus in 89. On September 18, 96, Domitian was succeeded by Marcus Cocceius Nerva , an old and childless senator who proved to be unpopular with the army. After a brief and tumultuous year in power, a revolt by members of the Praetorian Guard compelled him to adopt the more popular Trajan as his heir and successor. Nerva died on January 27, 98, and was succeeded by his adopted son without incident.
As a civilian administrator, Trajan is best known for his extensive public building program, which reshaped the city of Rome and left multiple enduring landmarks such as Trajan's Forum , Trajan's Market and Trajan's Column . It was as a military commander however that Trajan celebrated his greatest triumphs . In 101, he launched a punitive expedition into the kingdom of Dacia against king Decebalus , defeating the Dacian army near Tapae in 102, and finally conquering Dacia completely in 106. In 107, Trajan pushed further east and annexed the Nabataean kingdom , establishing the province of Arabia Petraea . After a period of relative peace within the Empire, he launched his final campaign in 113 against Parthia , advancing as far as the city of Susa in 116, and expanding the Roman Empire to its greatest extent. During this campaign Trajan was struck by illness, and late in 117, while sailing back to Rome, he died of a stroke on August 9 , in the city of Selinus . He was deified by the Senate and his ashes were laid to rest under Trajan's Column . He was succeeded by his adopted son (not having a biological heir) Publius Aelius Hadrianus ?commonly known as Hadrian.
As an emperor, Trajan's reputation has endured - he is one of the few rulers whose reputation has survived the scrutiny of nineteen centuries of history. Every new emperor after him was honoured by the Senate with the prayer felicior Augusto, melior Traiano, meaning "may he be luckier than Augustus and better than Trajan". Among medieval Christian theologians, Trajan was considered a virtuous pagan , while the 18th century historian Edward Gibbon popularized the notion of the Five Good Emperors , of which Trajan was the second.
Early life and rise to power
Trajan was born on September 18, 53 in the Roman province of Hispania Baetica (in what is now Andalusia in modern Spain), a province that was thoroughly Romanized and called southern Hispania, in the city of Italica , where the Italian families were paramount. Of Italian stock himself, Trajan is frequently but misleadingly designated the first provincial emperor.
Trajan was the son of Marcia and Marcus Ulpius Traianus , a prominent senator and general from the famous gens Ulpia. Trajan himself was just one of many well-known Ulpii in a line that continued long after his own death. His elder sister was Ulpia Marciana and his niece was Salonina Matidia . The patria of the Ulpii was Italica , in Spanish Baetica, where their ancestors had settled late in the third century B.C. This indicates that the Italian origin was paramount, yet it has recently been cogently argued that the family's ancestry was local, with Trajan senior actually a Traius who was adopted into the family of the Ulpii.
As a young man, he rose through the ranks of the Roman army , serving in some of the most contentious parts of the Empire's frontier. In 76?77, Trajan's father was Governor of Syria ( Legatus pro praetore Syriae), where Trajan himself remained as Tribunus legionis. Trajan was nominated as Consul and brought Apollodorus of Damascus with him to Rome around 91. Along the Rhine River , he took part in the Emperor Domitian 's wars while under Domitian's successor, Nerva , who was unpopular with the army and needed to do something to gain their support. He accomplished this by naming Trajan as his adoptive son and successor in the summer of 97. According to the Augustan History , it was the future Emperor Hadrian who brought word to Trajan of his adoption. When Nerva died on January 27, 98, the highly respected Trajan succeeded without incident.
---
Frequently Asked Questions
How long until my order is shipped?
Depending on the volume of sales, it may take up to 5 business days for shipment of your order after the receipt of payment.
How will I know when the order was shipped?
After your order has shipped, you will be left positive feedback, and that date should be used as a basis of estimating an arrival date.
After you shipped the order, how long will the mail take?
USPS First Class mail takes about 3-5 business days to arrive in the U.S., international shipping times cannot be estimated as they vary from country to country. I am not responsible for any USPS delivery delays, especially for an international package.
What is a certificate of authenticity and what guarantees do you give that the item is authentic?
Each of the items sold here, is provided with a Certificate of Authenticity, and a Lifetime Guarantee of Authenticity, issued by a world-renowned numismatic and antique expert that has identified over 10000 ancient coins and has provided them with the same guarantee. You will be quite happy with what you get with the COA; a professional presentation of the coin, with all of the relevant information and a picture of the coin you saw in the listing.
Compared to other certification companies, the certificate of authenticity is a $25-50 value. So buy a coin today and own a piece of history, guaranteed.
Is there a money back guarantee?
I offer a 30 day unconditional money back guarantee. I stand behind my coins and would be willing to exchange your order for either store credit towards other coins, or refund, minus shipping expenses, within 30 days from the receipt of your order. My goal is to have the returning customers for a lifetime, and I am so sure in my coins, their authenticity, numismatic value and beauty, I can offer such a guarantee.
Is there a number I can call you with questions about my order?
You can contact me directly via ask seller a question and request my telephone number, or go to my to get my contact information only in regards to items purchased on eBay.
When should I leave feedback?
Once you receive your order, please leave a positive. Please don't leave any negative feedbacks, as it happens many times that people rush to leave feedback before letting sufficient time for the order to arrive. Also, if you sent an email, make sure to check for my reply in your messages before claiming that you didn't receive a response. The matter of fact is that any issues can be resolved, as reputation is most important to me. My goal is to provide superior products and quality of service.