Item Description
Wow.... We proudly presents state of the art
Automatic Video Bypass
Z7 Module    With DVD KIT
specialy designed for      
OEM
(orignal entertainment media)
 in dash dvd MODEL
AS LISTED BELOW for any of the manufacturar of car
Toyota for listed models
Fits the following Makes and Models : 2003-08 4Runner (SR5 Style), 2004-07 Highlander

2007-08 FJ , 2005-07 Sequoia , 2008-09 Sienna , 2004-06 Tundra

2004-06 Celica , 2004-06 RAV4 , 2005 MR2 , 2003-09 Matrix , 2007-08 Yaris S

2009 Yaris 5-Door, 2004-07 Scion XA , 2004-09 XB , 2004-09 TC , 2008-09 XD

 

Fits the following Makes and Models : 2003-08 4Runner (SR5 Style), 2004-07 Highlander

2007-08 FJ , 2005-07 Sequoia , 2008-09 Sienna , 2004-06 Tundra

2004-06 Celica , 2004-06 RAV4 , 2005 MR2 , 2003-09 Matrix , 2007-08 Yaris S

2009 Yaris 5-Door, 2004-07 Scion XA , 2004-09 XB , 2004-09 TC , 2008-09 XD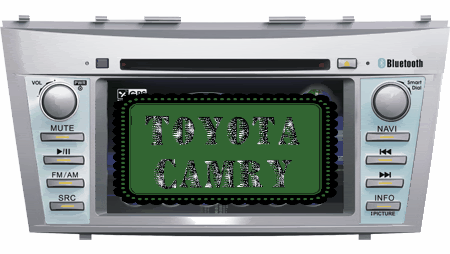 or will also work for rest of following models too
| | | | |
| --- | --- | --- | --- |
| CH-3401N | GM-5100 | HN-7101N | TY-6100 |
| CH-4100 | GM-5201N | HY-910N | TY-6101N |
| CH-4201N | GM-5301N | NS-8101N | TY-620N |
| | GM-700 | FD-3401N | TY-6300SD |
| | UN-621 | UN-710 | TY-6301N |
ORIGNAL FACTORY MULTIMEDIA INDASH RECIVER HACK/BYPASS
Now you can enjoy your favourite DVD's while your vehile in move
 no need to toggle switches,
no need to park your break or
no need to wait to stop you vehicle.
  Your unit will NOW be able to play DVD irrespect of the motion.
 No need to even pull up the hand/foot brake or 
toggle a switch because it will do automaticaly
>>>>(not for driver or driver view-obey the laws)
Z7 will allow you to automaticaly bypass or hack caution screen to let you watch your video .
you only have to hook up only 4 wires in your car harness and any one can do this in 5 minutes,
we include all the required hardware parts you needed or required for this.
Step one>Simply take out your head unit  Step two>-connect 4 wires,
Step three Closed the work and its done.
No gimmic or secret you have to learn any one with little knowledge ,
with the help of video and color pi ctures gude can do it
 in less than 5 minutes...
AS SEEN IN PIC BELOW,THIS BYPASS WILL WORK ANY ONE OF THIS...
This DVD Module Kit will let u
Allow to watch video while in motion so u can enjoy this in car suv or rv homes (or car audio display.)
Now you can enjoy your DVD movies while your vehicle is in motion.
Automatically allow you to Play DVD with no caution screen, no switch needed
program change setting or blue tooth control if equipped.
You are bidding CD kit That include
step by step instruction catalogue/Booklet/manual guide
 (with color pictures and CONNECTION diagram) for how to do the Lockout/Bypass/Override/Hack your DVD in dash
All necessary hardware parts needed include in the kit like... Automatic Module Z7 ...

video clips to make your installation easy

 
With detail instruction, color pictures instructional video and easy to understand circuit diagram in a understandable language.
 Anyone with little knowledge can do this less than 5 minute.
Backed by our 100% money back guaranteed *and professional help 24/7.
Further technical help is also available if needed*
*Bid confidently as we have been an eBay member for over 7 Years.
and car audio experience for nearly 22years.
Please contact us with any questions or concerns.*
Check my Feedback and Bid with Confidence!!!!
Benefits of Z7
Automatic Bypass Module for Park break override, lockout.
No switches no programming no alteration to your In dash system.
this automatic device will let you do the park break hack  for display units, for rv homes, cars ,trucks, and boats. that will allow you to watch video and control other functions that was not accessible
(it's not meant for driver installation and  not being sold so that you can view video while driving your vehicle.)
100% work
100% guaranteed
100 % money back for 30 days
100% exchange for life time in case any thing happen in future.
100% Sealed in a small box with auto industry anti vibration technology.
100% water proof, good for boat too.
100% high grade component used for enhanced functionality.
100% protected, will not voids the warranty or damage the Head unit.
This Automatic module will also work for the following models not listed below
| | | | |
| --- | --- | --- | --- |
| CH-3401N | GM-5100 | HN-7101N | TY-6100 |
| CH-4100 | GM-5201N | HY-910N | TY-6101N |
| CH-4201N | GM-5301N | NS-8101N | TY-620N |
| | GM-700 | FD-3401N | TY-6300SD |
| | UN-621 | UN-710 | TY-6301N |
Terms and condition and FAQ
Refund Policy:
My System is backed by 100% money back 
Communication:
You can contact us via:
eBay message, i get it instantly and try to reply within few hrs.
, this is my favourite i get it on my smart phone instantly and can reply ASAP.
Skype msg:i rx msg via skypee instantly or u can call me via Skype phone.
Telephone: my contact no is +1-888-713-2513. in case of direct hepl i am always there.please  call my within business hrs 9am-5pm est time.
Manufacturer warranty:
"Will this void my warranty?"  it will not by using my professional techniques
  Caution Note:
 Purchase, install and use at your own, your equipment, vehicle and other electronic devices functionality and working at your own .
If you installed and connect it wrong and does not follow the instructions or guide lines then all the liability on you
We cannot control wrong non professional connections made to your vehicle that might disturb or damage electronic devices. so If not confident  let professional car audio installer perform this install for you.
Disclaimer and Legal Caution:
1.     By bidding on this auction you the bidder agree that it is dangerous, illegal, and strictly prohibited by all states and countries to have video products or monitors installed in such a way that the driver may view them while driving on the road and get distraction.  
2.     we will not take any responsibility if you modify the equipment for that purpose.  
3.     Again and again said that our product is not being sold so that you can view video while driving your vehicle.  
4.     It is legal for video to be viewed behind the driver for your friends or kids to watch movies or play video games while the vehicle is in motion.  
5.     It is Very dangerous and illegal in all states (USA) or (Canada) and All international countries against the law for the driver to have video within view. Please Obey all safety Laws and Rules. Those are meant for your own safety and specially other.  
      6.     Intended for off road or bench test use only! 
> Thanks for Understanding. <<
Legal information and copyright:
 Sabam1(x-pert-s) has used its best efforts to inspect the item(s) for sale, create descriptions and furnish photographs that fairly and adequately depict the type, condition and image of the goods at the time of the sale. sabam1 makes no express or implied warranties or representations regarding the condition or suitability of the goods and to the extent allowed by law, specifically disclaims any express or implied warranties, including but not limited to ANY WARRANTY OF MERCHANTABILITY OR FITNESS FOR PURPOSE.
Thank you for interest on this item.
Powered by