Item Description
NEW - 2 DVD set totaling 5 hours of information about reel to reel tape recorders,   a brief history of sound recording and the recorders in Phantom Productions, Inc.'s vintage recording collection.   This is our own production and distribution.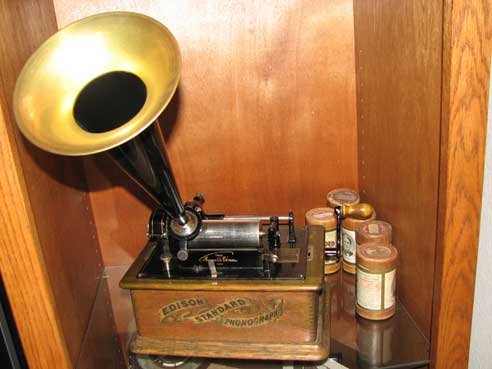 Phantom Productions, Inc. vintage recording collection began in 1998 with a 1904 Edison cylinder player.  It has since grown to the many recorders noted on our reel2reeltexas.com web site.  These DVDs provide a tour of our vintage recording collection.  There are approximately 133 reel to reel tape recorders and other unique items related to recording. This is a 2 DVD 5 hour set that also includes a segment on how the tape recorder works and a segment about our on-location  recording work around the State of Texas.
Most of the DVD is dedicated to the profile of the reel tape recorders that came available in the US in the late 1940's through the 1980's.  We also include a profile of our wire recorders, a spring motor tape recorder and several other unique and unusual recording devices.   The DVDs also profiles the numerous microphones in the Phantom collection.  A trailer of the DVD may be /DVDR2RTexas.html.  While we don't go into great depth, we demonstrate the many working units and provide some base information on when they were manufactured and what they cost new. 
Recorders and microphones on the 2 DVD set include units by: Akai, Altec, American Microphone, Amplicorp Magnemite, Ampex, Astatic, Bell, Bell and Howell, Berlant Concertone, Bogen, Brush Sound Mirror, Concertone, Concord, Crown, Dokorder, Edison, Eico, Electro Voice, Fostex, Garrard, HeathKit, Magnecord, Marantz, Martel by Uher, Nagra, Otari, Pentron, Phillips, Pioneer, RCA, Reslo, ReVox, Rheem, Roberts, Sennheiser, Shure, Sony, Sparta, Spectone, Studer, Tandberg, Tascam, Teac, Technics, Telefunken, Toshiba, Turner, Viking, Webcor, Webster Chicago, Wilcox-Gay &  Wollensak. 
Some feedback from eBay
? EXCELLENT!! BEST I'VE EVER SEEN ON AUDIO HISTORY MUST HAVE! CHEAP AT TWICE PRICE 
?  better than decribed!!faaaast shipping recommened!!a++++ all around!! thanks!!!
?  !Wow!!! such a ?    ?  wealth of information past the trailer clips!!!  AAA+++
?  AAAAAAAAAA+++++++++++++++
?  Great DVD set-nothing else like it. Seller really cares about customer. A+++++
?  Great stuff, fast shipper. A +++++++++
?  What memories!!!! Fantastic transaction!!!!!
?  Quite a compilation! Very satisfied  ? Thanks. Great DVDs
?  Great videos, very well done!!AAAAAAAAAAAAAAAAAAAAAAAAAAAAA++++
?  Wonderful product. Excellent transaction.
?  FAST Shipping. GREAT 2-DVD set. I'm Very Happy
?  Quick delivery. Fascinating insight to the world of R/R recorders. Seller 5*rcmd