Add to Cart
THE NAZI HORRORS OF WORLD WAR 2 MOVIE ON DVD
Item Description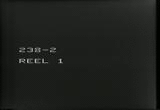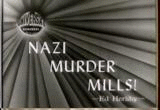 THE NAZI HORRORS COLLECTION
 ON DVD!
3 HISTORICAL RARE DOCUMENTARIES IN 1 DVD MOVIE!!!
THIS IS A RARE COLLECTION OF THE NAZI HORRORS OF WORLD WAR II. ALL BROUGHT TOGETHER ON 1 DVD.
PLAYABLE ON ANY HOME DVD PLAYER. ALL REGION NTSC.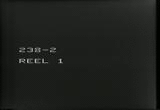 Nazi Concentration Camps 
**This film contains extremely graphic scenes of human suffering, please exercise caution when viewing.** Compilation footage of Nazi concentration camps in the immediate aftermath of World War II. The footage was gathered by the US Department of Defense as part of the effort to conduct war crimes trials. RUNNING TIME 51:56 B/W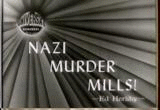 Nazi Murder Mills (1945)

The First actual newsreel pictures of atrocities in Nazi murder camps. Helpless prisoners tortured to death by a bestial enemy...Here Is The Truth" (Real-life horror pictures revealing the unbelievable atrocities committed by the Nazis in their murder camps) Grasleben: Wounded and emaciated Yanks, captured in von Runstedt's bulge attack of last winter, are fed and given medical care by the Yank armies of liberation. Hadamar: Protected by gas masks, grave diggers open reeking graves at this converted insane asylum. They discover that 35,000 political prisoners had been slain here, largely by poisoning. Camp Ohrdruf : General Eisenhower, General Patton and General Bradley can hardly believe their eyes when they view torture-gallows, heaps of charred human bodies and lime pits filled with corpses. Although they recoil, Nazi officials are forced to enter barns containing rows of decomposing, lime-sprinkled bodies. Buchenwald: 21,000 prisoners living in utter filth, stumble around with their broken skulls. Agonized corpses lie everywhere with large tattoed numbers on their sunken stomachs. Two roast ovens were used as crematoria. "Nordhausen: Starved corpses strew the ground. Creeping, jabbering, breathing skeletons are laoded into ambulances for possible treatment. Plump German civilians are forced to handle corpses with their bare hands and carry them to huge mass graves for a semi-civilized burial." scenes of prisoners liberated from camps, given broth and medical attention; graves uncovered, interrogations to uncover truth; Ohrdruf camp viewed by Ike, Bradley, Patton; (2) Nations Meet To Map World Security Plan - "The San Francisco Conference of 46 United Nations, summoned to draft a charter for a post-war organization to secure peace, is officially opened by Secretary of State Edward Stettinius. In a speech from the White House, President Truman states 'if we do not want to fdie together in war, we must learn to live together in peace.'" scenes of delegates arrive; first session opens with gavel held by Stettinius, Truman speech. RUNNING TIME 8:15 B/W

The Death Mills
The Death Mills, or Die Todesmühlen, is a 1945 American propaganda documentary film directed by Billy Wilder and produced by the United States Department of War. It was intended for German audiences to educate them about the atrocities committed by the Nazi regime. For the German version, Die Todesmühlen, Hans Burger is credited as the writer and director, while Wilder supervised the editing. Wilder is credited with the English-language version.
The film opens with a note that the following is "a reminder that behind the curtain of Nazi pageants and parades was millions of men women and children were tortured to death - the greatest mass murder in human history" then fades into German civilians at Gardelegen carrying crosses to the local concentration camp.
Most of the film is simply footage of the newly liberated camps over a score of stark classical music. The narrator notes that people of all nationalities were found in the camps, including people of all religious or political creeds. There is no mention of the particular fate of Jewish people. The films states that 20 million people were killed and describes many of the familiar aspects of the Holocaust, including the medical experiments and the gas chambers. RUNNING TIME 21:21 B/W
TOTAL RUNTIME 81:30 MINUTES NTSC DVD ALL REGION.
YOU ARE BIDDING ON 1 DVD VIDEO DISK TITLED THE NAZI HORRORS MOVIE AS DESCRIBED ABOVE. THE DISK IS VIEWABLE ON YOUR HOME DVD PLAYER OR COMPUTER USING YOUR STANDARD WINDOWS OR MAC SOFTWARE FOR VIEWING DVD MOVIE VIDEOS.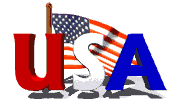 WE ONLY SELL AND SHIP USA!!!
BUY WITH CONFIDENCE FROM A GENUINE USA SELLER!
THIS IS A DVD TO THE HIGHEST QUALITY. DISK'S COME WITH NO FRILLS. THEY'RE JUST A SET OF PLAIN DISK IN A PAPER SLEEVE WITH ULTIMATE QUALITY CONTENT. THEY WILL PLAY ON EQUIPMENT AS STATED ABOVE. PLEASE BE AWARE THAT THESE ARE REPRODUCED FROM ORIGINAL ARCHIVED MATERIALS. SOURCE OF MATERIALS ARE OLD AND SOUND AND VIDEO QUALITY ARE NOT ON PAR WITH MODERN MOTION PICTURES, ETC. PLEASE UNDERSTAND THIS AS PICTURE AND SOUND QUALITY ARE BEYOND OUR CONTROL AND ARE NOT A BASIS FOR ANY RETURN OR EXCHANGE.
We could go on and on telling you how great A DEAL THESE are but then we wouldn't have any time to watch them. So if you have any questions just ask us a question and we will try our best to answer them ASAP. Please check out our other PRODUCTS  if you don't find what you're looking for here.
All underlying material is in the public domain. No copyrights are infringed. The NAZI HORRORS COLLECTION DVD DISK is copyright 1997-2007 C.WALTHOUR and may not be reproduced, copied or resold under any circumstances. We are the producers, manufacturers and sole distributors of this disk.
Auction or Sales Policy::
Your bid or purchase is a contract - Place a bid only if you're serious about buying the item. If you are the winning bidder, you will enter into a legally binding contract to purchase the item. If the seller is unable to establish contact with the winning bidder within 3 days of the end of the auction or if payment is not received within 5 days, item may be offered to the next highest bidder or relisted at the sellers sole discretion.
Shipping Details:
Shipment will be made by USPS FIRST CLASS Mail with Delivery Confirmation. Orders are generally shipped on the day after full payment. We sell and ship domestic (USA) only to Paypal Confirmed Addresses WHEN PAYING WITH PAYPAL. WE DO NOT SHIP TO ALTERNATE ADDRESSES WHEN PAYING WITH PAYPAL.
Payment Details:
Paypal OR US POSTAL SERVICE MONEY ORDERS ONLY. NO PERSONAL CHECKS.
Returns:
Due to the nature of the media being auctioned there are no refunds given of any kind. ALL SALES ARE FINAL. In the unlikely event of defective disk, disk may be returned for exchange only. DISK MUST BE RETURNED WITHIN 7 DAYS OF RECEIPT FOR EXCHANGE. Shipping and handling fees are not refundable. Buyer is responsible for shipping costs incurred shipping products back.
Contact:
The winner will receive an "End of Auction" email or payment instructions. Click on the payment link and/or follow instructions for payment. Once cleared payment is received, we will ship product.
 
Recent Reviews
Recent Questions & Answers
THE NAZI HORRORS OF WORLD WAR 2 MOVIE ON DVD