Item Description
The Band Wagon



Stock Photo

Item Specifics - VHS
Format:

VHS

Rating:

NR

Leading Role:

Fred Astaire

:

New

Director:

Vincente Minnelli

Format:

--

Genre:

Musicals, Broadway

Sub-Genre:

--

Portions of this page Copyright 1981 - 2007 Muze Inc. All rights reserved.
Additional information
DIFFERENT FRON COVER
---
On Mar-31-05 at 00:25:36 PST, seller added the following information:
BidPay® — auction payments made easy

Additional Information about The Band Wagon
Portions of this page Copyright 1981 - 2007 Muze Inc. All rights reserved.



Movie description
Fading movie musical star Tony Hunter, down and out in Hollywood, decides to try his luck on the Broadway stage. Unfortunately, the simple hoofer discovers that a pretentious director has control of the project, and that instead of good humor, happy songs and a tapping chorus line, there'll be lengthy speeches, heavy drama and lots of deep soul-searching. Even worse, Tony's expected to dance with a classical ballerina! Thanks to the massive egos of everyone involved, the play, to no one's surprise, lays an egg. But now Tony takes charge, and he's out to prove the show must go on -- his way! Some of the dazzling Astaire dance numbers include "Triplets," "Girl Hunt," "Dancing in the Dark" and "That's Entertainment."


Credits
Producer:
Arthur Freed
Cast:
Ava Gardner, Cyd Charisse, Fred Astaire, Jack Buchanan, James Mitchell, Nanette Fabray, Oscar Levant, Robert Gist, Thurston Hall


Notes
THE BAND WAGON was was added to the Library of Congress National Film Registry in 1995.

In 1931, Fred Astaire appeared in the Broadway musical revue THE BAND WAGON, which also featured songs by Arthur Schwartz and Howard Dietz. The film borrows four songs ("Dancing in the Dark," "I Love Louisa," "Beggar's Waltz," and "New Sun in the Sky") from that production but not the plot.

The film features 12 songs borrowed from various Broadway productions as well as two band-new musical numbers. "A Shine on Your Shoes" first appeared in FLYING COLORS; "Triplets" appeared in BETWEEN THE DEVIL; "I Guess I'll Have to Change My Plan" appeared in THE LITTLE SHOWS; and "Louisiana Hayride" appeared in COLORS.

Clifton Webb was first approached about playing Jeffrey Cordova, the role that eventually went to Jack Buchanan. The inspiration for that character was José Ferrer, who produced four concurrent Broadway shows while acting in a fifth in the early 1950s.

Shot in three-strip Technicolor.


Editorial reviews
"...Hollywood's last great musical tribute to Broadway....Deliriously colorful..." -- Rating: A
Entertainment Weekly - Glenn Kenny (05/12/1995)
"...Astaire called it his favorite film..."
USA Today - Tom Green (10/19/1994)

Awards
1953 Academy Awards, Best Scoring of a Musical
1953 Academy Awards, Best Story and Screenplay
1953 Academy Awards, Best Story and Screenplay: Adolph Green



The seller, orlandojoyce, assumes full responsibility for the content of this listing and the item offered.
---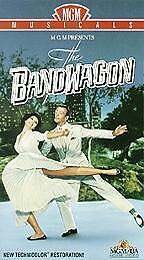 Stock Photo