Item Description
Custom Search
Genealogy Images Of History!
Type in your family name or a specific topic you are looking for..




  
Search titles and descriptions.
On all multiple items after the first, you will receive a 10% discount.
Postage will be combined and refund granted if saved
.

CAPTAIN BILL McDONALD
THE FASTEST TONGUE IN TEXAS
"Where's the other Rangers?
You got one riot, you get one Rangerâ€
Captain Bill McDonald, Texas Ranger

Folks, of all the famous quotes made by Texas Rangers, here is the story of Captain Bill McDonald entitled "The Fastest Tongue in Texas†by Jim Andre. I am sure you heard the quote but did you know it was not made in the outlaw west but rather in the sophisticated city of Dallas, Texas when the Mayor had a riot on his hands and called for the Texas Rangers. A relieved Mayor was awaiting a contingency of Texas Rangers to meet him at the train station. Flabbergasted when one Ranger climbed down, the Mayor asked, "Where's the other Rangers†and Bill McDonald made the famous quote "You got one riot, you get one Rangerâ€. Well, Captain Bill McDonald made many headlines that didn't' make the news as much but are still quotable as the time he sat "Bat†Masterson down. It was said he would have charged:

HELL WITH A BUCKET OF WATER.

Please read this. There were many a western story published – the common ones about cowboy and Indians are listed on Ebay every day but the rarer ones about the lawman of the old west like this one are seldom found. Collectors treasure them and their price guide value rises every day. They are hard to find. I hunt them out cause really the better, untold and rarer stories were published in the rest.

Here's one of 'em.

PURCHASER WILL RECEIVE A FREE SEARCH OF MY WEBSITE

WWW.GENEALOGYIMAGESOFHISTORY.COM

IF YOU SEE AN ITEM OF INTEREST ON MY WEBSITE, JUST EMAIL ME AND I WILL PLACE IT ON EBAY WITH A 10% DISCOUNT AND ALLOW YOU TO PURCHASE

WITH BUYITNOW!

Following my retirement, I have dedicated my remaining hours to indexing the Genealogy of our western pioneers. During my research, I discovered that thousands of our kinfolk lay unfound and unrecognized on some book dealer's shelf gathering dust. Because Old TEXAS RANGER History and Memorabilia was printed before computer indexing, I index every item I sell. This complete index will be bound and included in this offering at no addition cost.

This complete index will be bound and included in this offering at no additional cost.

I hope you appreciate the effort.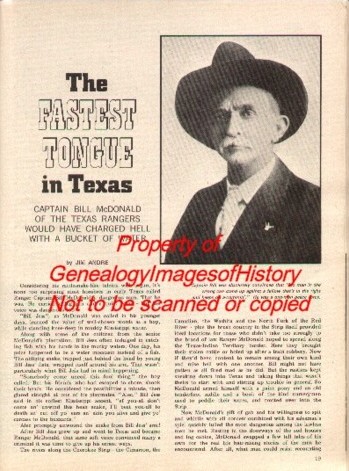 THE FASTEST TONGUE IN TEXAS
By Jim Andre
ANCESTORS INDEXED HEREIN, CIRCA 1880s – 1900s
ANCESTOR'S LOCATION: MISSISSIPPI, TEXAS
GENEALOGY NAMES INDEXED w * INDICATING PICTURE:


ANDRE, Jim, Author

BARKER, Dudley, Texas Ranger *

BEAN, Roy, Judge

BELL, James, Texas Ranger *

CLEVELAND, Grover, President

CULBERSON, Governor

DONNELLY, Dr., Texas Ranger *

FITZSIMMONS, Bob

HARRELL, Jack, Texas Ranger *

LANE, Van, Texas Ranger *

MAHER, Pete

MASTERSON, Bat *

McCAULEY, Billie, Texas Ranger *

McCLURE, Robert, Texas Ranger *

McDONALD, Bill, Captain, Texas Ranger *

PERRY, Ollie, Texas Ranger *

U. S. MARSHAL, from New Mexico

PICTURES AND DESCRIPTIONS w * INDICATING PICTURE:


Picture 1: Captain Bill McDonald was absolutely convinced that "No man in the wrong can stand up against a fellow that's in the right and keeps on a-commin'.†*

Picture 2: The dapper Bat Masterson was a man used to having his way. That changed rapidly when he started throwing his weight around in front of Bill McDonald. *

Picture 3: Texas Rangers in camp near San Saba, Texas in 1897: Ollie Perry, Jack Harrell, Dr. Donnelly, James Bell, Billie McCauley, Dudley Barker, Van Lane, Robert McClure and Captain McDonald. *

Picture 4: In 1896 Judge Roy Bean promoted a heavyweight fight between Bob Fitzsimmons and Pete Maher. The authorities of Texas and Mexico didn't want any part of it and Captain Bill calmed them down by making sure it took place on this island in the Rio Grande. *

PLACES AND THINGS PROMINENTLY MENTIONED:

Canadian River

Cherokee Strip

Cimarron River

Coahuila, Mexico

Dallas, Texas

El Paso, Texas

Kingfisher, Oklahoma

Langtry, Texas

Mississippi

North Fork of the Red River

Rio Grande River

San Saba, Texas

Sanderson, Texas

Texas Rangers

Texas-Indian Territory Border

Thurber, Erath County, Texas

Washita River

THE FASTEST TONGUE IN TEXAS

TEXAS RANGER MEMORABILIA IS RAPIDLY DISAPPEARING

While others clip ads from magazines, I save history. It's a shame that our past is being lost. It's as simple as that.

My wife kids me that after I find a piece I like, buy it, read it, research it, take a picture, scan it, write the blurb, pay the Ebay entry fee and commission, that I end up making about 50 cents an hour. But, OH HOW I LOVE THIS OLD WESTERN HISTORY. What a story, Rare Story!!! Great Pictures. You will love it as it was published in this old, rare, complete western magazine of many years ago. The issue is in good condition, the cover is in vibrant color.

As clearly stated in my description, this is featured story in a rarely found and seldom read unusual and complete western magazine. I don't give out name of publication or date because I have caught competitors copying my index and work and trying to sell it as theirs. I hope you understand.

Buyer pays postage of $3.50 First Class Postage to U. S., $4.50 to Canada, $4.75 Priority Mail, $11.00 Par Avion (Air Mail) for International Mail. Texans must pay 8-¼ % sales tax. Thanks,

Tom

A GENEALOGY IMAGESOFHISTORY COPYRIGHTED PRESENTATION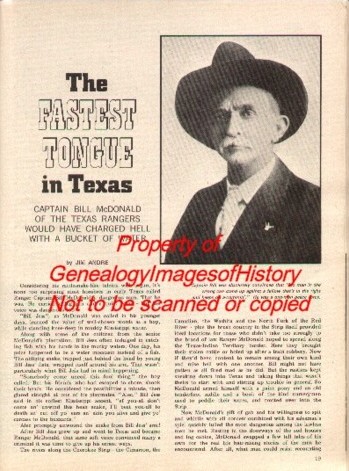 Powered by
---
On Nov-16-07 at 09:59:30 PST, seller added the following information:
Use the FREE Counters 1 million sellers do - Vendio!