Item Description
McDonald's Happy Meal Plastic Toy
"Terk" Walt Disney's 100 Years of Magic Figure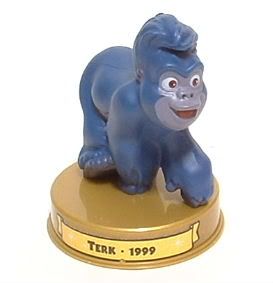 This particular happy meal toy is for the figure  Terk - 1999, it is in good condition and would look great displayed on a shelf by itself or with other Disney 100 figures.  The picture is of the actual toy so you can see its true condition.
We will gladly combine multiple orders to save on shipping.  We will charge the following:  $1.50 for the first figurine, .75 cents per additional figurine (6 or more figures will be shipped for a flat $5)
For your convienence we have provided a check list of all 100 Disney characters that are part of this series.  It can be used to see which figures you may need and to check off the ones you already have.
Abu
Aladdin
Alice
Ariel
Baloo
Bambi
Bashful
Beast
Belle
Bernard
Bianca
Big Bad Wolf
Blue Fairy
Band Concert Mickey
Brave Taylor
Brer Bear
Brer Fox

Brer Rabbit
Buzz Lghtyear
Cheshire Cat
Chip
Cinderella
Cruella DeVil
Daisy
Dale
Doc
Donald Duck
Dopey
Duchess
Dumbo
Elliot
Esmeralda
Fiddler Pig
Fifer Pig

Flik
Flounder
Flower
Genie
Geppetto
Goofy
Grumpy
Gus
Happy
Hercules
Huey Duey & Luey
Jasfar
Jane
Jaq
Jasmine
Jessie
Jiminy Cricket

Jose Carioca
Kida
King Louie
Kuzco
Lady
Little John
Lucky
Mad Hatter
Maleficent
Mary Poppins
Meeko
Milo
Mickey Mouse
Minnie Mouse
Mowgli
Mulan
Mushu

O'Mally
Panchito
Penguin
Phil
Pinocchio
Pluto
Pocahontas
Practical Pig
Prince Charming
Princess Aurora
Pumbaa
Quasimodo
Robin Hood
Scrooge McDuck
Sebastian
Simba

Sleepy
Sneezy
Snow White
Sorcerer Appr. Mickey
Steam Boat Wille
Tantor
Tarzan
Terk
The Witch
Thumper
Timon
Timothy Mouse
Tramp
White Rabbit
Winnie The Pooh
Woody 
THANK YOU!

 

We apprecitate you taking the time to look at our auction.  Please feel free to view our other listings and check back often as we are always adding new and unusual items.