Item Description

Click here to get eBay selling

DJ Studio Tools Software Suite 20 Programs
(2000/2003/ME/XP/Vista/Windows7)
Our DJ Studio Tools Software Suite Offers Professional Grade Digital Tools At A Tremendous Value

"Turn your computer into a full feature DJ Studio"

Easy to set up and Operate. Most programs have a very simple user interface.

System Compatibility

Microsoft

98/2000/2003/ME/XP/Vista/7

This is a 100% Legal FULLY FUNCTIONAL software that can be installed on as many computers as you wish

Image is for visual and marketing purposes. This software will ship in CD mailer. Our Software is professionally published with full cover art and will last a lifetime GUARANTEED!!
Below is a complete list of the software included in this DJ Studio Software Suite. Important: Please note because of the vast amount of software included in this software suite we do not offer the support we typically offer on our other software products. Most of the software has support pages online set up by the manufacture and we apologize for any inconvenience but we simply do not have the resources to master the huge amount of software in this suite. Additionally most of the software will run on windows 98/2000/2003/ME/XP/Vista/7 but some will work on some but not on others or must be used as a plugin. If you have any questions please feel free to contact us. We would prefer to answer your questions beforehand so our products meet your needs and expectations.
Program 1
Desktop Turntables
3-D, interactive simulation of a DJ setup - two turntables and a mixer. You can crossfade, backspin, and speed up and slow down music, including full-length WAVE and MP3 songs, on your computer. It is a cross-platform application for both Windows and Macintosh. You can use it to mix like a DJ or let it mix your MP3 playlist automatically.
support for mixing music from your hard drive, including MP3 files

cueing with headphones (it can play back the cue record on the left channel)

keyboard controls for the turntables and mixer

more precise control of the mixer and records

pitch bending and cue points

autoMix: automatic mixing of your playlist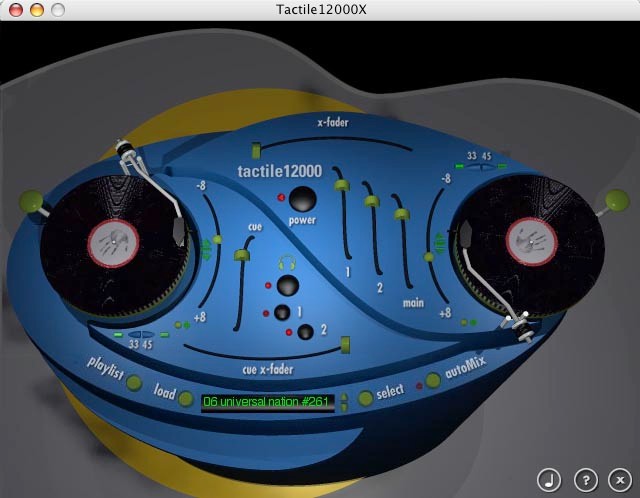 Program 2
Drum Machine
A software drum machine, designed to a creative pattern based way of drum programming with automatic music composition capabilities. You can compose beats even with polyrhythms, bass line and complete songs using included drum kits with the audio sequencer functions.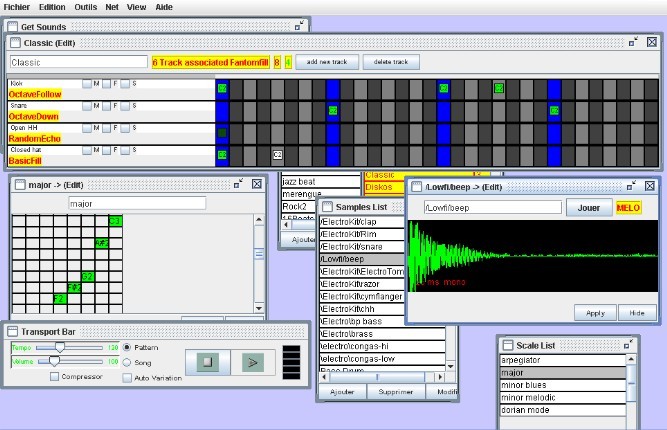 Program 3
Professional DJ Studio
A audio DJ program for Windows. This professional DJ software lets you mix music and other audio recordings live. When loading a music track onto a deck the software will automatically scan the file for a beat and assign a beat per minute (BPM), and will change the tempo in the second deck for perfect synchronization. Drag and drop music into and around the application's interface and preview an upcoming track through headphones via a secondary audio output.
Features:
Crossfade in between two tracks.

Automatic beat detection.

Synchronization between the Decks.

Supports a large number of audio file formats including wav (multiple codecs), mp3, vox, gsm, real audio, au, aif, flac, ogg and many more

Change the pitch in real time of each track, slow it down or speed it up to manually sync it with the other tracks.

Tap tempo, tap space bar in time with the beat to obtain the correct BPM for a track.

Manual edit of BPM, input your own BPM value if you think Zulu may have scanned it incorrectly.

Hot Key control so you can assign any key or key combination to the buttons and switches on Zulu for faster use.

Add a cue pointer marker at any point in a track to instantly start playing the track from that point.

Loop sections within a track and syncronize that loop to the BPM.

Real time Equalisation on each Deck (track) including "kill" buttons for instant EQ.

Apply effects in real-time to a track.

Effects include Distortion, High Pass Filter, Reverb, Phaser, Flanger and Delay.

Separate output for Professional DJ Headphones.

Simple and intuitive user interface for day-to-day operation.

Can be used with a USB DJ Mixing Console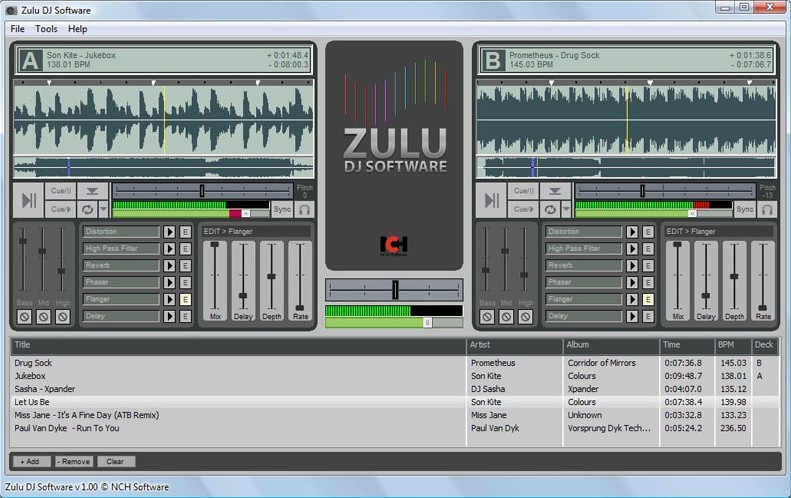 Program 4
Real-time guitar sound effect processing
A guitar effects software that allows you to use your PC as guitar processor. It includes the following effects: wah-wah, sustain, distortion, reverberator, echo, delay, tremolo, vibrato, and chorus/flanger.
You can use it to add some distortion to your guitar, or some reverb to your voice.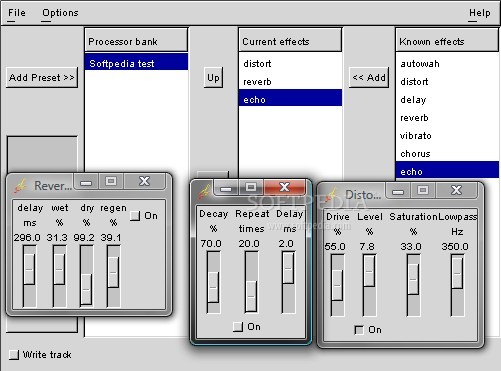 Program 5
Voices And Sound Effects
Windows DirectX effect plug-in.
Used for the robot voices and sound effects
Features:
Screaming analogue style filtering:

Cutoff frequencies from 0 to 11KHz.

Variable resonance (Q factor).

Low-pass, hi-pass & band-pass modes.

Pre-post filtering options.

Versatile and powerful Filterbank for analyzing the modulator signal:

Choose between 1 and 256 frequency analysis bands.

Configurable analysis range from 0-11KHz.

Configurable modulation factor.

Onboard tone generator for use as the carrier signal:

Useful in its own right as a signal generator.

Up to 8 oscillators.

Triangle, square, sawtooth and sine wave shapes.

Individual pitch, fine tune, volume, wave shape and mute controls for each oscillator.

Modulate anything with anything. As an alternative to using the onboard tone generator, the Vocoder has a secondary mode which allows it to use the left audio input as the modulator and the right audio input as the carrier (or vice versa).

32-bit IEEE Floating Point internal signal path.

Code optimization for realtime performance.

All parameters Fully automatable in supported host applications.

Import/Export parameter settings to a spreadsheet file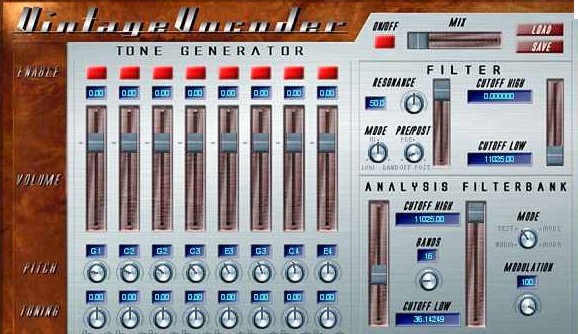 Program 6
Full Feature DJ Studio
This software is one of our top products and worth the price of the entire suite by itself.
Mixing software for DJs, providing everything needed to create live mixes. It allows you to beatmatch songs and crossfade them together, like you would with turntables and a mixer.
If you're new to DJing, don't sweat it - we have you covered. This software runs without any extra hardware, and is a full replacement for a traditional "turntables and mixer" DJ setup. Thousands of people learn to DJ using this program each year!
For experienced DJs, Mixxx offers a wide range of advanced features. Our comprehensive MIDI controller and vinyl control support gives you the tactile feel you need for ultimate control of your mixes. To obtain the lowest latency and highest responsiveness, The software uses hardware video acceleration and takes advantage of multi-core CPUs.
Advanced Mixing Engine
Whether you're blending psy-trance or mashing up the latest Top 40 tracks, this programs looping and hot cue controls give you the power to be more creative with your mixes.
Between BPM estimation and the parallel waveform displays, beatmatching has never been easier. Our new ramping pitchbend buttons allow you to subtley nudge songs back in sync without anyone noticing.
Stretch your music without changing the pitch! The softwares pitch-independent time stretch locks the pitch of your music while you're mixing, so you never have any awkward detuned moments. Our alternative vinyl emulation mode changes the pitch you change the tempo, and is perfect for scratching with a MIDI controller or with vinyl control.
DJ MIDI Controllers
Use the latest and greatest DJ MIDI controllers. Advanced MIDI controller support is provided by our groundbreaking MIDI scripting engine. Take advantage of your MIDI controller with our JavaScript-like language.
Supports most popular DJ MIDI controllers like the Hercules DJ Console MK2, RMX, and Stanton SCS.3d. In addition to our natively supported controllers, our MIDI learning wizard helps you set up other controllers
Vinyl Control
Using a turntable and timecoded vinyl, playback can be syncronized to the turntable. This let's you scratch and mix with your digital music collection as if it were on vinyl!
Supports Serato, Traktor Scratch, and FinalScratch vinyl, as well as Serato CD for control from CDJ units. Position synchronization ("Absolute Mode") is fully supported for each of these timecodes as well.
Even better, you can save money and use your existing soundcard. This softwares vinyl control works with any soundcard that has a stereo line-input jack. This means most consumer and professional soundcards can be used for vinyl control, so there's no need to purchase expensive vinyl control hardware.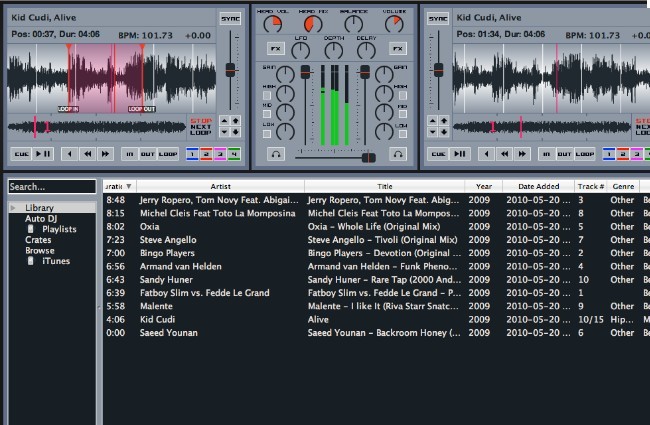 Program 7
Multi Track Studio
Simple yet powerful multi-track studio. This program is perfect for small jobs that need to be done quickly.
With it you can create and record music, podcasts and more, all from an integrated simple environment.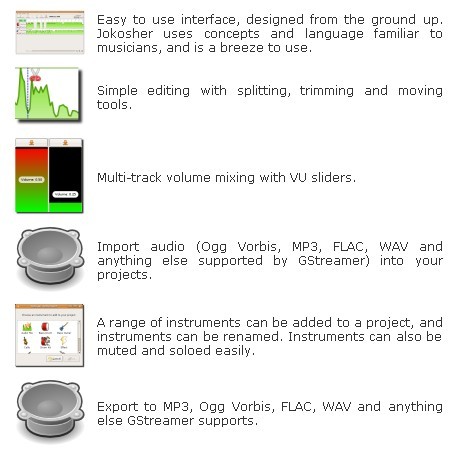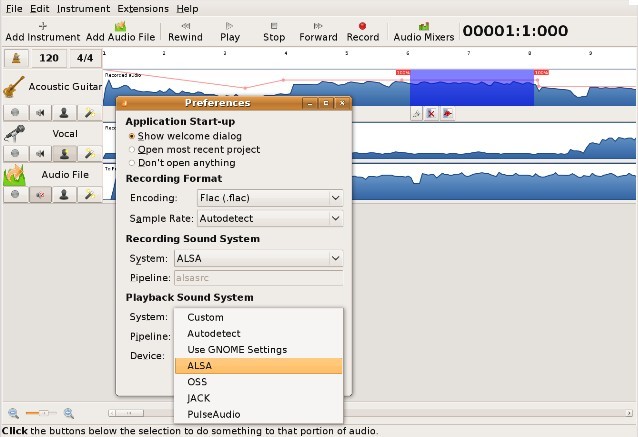 Program 8
Drum Machine
MIDI drum machine. You will be able to use this aplication to generate percussive sounds when using a certain application or a hardware synthesizer.. It supports customizable "drum maps" to link MIDI notes with sounds, comes with "General MIDI", "Roland GS", "Yamaha XG" and "Yamaha Motif Rack ES".
· Each document can contain up to 40 patterns, each made of 1-8 quarter notes, each divided in 1-24 beats. A document can also define a single song, assembled with the available patterns. Documents are archived as XML files. Each document can refer to different devices and to a different drum map.
· Beats can have some "swing", i.e. a randomly applied time variation within a given percentage range. Each "event" has user defined probability and velocity ranges.
· MIDI files can be imported with reasonably successful results.
· Playback start, stop and pause, as well as the current mode, pattern and tempo can be controlled via MIDI control change messages.
·Can act as a MIDI clock sync master.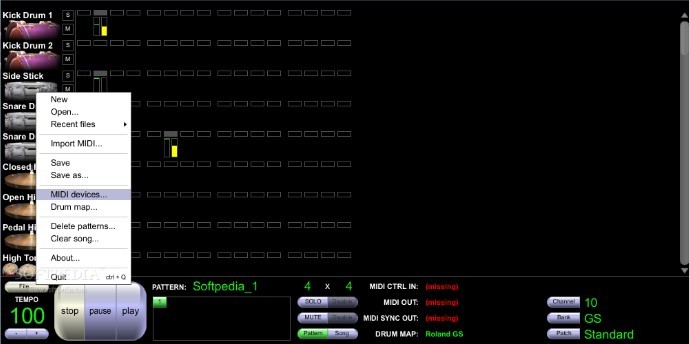 Program 9
Multi Track Audio Recording Studio
Audio recording and editing program which is very well suited to record a single voice, a band, an ensemble, a whole orchestra or any other source of music!
Both the home and professional user will find this program attractive, it's clean interface is easy to learn, and enables you to work quickly and efficiently!
Scalable by design
Designed to be highly scalable. It can be used for on stage recording using only a simple netbook, due it's great real screen estate and optimized audio engine, or use it on a powerful box with hundreds of tracks, easily managed using track folders!
Management
Create an Album, and record/edit all your Songs from there, apply effects to each Song or to all Songs by using the Album Mixer, and burn it to CD!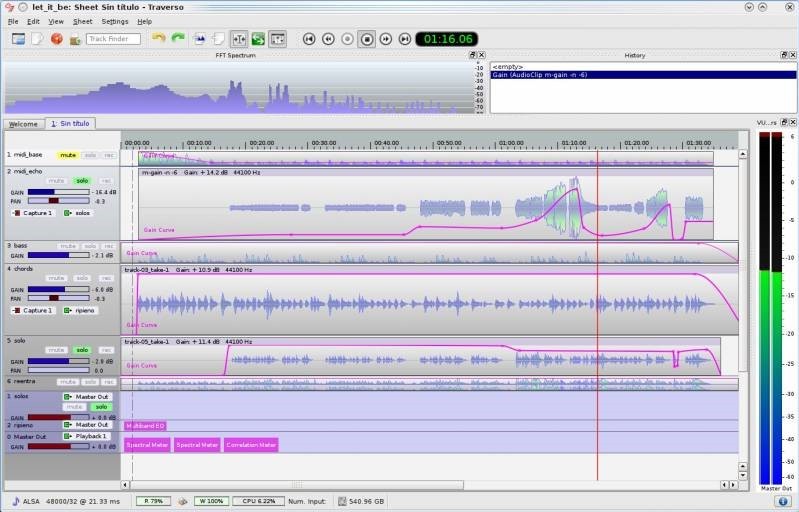 Program 10
Guitar Scale Assistant
The primary purpose of this application is to provide assistance to guitarists of all levels for quickly finding scales and modes through pattern searches. Some of the main features available in GSA allow the user to:
Find scales by matching chords, notes, or sequences through a clickable fretboard

Search scales by full or partial names

Create, save, and easily distribute new scales

View scales or chords in alternate tunings

Listen to scales individually or over chords

GSA comes with an ever-growing (currently over 600) list of searchable/displayable scales. It is extremely easy to import or create and save new scales that are fully searchable and displayable within Guitar Scale Assistant.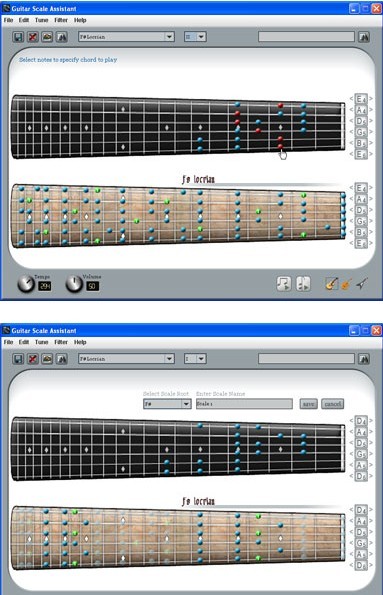 Program 11
Interactive Modular Software Synthesizer
Fully modular, no fixed configuration. Free to route any signal to any module. All signals run at audio rate (44.1 Khz) therefore ultrafast LFO and Envelope modulation.

VU-Meters

Output scope

Capture to stereo wave- or mp3-file
Available Modules:
6 types of Oscillators.

Multiple filters with 12, 18 and 24 dB/Oct slope and Lowpass, Hipass and Bandpass out.

Mixers and amplifiers

Adders with 2 to 8 inputs, subtractor and ringmodulators

all kinds of logic modules including AND, OR, XOR, NOT, FlipFlops, counters, switches and demultiplexers

Delay lines and flanger/chorus effects

Output with surround sound support

8 and 16 step analog style sequencers

16 step Drum patterns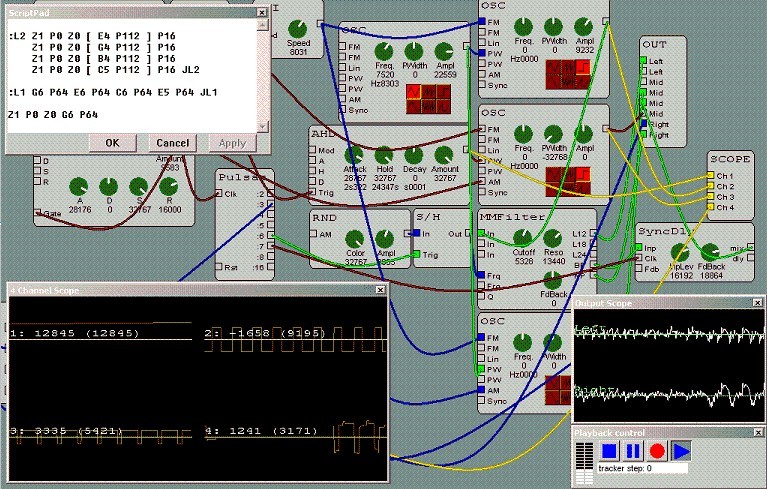 Program 12
Audio looper/player with the following features
• Up to six files loaded in each looper for quick recall and playback
• Loop is automatically pitch shifted to match the BPM
• Automatic segmenting for slicing up a loop
• Interactive waveform display for arbitrary loop selections
• Assignable to crossfader
• Record live audio and instantly loop it
• Multiple audio effects, including a VST effect
• Granulator for scramble or time-shift effects
• Record up to 8 synced sequences of knob turns and effect changes
• Record up to 8 synced sequences of segment and file changes
• All actions are quantized to the master BPM
• Easy MIDI learn function
• Tight integration with Ohm controller
offers a powerful set of features with an easy-to-use interface and handles all aspects of the job. Based on a powerful processing engine, provides a multi-track platform for creating music from individual sound files. It has access to advanced effects, and comes with a library of samples to get you started, ranging from individual drum sounds to complex rhythms, dark synth sounds, guitars and random effects.
The software gives you complete control of loops, opening each one in a separate window, with its own set of effects. Each window can work as a separate instrument, with up to six samples loaded at once, which you can switch between during playback for a neat cut at the beginning of the next bar. The effects are clean sounding and impressive, and there's a good mix of dials and graphical controls to shape your sounds. Interactive graphs for the Volume Envelope and Equalizer windows enable you to set the target range of frequencies and the amount of gain at the same time, and dragging the mouse can create filter effects or wah wah sounds. The effects are best suited to creating dance music, and provide different ways to fade a track into and out of the mix. These include a degrade effect, which alters the bit depth of the sound, smoothly distorting a track into a mash of electronic effects.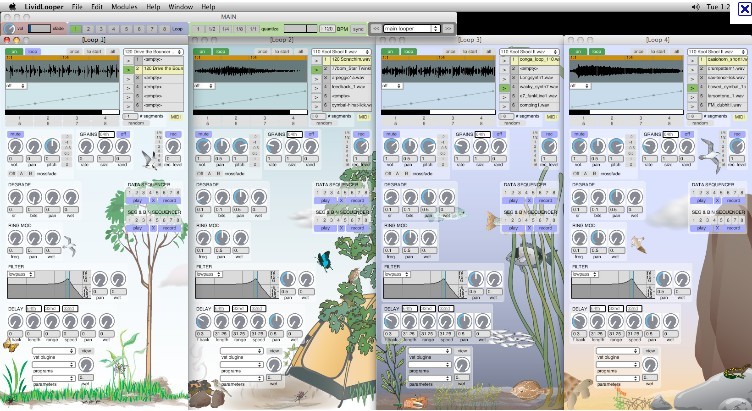 Program 13
Audio Sequencer
Includes Drummachine interface with animations for easy and playful editing, built for both composition and live setups with high interactivity needs, Llads and saves .jab files, Jackbeat's xml+tar open file format, and supports ALSA, CoreAudio, PulseAudio, JACK and ASIO.
· Drummachine interface with accurate VU meters for easy editing
· Realtime operation: while playing, the sequence can be edited and resized, the bpm rate modified, and new samples loaded,
· Easy to use and yet powerful : just JACK it into jack-rack and you can apply LADSPA effect plugins on a per track basis, perform mastering with jackeq , etc...
· Loads and saves .jab files, Jackbeat's file format, based on xml and packed with tar,
· Unique Masking feature: allows to insert silences into a a given track in an interactive manner.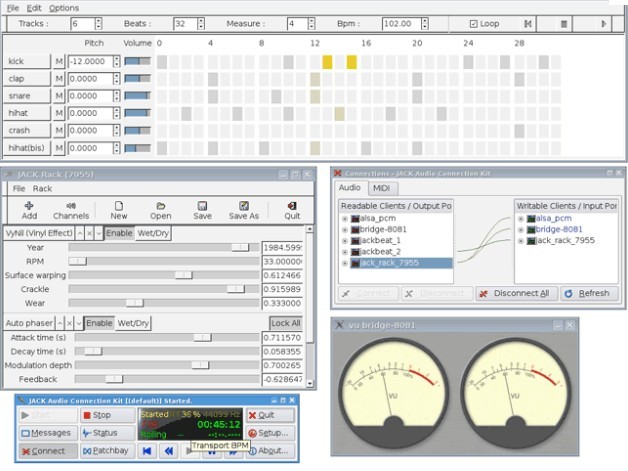 Program 14
Signal Analyze Tool
Signal analyze tool to visualize different signal analyze algorithms in the frequency domain. It generates visual plots/graphs from this algorithms and has the ability to render three dimensional interactive plots of them. The following algorithms are supported: Fourier Transformation (FFT), Linear Predictive Coding (LPC), Cepstral Analyse, Wavelet Transformation, Autocorrelation, Pitch Detection. Sonograml is mostly used in speech recognition, from Sound Engineers and bird vocal researchers.
Start Sonogram via Java WebStart:
The newest nightly build of Sonogram can be started directly via Java WebStart with the button below. Please note that the next version releases will only be distributed via Java WebStart and i will only use the WebStart platform to brand new versions. Downloads from Sourceforge will be definitely outdated next time and i will not announce any minor version changes here on this web page. New releases will be shared and updated to the user clients automatically in this way via WebStart. Sonogram requires at least a Java Runtime in version 1.5. It is strongly recommended to install Java3D and JMF in order to use all the newest fancy features of Sonogram.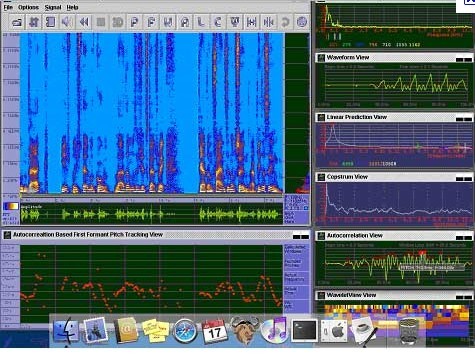 Program 15
Audio Programming Environment
Graphical programming environment for real-time music and audio applications. Users connect objects called transforms to form programs called patches. Currently runs on Windows, Linux, Mac OS X and SGI platforms.
Scalable, extensible programming environment that allows musicians, sound designers and researchers to process sound in response to expressive real-time control. OSW combines a familiar visual patching paradigm with solid programming-language features such as a strong type system and hierarchical name spaces.
Also includes an intuitive model for specifying new components using a graphical interface and high-level C++ expressions, making it easy to develop and share new music and signal-processing algoritms.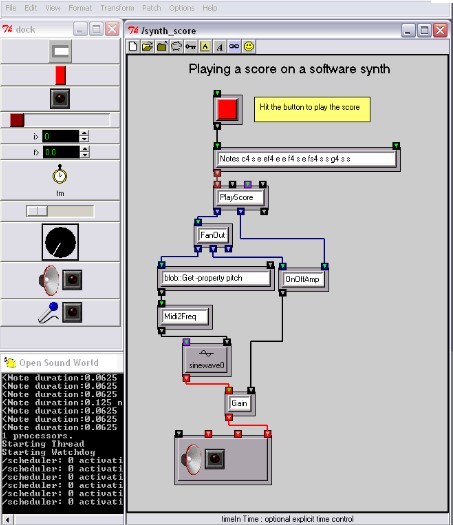 Program 16
Virtual Audio Studio
Complete virtual audio studio on your computer
Contains a polyphonic and multi-timbral modular virtual analog synthesizer

Midi sequencer with unlimited number of tracks and upto 416 midi channels (26 midi ports)

Midi sequencer supports playback of samples and audio tracks synced to midi events or free running

Sequencer supports patterns and loadable styles, mute groups, realtime effects and nonlinear editing of both audio and midi information

Audio and Midi can be routed to and through the modular synthesizer(s)

Fully compatible with SynFactory (the modular software synthesizer).

System can import samples and patterns from .mod, .s3m, .stm, .okt and compatible module formats

Program, menus and help support in multiple languages. Switch languages while you patch keeps running ;-)
Available Modules in synthesizer:
6 types of Oscillators.

Multiple filters with 12, 18 and 24 dB/Oct slope and Lowpass, Hipass and Bandpass out.

Mixers and amplifiers

Adders with 2 to 8 inputs, subtractor and ringmodulators

all kinds of logic modules including AND, OR, XOR, NOT, FlipFlops, counters, switches and demultiplexers

Delay lines and flanger/chorus effects

Output with surround sound support

8,16,24 and 32 step analog style sequencers

16 step Drum patterns (with either 4 or 8 individual rows/outputs)

audio and midi input modules for connection with buildin midi/audio/video sequencer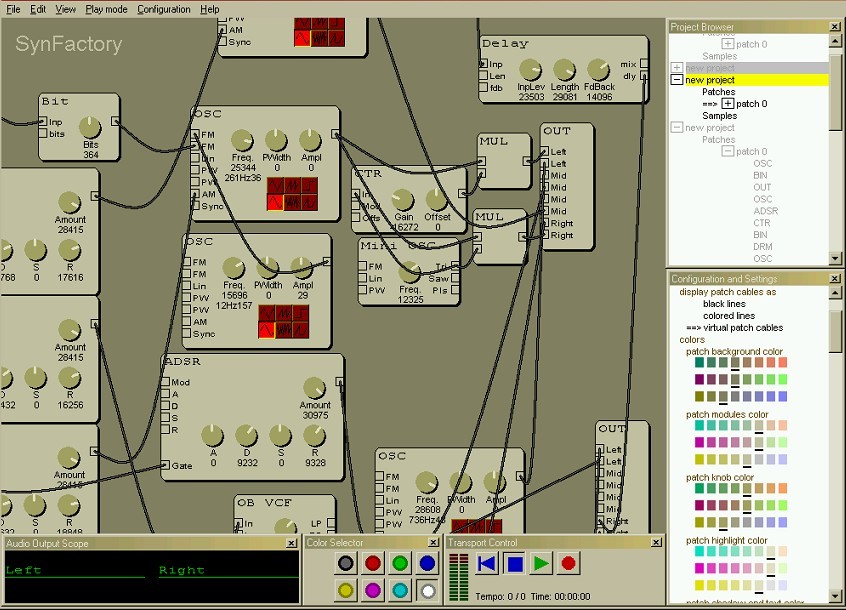 Program 17
Virtual Analog Drum Machine
Virtual analog drum machine in the style of Roland's TR Series, in particular the Roland TR-909, with 11 voices and controls that mimic the TR-909: Bass Drum, Snare Drum, Low, Mid & High Toms, Rim Shot, Clap, Open & Closed Hi Hats, Crash & Ride Cymbals.
All voices are completely synthesized using digital algorithms that model the operation of analog circuitry within a drum machine so they sound authentic and are easily tweaked using the controls.
Requirements (VST Version)
32-bit Windows VST Host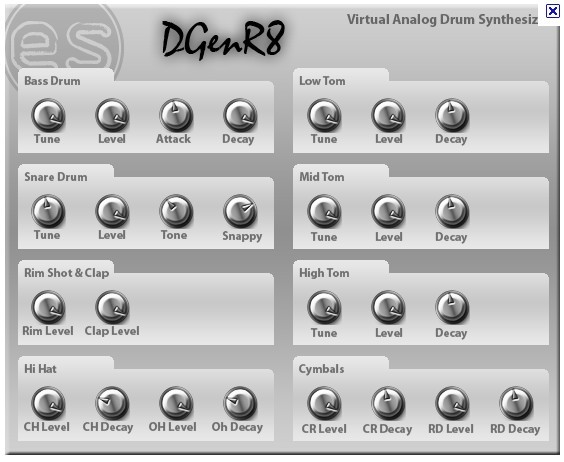 Program 18
Music Notation Program
A music notation program designed to help jazz musicians compose and hear solos similar to ones that might be improvised. The objective is to improve understanding of solo construction and tune chord changes. There are other, secondary, things it can do, such as improvise on its own. It has also been used for transcription. Because rhythm-section (e.g. piano, bass, drums) accompaniment is automatically generated from chords, Impro-Visor can be used as a play-along device. Now having a wider array of accompaniment styles, its use is not limited to jazz.
Partial List of Features:
Lead sheets and solos can be constructed through either point-and-click or using a plain text editor (one is provided, but any editor can be used).
Optional automatic note coloration shows whether notes are consonant or dissonant with chords and scales.
Harmonic note entry option guides the user to select notes that are consonant with harmony. Similarly, transposition options provide chromatic or harmonic transposition.
Solos or solo fragments can be played back immediately on the computer, with automatic rhythm section accompaniment.
Can be used for self-study, classroom, or play-along. Any segment of a leadsheet can be played back in looped mode.
Users can define new accompaniment styles. There is spreadsheet-like Style Editor, and a Style Extractor facility that helps create styles from MIDI performances. .
Solos and heads may be exported as MIDI files, with accompaniment if desired.
Solos and heads may be exported as MusicXML, for import to other popular music notation software.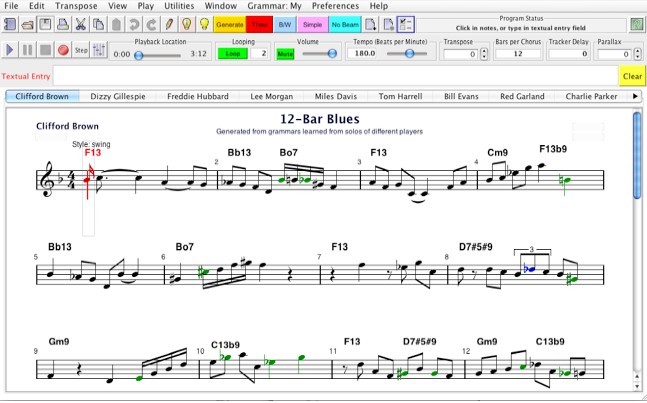 Program 19
MIDI Sequencer
A program that implements a clip based MIDI sequencer, which drives a bunch of built in plugins, MIDI devices and VST plugins. It has a soundfont loader and wave editor.
The program is at a very mature stage and works fine for composing music and live playback of samples and plugins. The plugins and sampler and MIDI tracks can be played using the PC keyboard, or a MIDI keyboard or other MIDI controller.
Unlimited tracks in unlimited nestable track folders.

Sequence Audio and MIDI clips.

Import and export MIDI.

Import and export Audio.

MP3, OGG and WAV formats supported.

8, 16, 24 and 32 bit PCM.

Customisable sequencer theme.

Share plugins amongst multiple tracks.

Sequence to external MIDI devices.
Program 20
Music Analyzer
Music Analyzer is a multimedia player which has many functions for transcribing musical notes. When you transcribe specific phrase, you have to stop, rewind and restart a section again and again. Music Analyzer is useful to do such sequences.
Features:
Automatically repeat specific section

Manage multi repeat section

Expanding time without affection for its pitch

You can access to all functions by keyboard

You can freely assign these functions to specific key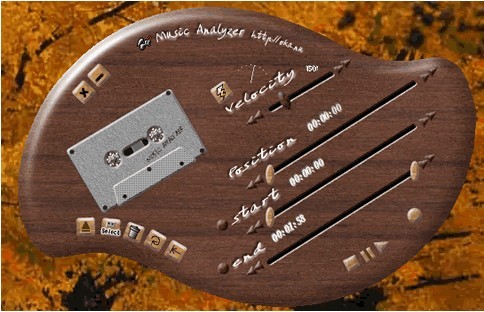 WOW!!!! As you can see this suite is a tremendous value. Even if you only use 1 or 2 of the programs you got your moneys worth. Weather you are just getting started or a experienced DJ this suite will give you the tools you need to provide top quality results to your clients. If you have any questions please feel free to ask.
This software will do virtually anything the expensive programs will do. The main difference is the amount of marketing dollars spent to advertise the competitors software drives the price through the roof. If you compare the actual functions of the programs you will see how similar they really are.
As with all of our software this is licensed to be installed on as many computers as you wish.
Why Buy From Us?
Simple.....We offer high quality, full feature software on high quality media. PROFESSIONALLY PRODUCED using state of the art equipment at rock bottom prices. All of our items are sealed in shipping sleeves to ensure quality and will have professionally designed cover art. Couple that with our 100% Guarantee against DOA Shipments and Guaranteed Delivery and you will see why we are the premier software company on eBay.
Payment And Shipping Details
Shipping: All of our products ship within 48 Hours. 98% of the time we do not combine ship. Depending on the size and weight of the item we will either ship USPS UPS, or Fed EX . Please allow adequate time for your item to be delivered.

International Shipping: Please allow 8-20 days (depending on destination country) for your item to be delivered.
---
| | |
| --- | --- |
| | Payment: We accept Paypal Only For This Item. |
---
Return Policy: Please contact us if there is a problem with this transaction. We go to great lengths to make every transaction a favorable experience for our buyers. If however there is a problem with your item we will either replace it or issue a full refund.

Please Note: We do not refund shipping charges.
---
| | |
| --- | --- |
| | Our Guarantee: We will respond quickly to any concerns you may have regarding a transaction. We guarantee the item(s) described in this auction to be accurate to the best of our abilities. If we have no way to test this item(s) i.e. no power cord, or other missing components, this will be stated in the auction. |
---