Item Description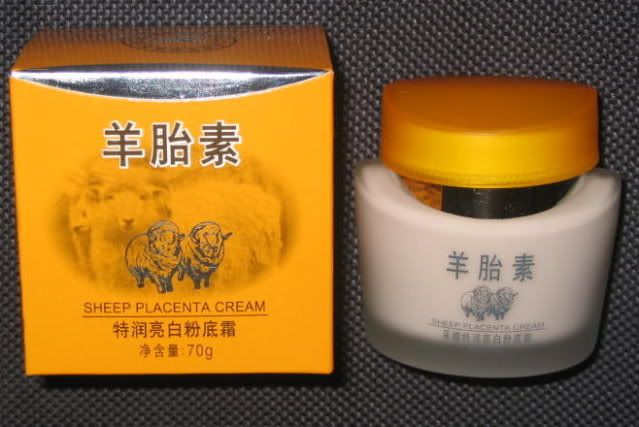 CAI MEI Sheep Placenta Cream 70g
Sheep Placenta Cream contains pure natural Sheep Placenta Vitamins
and it is refined and incorporated with advance technology.  
It?s effective ingredients can keep the skin moisturize, promote metabolism,
 whiten the skin, lighten pigments and dark spots and keep the skin?s vitality
for a long time.   If use constantly, it will make skin soft, white and bright.
Sheep Placenta Cream contains pure natural living cell sheep placenta which is popular for
its ability to speed up healing and regeneration of tissues, decreases eyebags,
 restores skin?s elasticity, and also  can be used as a make up foundation and hide
skin pigments and dark spots.
It is a very good anti-aging and skin smoothening product.
Directions:   Clean the skin, dab the cream with your finger and spread evenly in mornings and evenings.
Do not apply to allergic or irritated skin.  Store in / dry cool place with less than 25?C temperature.
PAYMENT DETAILS
We accept Paypal Payments.   Please proceed to check-out.
Shipping Details ( Please Read)
We ship worldwide.
Shipping costs to USA and Europe is $12.90
Shipping costs to Asia and Australia is $10.50
We will ship your package within 1 day from the time we receive cleared payment.
Please email me for any questions.
Thank you.