Add to Cart
Open Office Home and Student 2010 For Microsoft & Word
Free Shipping
Buy with Confidence
Accepted Secure Payment Options
Need help buying?
Item Description
A credible rival to MS Office, OpenOffice includes powerful applications for making text documents, spreadsheets, presentations, diagrams, and databases, as well as HTML and XML documents. Not only does it let you edit basic documents, such as letters and faxes, it also handles equations and complex and multipart documents with bibliographies, reference tables, and indexes.
The interface is similar to that of MS Office, and even advanced Office users will find almost everything they're used to: templates, collaborative features (versions, recording changes), macros, and even a programming language. OOo, as it's known, lets you open and save documents in formats as diverse as MS Office formats, PDF, HTML, and XML. It can also import files from those formats, as well as WordPerfect and others. However, it normally saves files in the open-standard Oasis OpenDocument XML format, for maximum compatibility with other applications.
The latest versions of OpenOffice have seen a spurt of growth in the extensions available for the program. These include templates for professional writers, an export tool for bidirectional functionality with Google Docs, blog publishing, and others. Blog publishing assistance especially strikes us as a natural area for word processing to grow toward.
We were pleased to find that stability has improved too. No doubt about it, the multilingual and crossplatform OpenOffice is a compelling option for anyone in search of an alternative office suite.
Please understand this software is not licensed by Microsoft in any way. This Open Office Suite software is one of the best alternatives to the high priced MS Office Software. Item will not come in a commercial box since it is open-source & unlimited user, which means you may freely install it on as many computers as you need without the hassel of keys or serial numbers. It is also not availabe to purchase in stores. The pictures are for representation purposes only. Keep in mind there is no commercial "Open Office" Software and it's up to distributors like us to get you this valuable software on CD to you.

SEE ACTUAL SCREEN SHOTS BELOW
Writer  (Similar toWord)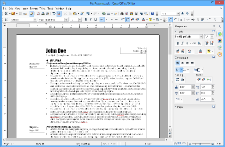 Calc   (Similar to Excell)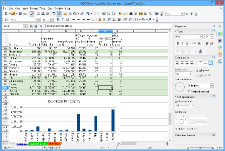 Draw  (Similar to Visio)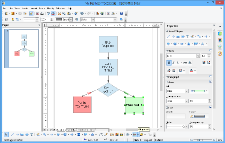 Base  (Similar to Access)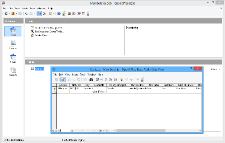 Math (Create Formulas & Equations)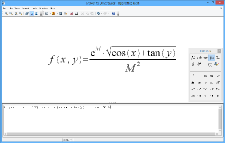 Better by design:
Developed over twenty years, OpenOffice is a mature, reliable, product. OpenOffice was designed from the start as a single piece of software - not bolted together from separate software packages. This makes it very consistent and easy to use - what you learn in one application is immediately usable in another. The context-sensitive help works across all applications, unobtrusively providing the precise help you need. You can even open any type of document from any application - OpenOffice 3 is really one piece of software. It also runs on all major computing platforms - Microsoft Windows, GNU/Linux, Sun Solaris, Apple Mac - isn't that great!
Better for you:
OpenOffice 3 contains all the office software you need, in one single package. You don't have to worry which version to install: one installation program provides everything. The installation also includes features which some expensive rivals do not - for example, the ability to create .pdf files when you want to guarantee what the recipient sees on their computer. There is also a growing range of extensions: additional features that any developer can provide. OpenOffice releases release software several times a year so you can take advantage of new features as quickly as possible.
Honest software:
OpenOffice 3 is developed using an open-software, "no secrets" approach. Anyone can look at the programs and suggest improvements, or fix bugs. Anyone can report problems or request enhancements, and anyone can see the response from other users or developers. The status of current and future releases is displayed on a public wiki, so you can decide if and when you want to upgrade to take advantage of new features. Anyone used to commercial software and its hyping and marketing speak will find OpenOffice 3 refreshingly different. Enjoy the benefits of open-source!
Open Office may be ran on any of the following Operating Systems, but only Windows OS version will be mailed out on CD unless you request differently prior to payment:
Windows ? (Default) 

Linux ?      (only upon request)

Mac OS ? (only upon request)

Solaris ?    (only upon request)

Note for eBay/Vero: This CD-ROM is distributed under the GNU General Public License. This disk is in full compliance with the GPL license agreement. I am authorized to distribute the contents of this disk. Copies of these licenses can be provided upon request. The CD-ROM is brand new, created by me & contains open source software, which does not come in a retail box. This is not a boot limited, OEM, shareware, bootleg or trial version. No activation or license keys are required to take full advantage of this software. This CD can be freely used on as many systems as one wishes, as long as the (GNU) General Public License is followed and agreed upon.

Recent Reviews
"+++++"
(53 Purchases)
Is this review helpful?
Thanks for your feedback!
"With very good quality but I needed really was a Windows installation disc, a new version not repair by Hiren. But I'm sure will be useful in the future. Very good seller and very fast delivery. Thanks."
(4 Purchases)
Is this review helpful?
Thanks for your feedback!
"As stated & shipped secure. Would buy from this seller again."
(22 Purchases)
Is this review helpful?
Thanks for your feedback!
"Thanks for your product .."
(12 Purchases)
Is this review helpful?
Thanks for your feedback!
"Product arrived right away. Great service"
BOBCAT LOADER M444 M500 M600 M610 SERVICE REPAIR MANUAL
5k4li3e3d5 - Waltham, MN
(1 Purchase)
Is this review helpful?
Thanks for your feedback!
"SELLER IS OUTSTANDING AT COMMUNICATION GREAT PRODUCT. The product came just as ordered, Top seller AAA ++++++ communicates openly with you and is very helpful and behind his product and is very knowledgeable about this product. fast shipping from seller for free which was fabulous and free.... seller is very kind and willing to have questions sent back and forth if need be. this is a first rate product from a first rate seller. outstanding seller. will buy again."
(19 Purchases)
Is this review helpful?
Thanks for your feedback!
"I resent the payment via paypal, but not through here, did you get it?"
(17 Purchases)
Is this review helpful?
Thanks for your feedback!
"Hard to believe but this method really works! I'm pleased!"
(33 Purchases)
Is this review helpful?
Thanks for your feedback!
"thank you"
(121 Purchases)
Is this review helpful?
Thanks for your feedback!
"i have got it, very good, thank you very much"
Computer Repair Software Diagnostics Tools for Windows OS 7 XP Vista 98 Handy A+
vincentluc - Canada
(9 Purchases)
Is this review helpful?
Thanks for your feedback!
Recent Questions & Answers
What is your best price for this item?
Answer:
The lowest price I accepted including shipping
$20.00
Buy Now
Open Office Home and Student 2010 For Microsoft & Word