Item Description


We are offering a extra soft wrap around backrest --Special price is $48 with trunk order ,no more shipping fee.

New Improved 4 inch pad Wrap Around Backrest with three major improvements. see picture
New wrap around backrest VS Old wrap around back
1. Stronger -- Double Stitch seams VS single stitch
2. Comfortable -- 4 inch soft padding VS 1 inch pad
3. Better Support --- 6 bolts and nuts VS 3 screws
4. Easy install --No drilling required VS drill three holes on top and have to patch six old backrest mounting holes.
Your passenger will be more comfortable with 4 inch soft padded wrap around backrest.
Older wrap around backrest uses only 1 inch pad over hard plastic.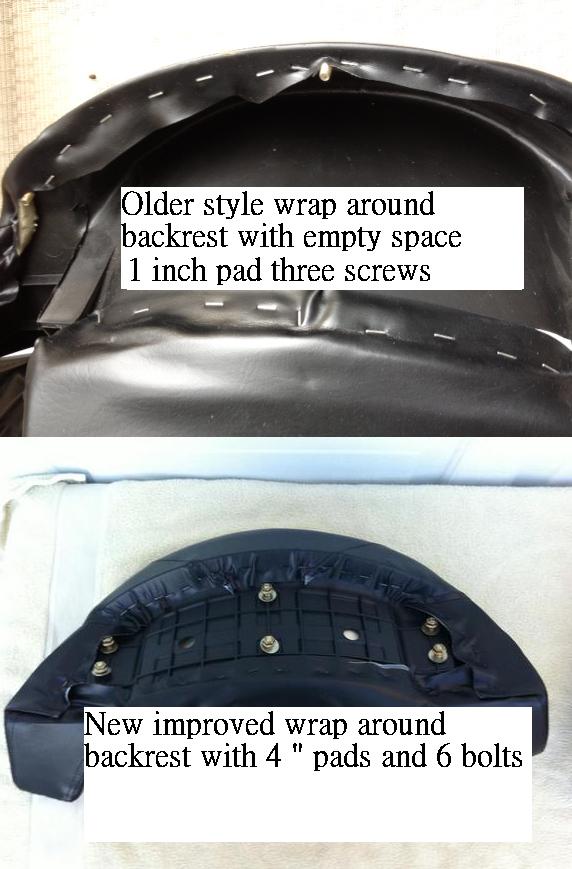 Now back to the listing.

This auction is for a Gloss Black motorcycle Trunk with standard upper and lower backrests for $95 +$25 Shipping Fee.
This auction is for a brand new premium universal motorcycle trunk with a 3-stage Glass Black color finish and standard upper and lower backrests for only $95, the Lowest Price on eBay. It can be mounted on any Yamaha, Honda, Kawasaki, Suzuki and Harley motorcycle with flat luggage rack size 8 inch x 8 inch or bigger. We provide the hardware for you to mount it on the luggage rack of your bike.

This is our largest and style aftermarket tour pack trunk available dimension 22 inch x 17 inch x 11 ¾ inch, that's big enough to fit two full face helmets. Our trunks are made with new ABS plastic without any recycle material so the interior of trunk color is pure plastic color. Unlike other trunks on the market made with recycle material, our trunks are also waterproof because the upper trunk overlaps the lower trunk by about one inch and the lower trunk comes with weather-strips.

Following are the upgrades we made with our trunk that no one else have:
Changeable lock set. -- We upgrade the lock on this trunk to make it very easy to change (only takes five minutes of your time to remove five screws from inside the trunk). Other Tour Packs require drilling in order to remove the latch.

Keep a spare set of lock in case you want to change it or in case you lost your keys.
Two restrainer wires (both sides will open evenly which help reduce stress on hinges) so trunk will last.
Why should you buy from us?
We have been selling these RK style tour pack trunks for over seven year. In fact, we are the first one selling this style trunk on EBay and one of our customers bought it and installed on his Harley Davidson Road King and look very nice so he sent us a picture of his bike with this trunk, and that started our business selling this trunk on EBay. We name this model trunk RK style. We now have sold over a thousand of these RK trunks on EBay or online. People install this trunk on all different models of cruiser motorcycles: Honda, Yamaha, Suzuki, Kawasaki, Harley Davidson, BMW, Trike or any bike with a flat luggage rack size 8in x 8in or bigger.
Few copy cats bought our trunk, copy our features and started their business to compete with us. Our business is still better than theirs because the materials we used are better and we have more features than any of them. We are located in Silicon Valley and we believe innovation is the key for success so we constantly add more features and options to our product. Most of the new features were base on customer's suggestions.

The following is a list of upgrades available only from us:
we are offering a liner bag (value $30) --Special price is $15 with trunk order.
This Trunk Liners are a great addition for any touring motorcycle, making loading and unloading a breeze. Made of sturdy urethane coated with weather resistant polyester. The convenience of carrying four handles make the liners versatile and easy to use.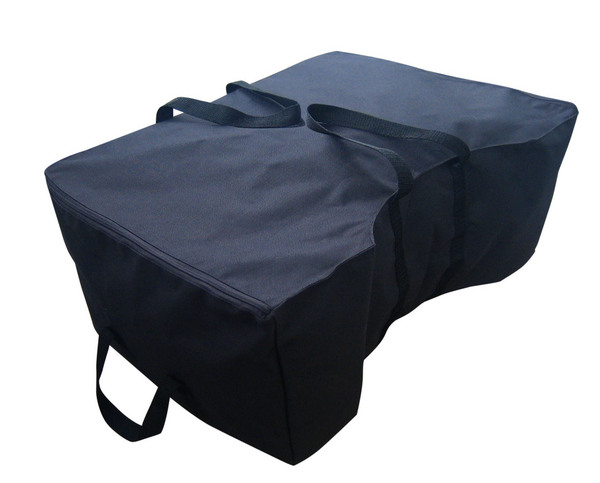 Long LED light bar ($30) for DMY RK trunk
Many of our customers ask us for LED light safely feature when they purchase the trunk.
so we found this style LED light bar fits this style trunk well.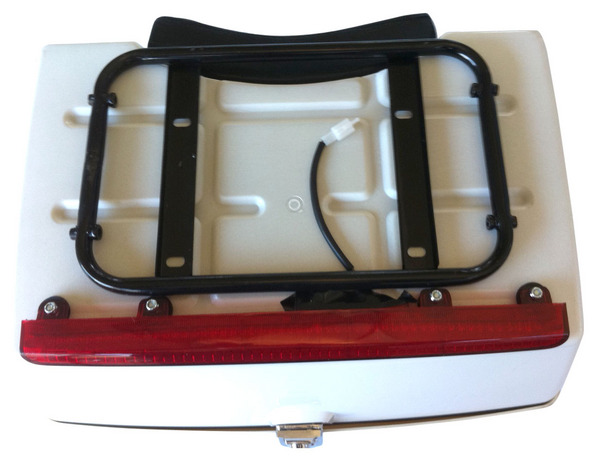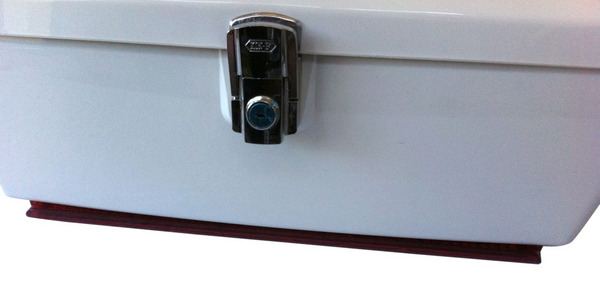 To install LED light bar, you need minimum 1.5 inch of space at the bottom rear of the trunk (See Picture). If you don't have enough space, you can raise the trunk by about an inch so LED light bar won't be against the luggage rack.

New Improved Large Top Racks :
* Made of Stainless Steel no rust issue*
*Polished to Mirror finish*

*No holes on the rack so water won't leak inside*
Note: Other seller's top luggage rack all have leaking holes that will rust easily from the holes on the rack.
We have three styles of top rack in stock. Please click on this link to see the pictures:
Please select the top rack and confirm it before you pay. You must order both rack and trunk together so we can ship both in box to save you shipping fee.
We now have smooth finished top lid trunks and Primered Tour packs in case you want to paint it by yourself . Primer trunk available for $89.
If you have a radio on your motorcycle, you should get the tour-pak trunk with built-in speaker compartments so you can install two 4" speakers in the back for surround sound.
Note: This feature can't be added later.
Speaker trunk is available for additional $30.
Color Available in: White, Black, and Candy Apple Red
Package deal:
WE HAVE NINE STANDARD COLORS $169 EACH:(including wrap around backrest ,top rack )
WHITE, CANDY RED, PREMIUM SILVER, PRIMER, MATTE (FLAT BLACK)
DARK BLUE, LIGHT BLUE, YELLOW AND SUZUKI RED.
TEN HARLEY CUSTOM COLOR $199 EACH:(including wrap around backrest ,top rack )
BLACK DENIM, BLACK PEARL, BLACK CHERRY, BLACK CHERRY PEARL, OLIVE PEARL,
FIRE ENGINE RED, ITALIAN RED, PACIFIC BLUE, CHOPPER BLUE, COBALT BLUE.
Our tour-paks are stronger so many of our customers buy our product and customize it for their Harley.
• We only use 100% pure ABS material not like other seller cut cost by mixing with black recycle material (Please check the interior of the trunk.)
• We offer more features than anyone else. (Top rack, Speakers, Rotating Lock, and more features are coming.)
• We are the first one offer dual backrest
• We have the thickest sidewall guaranteed
• Lowest Price Guarantee (We now accept offers guarantee 5% lower than anyone else on the market)
---


Powered by
The free listing tool. List your items fast and easy and manage your active items.