Item Description
Item: i16941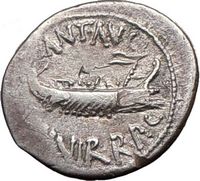 Certified Authentic Ancient Roman Coin of:
Mark Antony - Silver Denarius 20mm (2.92 grams)
Struck at Actium 32-31 B.C. for Marc Antony's XVI Legion
Reference: RSC 48; B. 126; B.M.C. 211; Syd. 1236; Craw. 544/31
ANT AVG III VIR R P C, Praetorian galley right.
LEG XVI, Legionary eagle between two standards.
* Numismatic Note: .This coin was struck by Antony for the use of his fleet and legions when he was preparing for the struggle with Octavian. These coins furnish an interesting record of the number of legions of which Antony's army was composed. These denarii are of baser metal than the ordinary currency of the time and might be described as "money of necessity."
You are bidding on the exact item pictured, provided with a Certificate of Authenticity and Lifetime Guarantee of Authenticity.
The Battle of Actium was the decisive confrontation of the Final War of the Roman Republic . It was fought between the forces of Octavian and the combined forces of Mark Antony and Cleopatra . The battle took place on 2 September 31 BC, on the Ionian Sea near the Roman colony of Actium in Greece . Octavian's fleet was commanded by Marcus Vipsanius Agrippa , while Antony's fleet was supported by the ships of his beloved, Cleopatra VII, Queen of Ptolemaic Egypt .
Octavian's victory enabled him to consolidate his power over Rome and its dominions. To that end, he adopted the title of Princeps ("first citizen") and as a result of the victory was awarded the title of Augustus by the Roman Senate. As Augustus, he would retain the trappings of a restored Republican leader; however, historians generally view this consolidation of power and the adoption of these honorifics as the end of the Roman Republic and the beginning of the Roman Empire .
Marcus Antonius (in Latin : M?ANTONIVS?M?F?M?N) ( c. January 14, 83 BC?August 1, 30 BC), known in English
as Mark Antony, was a Roman politician and General . He was an important supporter and the loyal friend of Gaius Julius Caesar as a military commander and administrator, being Caesar's second cousin, once removed, by his mother Julia Antonia . After Caesar's assassination , Antony formed an official political alliance with Octavian ( Augustus ) and Marcus Aemilius Lepidus , known to historians today as the Second Triumvirate .
The triumvirate broke up in 33 BC. Disagreement between Octavian and Antony erupted into civil war, the Final War of the Roman Republic , in 31 BC. Antony was defeated by Octavian at the naval Battle of Actium , and in a brief land battle at Alexandria . He committed suicide, and his lover, Cleopatra , killed herself shortly thereafter.
Frequently Asked Questions
How long until my order is shipped?
Depending on the volume of sales, it may take up to 5 business days for shipment of your order after the receipt of payment.
How will I know when the order was shipped?
After your order has shipped, you will be left positive feedback, and that date should be used as a basis of estimating an arrival date.
After you shipped the order, how long will the mail take?
USPS First Class mail takes about 3-5 business days to arrive in the U.S., international shipping times cannot be estimated as they vary from country to country. I am not responsible for any USPS delivery delays, especially for an international package.
What is a certificate of authenticity and what guarantees do you give that the item is authentic?
Each of the items sold here, is provided with a Certificate of Authenticity, and a Lifetime Guarantee of Authenticity, issued by a world-renowned numismatic and antique expert that has identified over 10000 ancient coins and has provided them with the same guarantee. You will be quite happy with what you get with the COA; a professional presentation of the coin, with all of the relevant information and a picture of the coin you saw in the listing.
Compared to other certification companies, the certificate of authenticity is a $25-50 value. So buy a coin today and own a piece of history, guaranteed.
Is there a money back guarantee?
I offer a 30 day unconditional money back guarantee. I stand behind my coins and would be willing to exchange your order for either store credit towards other coins, or refund, minus shipping expenses, within 30 days from the receipt of your order. My goal is to have the returning customers for a lifetime, and I am so sure in my coins, their authenticity, numismatic value and beauty, I can offer such a guarantee.
Is there a number I can call you with questions about my order?
You can contact me directly via ask seller a question and request my telephone number, or go to my to get my contact information only in regards to items purchased on eBay.
When should I leave feedback?
Once you receive your order, please leave a positive. Please don't leave any negative feedbacks, as it happens many times that people rush to leave feedback before letting sufficient time for the order to arrive. Also, if you sent an email, make sure to check for my reply in your messages before claiming that you didn't receive a response. The matter of fact is that any issues can be resolved, as reputation is most important to me. My goal is to provide superior products and quality of service.