Item Description
*For EBAY customers only. Bid orders must be placed first
*To make a payment by phone, please call:
(800) 761-0235 ext. 7384
Kawasaki V-Strom VStrom 650 ABS DL650 Xenon Driving Lights Fog lamps
Factory driving lamps cost $338. Our genuine Blinglights lamps cost less, include installation directions and outperform. 90 Day Satisfaction Guarantee.
More Than Improved Visibility
Experience the future of driving via an astonishing daylight-like visibility thanks to BlingLights BL-1038w light technology. Featuring a driving and fog, light-on-road pattern fused with an intense HID simulated white output, BL-1038w xenon lamps can be easily seen in virtually any light including direct sunlight. You can depend on these lights to cut through the thickest fog.
The Light of Choice
Designed to imitate the appearance of ordinary dealership driving lamps, BL-1038w lamps light like original driving lamps and is compatible with the factory wiring and or light controls. In addition to increased visibility, BL-1038w includes everything needed to install, BlingLights' BL-1038w driving and fog lamp kit includes BLSW10, factory style illuminated toggle switch that blends cleanly into any flat surface within reach or out of sight.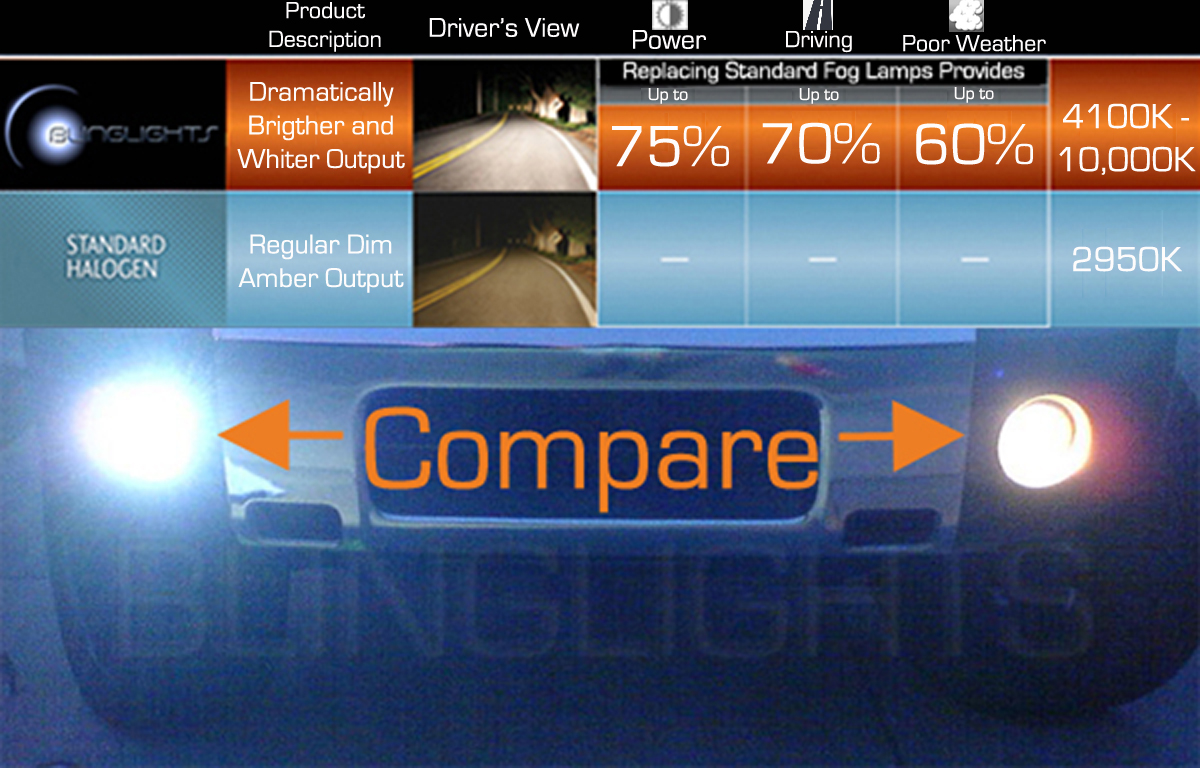 BL-1038W Fog Light Kit Specs:
Ø (2) 55 Watt 4100K Xenon Lamps
Ø Thick Die-Cast Metal Housings
Ø Photometrically Designed Hardened Glass Lenses
Ø (2) H3 - 55 Watt Xenon Halogen Bulbs
Ø Heavy-duty adjustable mounting brackets
Ø Mini Factory Style Switch Illuminated Toggle Switch
Ø Complete Wiring Kit with Fuse Included
Ø Warranty, Installation Directions and Free Tech Support Included
Ø
Free Authentic Blinglights hat included
---
Frequently Asked Questions
Are these fog lights original equipment manufactured? No, these fog lights are manufactured by Blinglights. Many of our customers are able to install our fog light kit in a period of approximately 45 minutes to 2 hours. More involved installations may require drilling to position the lights where you want them. This kit includes mounting brackets that mount independently of the factory mounting points. If you have plastic inserts currently covering your fog light holes then you will have to remove those to install this kit, which is required of any fog light kit installation. The end result will be a clean look if done with care. For those uncomfortable with the install, have the kit professionally installed at a local car stereo shop.
Will this kit fit my vehicle listed in the page title? We have conducted extensive research and have sold hundreds of kits to customers with your same vehicle, with no fitment issues. Lamps are intended for install as shown. All shapes, sizes, types and color lamps in stock for all vehicles and aftermarket custom projects so even if you do not see what you are looking for please contact us for help.
Does your kit include everything I need? Yes, our kit includes 2 lamp enclosures, powerful H3-55 watt 4100K bulbs, fully adjustable mounts for bumper or bar, harnesses, pre-assembled wiring harness with relay and fuse, electronic switch, mounting hardware kit, installation instructions, and more.
Can I hook the lights up to my factory light switch instead of the included switch? Of course, just run the wire to the factory switch instead of the included switch. The included switch can also be substituted with other switches found at Radio Shack.
What type of bulbs come with your kit? Two powerful H3 bulbs with an output of 55 watts a piece, 110 watts total! These bulbs are designed for maximum output and durability. The bulbs generally last many years without the need for replacement. There is a good chance the bulbs will outlast the life of the vehicle. H3 replacement bulbs are a common size bulbs and can be purchased through us by clicking here or anywhere else automotive bulbs are sold.
What is the BlingLights No Fault Guarantee? BlingLights will repair, or at our option, replace this product for up to 1 year from time of purchase. The NO FAULT provision of this warranty means that regardless of how the item may have been damaged or rendered unusable (fully or partially) by the Owner of the item, BlingLights will repair or replace the item without any questions being asked. To take advantage of this provision, enclose a payment for $25.00 (U.S. dollars) with the item to cover inspection, handling, and shipping.

Customer Feedback
"The lights are great and I use them almost every night. We get a lot of fog in the winter here on the west coast of Florida, and these lights project a perfect beam to cut through. They look great and fit perfectly too. Your product exceeds Nissans factory lights by far & at 1/6 the cost. These lights are VERY high quality with a sealed, heavy glass lens and a strong housings. Everything else I saw on the market was all plastic. I am going to order another set as a backup for the future. Thanks again." -Mike of Florida
"I recently purchased a dual short-ram intake kit from Blinglights for my current love affair, my 2004 Chrysler Crossfire. I could have chosen many expensive and well-know short ram intake kits. But after coming across Blinglights I went for it in a heart beat. Aluminum construction and high-flow design for a ridiculous price. The kit came in the mail in a heartbeat. Amazing clear instructions with helpful and kind service staff really won me over. The kit was specified for my crossfire, and came with two rubber adapters that fit the stock tubes so perfectly I wondered if Blinglights made any profit off me. The intake kit does its job in the performance department and looks absolutely fantastic, I even got a free hat! I'm officially hooked and will be purchasing a fog light kit soon from my new favorite aftermarket company! THANK YOU BLINGLIGHTS" -Aaron Weikart
Risk-Free Trial
Take the BlingLights Challenge ® and try any BlingLights product no-risk. Then Decide. If you don't love it, you don't keep it. No obligation. Simply send it back, no questions asked - you keep the hat!
All shapes, sizes, types and color lamps in stock for all factory vehicles and aftermarket custom projects. Do not see what you are looking for? Please contact your friendly BlingLights specialist. Even if the wrong item was ordered BlingLights will exchange absolutely free of charge.
Receive a FREE Authentic BLINGLIGHTS Cap Valued at $24.95 With Your Order While Supplies Last

Brushed cotton twill, six panel, sandwich bill, relaxed crown, self-fabric strap with metal closure and tuck-in design. Sport the name and show your pride.