Item Description
?SACRAMENTO, RIVER OF DISASTER?

Folks, sooner or later - Genealogists are going to realize that their family kinfolks are laying on some dealer?s dusty shelves.







Custom Search
Genealogy Images Of History!

Type in your family name or a specific topic you are looking for..




  
Search titles and descriptions.

SACRAMENTO,

RIVER OF DISASTER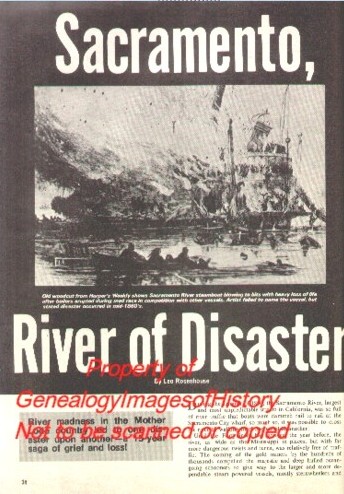 Folks, if you are into ships, check out the index below of those sternwheelers and sidewheelers that once plied their trade on the Sacramento River. In this story entitled, ?SACRAMENTO, RIVER OF DISASTER? by Leo Rosenhouse is told the river madness in the mother lode county that led to one disaster after another and:
A 15- YEAR SAGA OF GRIEF AND LOSS
THE FORTY NINERS HAD ARRIVED
Yep, the coming of the gold miners by the hundred of thousands compelled the majestic and deep hulled ocean-going schooners to give way. It was a new era. So much gravel from hydraulic mining and hand sluicing had fed into the Sacramento River, that the bed began to rise. It was called ?The River of Gold? and the steamboats pushed the sailing vessels aside.
IT?S A ONE OF A KIND STORY
Please read this. There were many a western story published ? the common ones about cowboy and Indians are listed on Ebay every day but the rarer ones bout the great old ships of the old west like this one are seldom found. Collectors treasure them and their price guide value rises every day. They are hard to find. I hunt them out cause really the better, untold and rarer stories were published in the rest.
Here?s one of ?em.
FOLLOWING PURCHASE AND PAYMENT, IF YOU WILL WRITE ME OF YOUR SPECIAL NAME OR INTEREST, I WILL DO A FREE SEARCH OF MY WEBSITE AND UNINDEXED STORIES AND NAMES.
WWW.GENEALOGYIMAGESOFHISTORY.COM
IF I FIND SOMETHING THAT I THINK MERITS YOUR INTEREST, I WILL WRITE A REVIEW AND PLACE IT ON EBAY AND GIVE YOU NOTICE AND A HEAD START TO
BUYITNOW!
Following my retirement, I have dedicated my remaining hours to indexing the Genealogy of our western pioneers. During my research, I discovered that thousands of our kinfolk lay unfound and unrecognized on some book dealer?s shelf gathering dust. Humbly, I am trying to retain our past and keep history alive. Because Old Steamboat History and Memorabilia was printed before computer indexing, I index every item I sell.
This complete index will be bound and included in this offering at no additional cost.
I hope you appreciate the effort.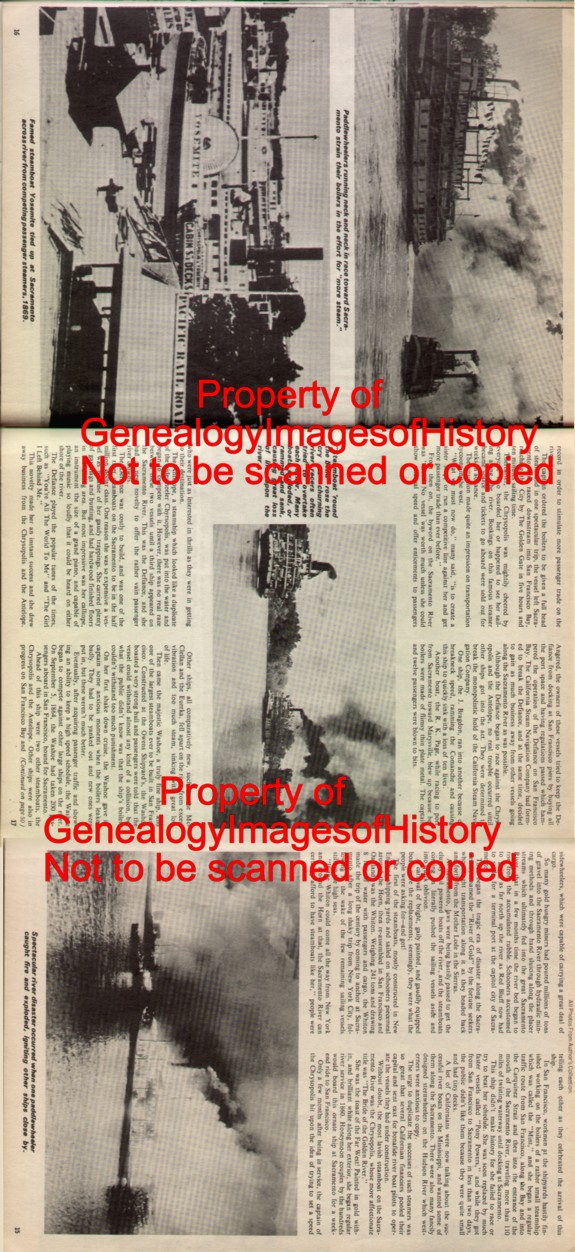 SACRAMENTO, RIVER OF DISASTER
By Leo Rosenhouse
ANCESTORS INDEXED HEREIN, CIRCA: 1850?s ? 1860?s
ANCESTOR?S LOCATION: CALIFORNIA
Folks, sooner or later - Genealogists are going to realize that their family kinfolks are laying on some dealer's dusty shelves. If I can contribute to finding one little name or photo of that long lost ancestor you have been waiting to find, it?s worth all the time I spend.
SHIPS PROMINENTLY MENTIONED w * INDICATING PICTURE:


?Antelope,? steamship

?Chrysopolis,? steamship

?Defiance,? steamship

?Eureka,? steamship

?J. Bragdon,? steamship

?McClellan,? steamship

?Mint,? small steamship

?Paul Pry,? steamship

?R. K. Page,? steamship

?Washoe,? steamship

?Whiton,? steamship

?Yosemite,? steamship *

PICTURES AND DESCRIPTIONS w * INDICATING PICTURE:


Picture 1: Harper?s Weekly woodcut showing Sacramento River steamboat blowing to bits after boilers erupted. *

Picture 2: One paddlewheeler caught fire and exploded, igniting other ships. *

Picture 3: Paddlewheelers running neck and neck in race toward Sacramento. *

Picture 4: Famed steamboat ?Yosemite? tied up at Sacramento, 1869. *

Picture 5: River racers often tried to overtake each other. Many boats exploded, or rammed and sank, causing great loss of life. *

PLACES AND THINGS PROMINENTLY MENTIONED w * INDICATING PICTURE:

Benecia, California

California Steam Navigation Company

Cape Horn

Carquinez Strait

Central Pacific Railroad

Fortyniners

Golden Gate

Hudson River

Marysville, California

Mississippi River

New England Shipping Yards

New York City

Oakland, California

Owens Shipyard, San Francisco, California

Red Bluff, California

Rio Vista, California

Sacramento City Warf *

Sacramento River *

San Francisco Bay

San Francisco, California

SACRAMENTO, RIVER OF DISASTER

by Leo Rosenhouse

SACRAMENTO RIVER MEMORABILIA IS RAPIDLY DISAPPEARING

While others clip ads from magazines, I save history. It?s a shame that our past is being lost. It?s as simple as that.

My wife kids me that after I find a piece I like, buy it, read it, research it, take a picture, scan it, write the blurb, pay the Ebay entry fee and commission, that I end up making about 50 cents an hour. But, OH HOW I LOVE THIS OLD WESTERN HISTORY. What a story, Rare Story!!! Great Pictures. You will love it as it was published in this old complete western magazine of many years ago. The issue is in excellent condition, the cover is pristine and in vibrant color.

As clearly stated in my description, this is featured story in a rarely found and seldom read unusual and complete western magazine. I don't give out name of publication or date because I have caught competitors copying my index and work and trying to sell it as theirs. I hope you understand.

Buyer pays postage of $3.50 First Class Postage to U. S., $5.00 Priority Mail, $12.78 Par Avion (Air Mail) for International Mail. Texans must pay 8-? % sales tax. Thanks,

Tom

A GENEALOGY IMAGESOFHISTORY COPYRIGHTED PRESENTATION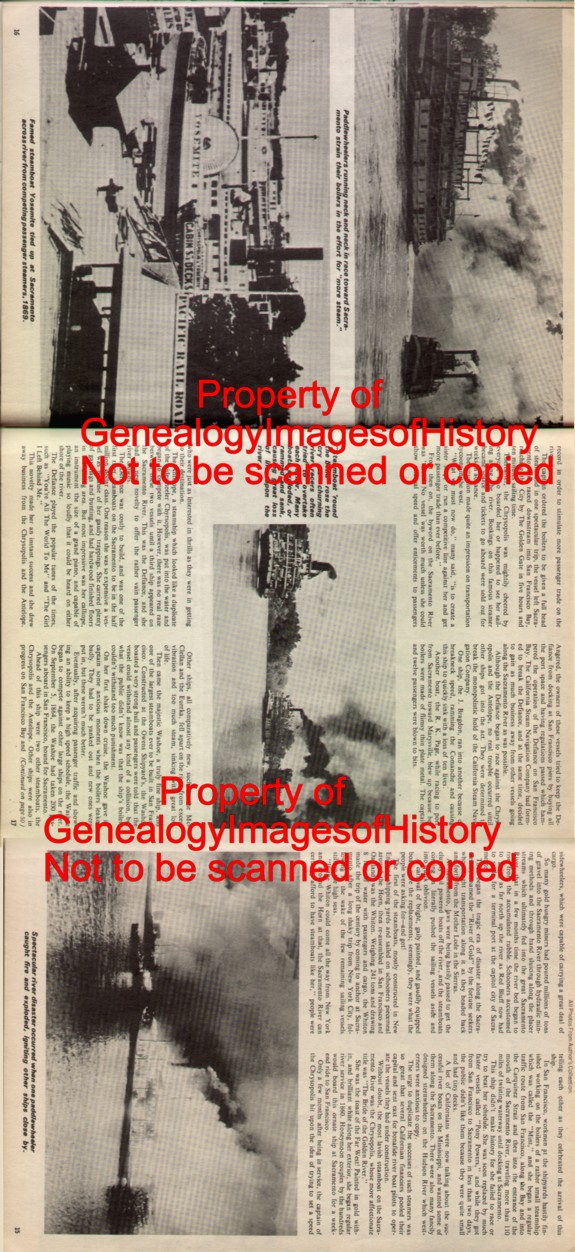 Powered by
The free listing tool. List your items fast and easy and manage your active items.