Item Description
Item: i26047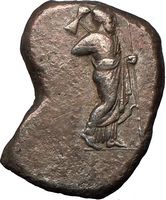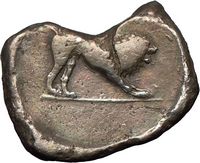 Authentic Ancient Coin of:
SATRAP OF CARIA
Hekatomnos: 395-377 B.C.
Silver Tetradrachm 28mm (14.73 grams) Mylasa mint: 395-377 B.C.
Reference: Sear 4952 (?1750 in 1978!); S.N.G. Von Aulock 2354
Zeus Labraundos standing right, holding labrys (double-axe) and spear.
Lion right, at bay; above EKATOMN?.
A native of Mylasa, Hekatomnos was the son and successor of Hyssaldomonos, satrap of Caria. He commanded the Persian fleet in the operations against Cyprus in 390 B.C.
You are bidding on the exact item pictured, provided with a Certificate of Authenticity and Lifetime Guarantee of Authenticity.
Hecatomnus (also Hekatomnos) was king or dynast of Caria in the reign of Artaxerxes II of Persia (404?358 BCE).
Biography
Hecatomnus was appointed by the Persian king to command the naval forces destined to take part in the war against Evagoras of Cyprus; but the operations of the war were at that time allowed to linger; and it appears that Hecatomnus himself shared in the spirit of disaffection towards Persia at that time so general; as when hostilities were at length resumed in earnest against Evagoras, he not only took no part in support of the Persian monarchy, but secretly supplied Evagoras with sums of money to raise mercenary troops. No notice, however, seems to have been taken of this act of treachery, a circumstance for which the disorganised state of the Persian monarchy will fully account: and Hecatomnus continued to hold possession of Caria in a state of virtual independence until his death. The date of this cannot be ascertained with certainty, but we learn from Isocrates that he was still ruling in 380 BCE.
He left three sons, Mausolus, Idrieus and Pixodarus ? all of whom ? in their turn, succeeded him in the sovereignty; and two daughters, Artemisia and Ada, who were married to their brothers Mausolus and Idrieus.
Hecatomnus was a native of Mylasa, and made that city his capital and the seat of his government: hence we find on his coins the figure of Zeus Labrandenos, represented as walking and carrying a bipennis over his shoulder, from the celebrated temple of that name near Mylasa.
Milas (ancient Mylasa ??????) is an ancient city and the seat of the district of the same name in Mu?la Province in southwestern Turkey. The city commands a region with an active economy, and the region is very rich in history and its remains, the whole territory of Milas district containing a remarkable twenty-seven archaeological sites of note. The city was the first capital of ancient Caria and of the Anatolian beylik of Mente?e in medieval times.
The centre of Milas presents the overall characteristics of a well-grown city focused on agricultural and aquacultural processing, related industrial activities, services, transportation (particularly since the opening of Milas-Bodrum Airport), tourism and culture. The center is at a distance of about twenty km from the coast and is actually closer to the airport than Bodrum itself, with many late arrival passengers of the high season increasingly opting to stay in Milas rather than in Bodrum where accommodation is likely to be difficult to find.
Milas district covers a total area of 2167 km2 and this area follows a total coastline length of 150 km, both to the north-west in the Gulf of G?ll?k and to the south along the Gulf of G?kova, and to these should be added the shores of Lake Bafa in the north divided between the district area of Milas and that of Ayd?n district of S?ke.
Along with the province seat of Mu?la and the province's southernmost district of Fethiye, Milas is among the prominent settlements of south-west Turkey, these three centers being on a par with each other in terms of all-year population and the area their depending districts cover. Five townships which have their own municipalities and a total of 114 villages depend Milas, distinguishing the district with a record number of dependent settlements for a very wide surrounding region. Milas center is situated on a fertile plain at the foot of Mount Sodra on and around which sizable quarries of the white marble are found and have been used since very ancient times.
Milas's political colour has been centre-left for the last decade.
The city's earliest historical mention is at the beginning of the 7th century BC, when a Carian leader from Mylasa by name Arselis is recorded to have helped Gyges of Lydia in his contest for the Lydian throne. The same episode is at the origin of the accounts surrounding the beginning of the cult for and the erection of the statue of Labrandean Zeus in the neighboring city of Labranda, held sacred by peoples across western Anatolia, with the statue holding the labrys brought over by Arselis from Lydia. Labrandean Zeus (sometimes also named "Zeus Stratios") was one of the three deities proper to Mylasa, all named Zeus but each bearing indigenous characteristics. Of these, the cult of Zeus Carius (Carian Zeus) was also notable in being exclusively reserved, aside from the Carians, to their Lydian and Mysian kinsmen. One of the finest temples was also the one dedicated to Zeus Osogoa (originally, just Osogoa), traceable to times when the Carians had been a maritime folk and which recalled to Pausanias the Acropolis of Athens.
Persian period
Under Achaemenid rule Mylasa was the chief city of Caria. A ruler appointed by the Persian Emperor (satrap) ruled the city in varying degrees of allegiance to the emperor. Between 460-450 BC, Mylasa was a regionally prominent member of the Delian League, like most Carian cities, but the Persian rule was restored towards the end of the same century.
Hecatomnid dynasty
The dynasty named the Hecatomnids, founded by the Carian Hecatomnus and continued under his sons and daughters were officially satraps of the Persian Empire. Mylasa was at once their hometown and their capital. But especially during the long and striking reign of Mausolus, they became virtual rulers of Caria and of a sizable surrounding region between 377-352 BC. It was during Mausolus's reign that the capital was moved to Halicarnassus, but Mylasa retained its importance. Mausolus was the builder of the famous Mausoleum of Mausolus. The international term "Mausoleum" derives from this Carian ruler.
Roman period
In 40 BCE Mylasa suffered greaty damage when it was taken by Labienus in the Roman Civil War. In the Greco-Roman period, though the city was contested among the successors of Alexander, it enjoyed a season of brilliant prosperity, and the three neighbouring towns of Euromus, Olymos and Labranda were included within its limits. Mylasa is frequently mentioned by ancient writers. At the time of Strabo the city boasted two remarkable orators, Euthydemos and Hybreas. Various inscriptions tell us that the Phrygian cults were represented here by the worship of Sabazios; the Egyptian, by that of Isis and Osiris. There was also a temple of Nemesis. An inscription from Mylasa provided one of the few certain data about the life of Cornelius Tacitus, identifying him as governor of Asia in 112-13.
---
Frequently Asked Questions
How long until my order is shipped?
Depending on the volume of sales, it may take up to 5 business days for shipment of your order after the receipt of payment.
How will I know when the order was shipped?
After your order has shipped, you will be left positive feedback, and that date should be used as a basis of estimating an arrival date.
After you shipped the order, how long will the mail take?
USPS First Class mail takes about 3-5 business days to arrive in the U.S., international shipping times cannot be estimated as they vary from country to country. I am not responsible for any USPS delivery delays, especially for an international package.
What is a certificate of authenticity and what guarantees do you give that the item is authentic?
Each of the items sold here, is provided with a Certificate of Authenticity, and a Lifetime Guarantee of Authenticity, issued by a world-renowned numismatic and antique expert that has identified over 10000 ancient coins and has provided them with the same guarantee. You will be quite happy with what you get with the COA; a professional presentation of the coin, with all of the relevant information and a picture of the coin you saw in the listing.
Compared to other certification companies, the certificate of authenticity is a $25-50 value. So buy a coin today and own a piece of history, guaranteed.
Is there a money back guarantee?
I offer a 30 day unconditional money back guarantee. I stand behind my coins and would be willing to exchange your order for either store credit towards other coins, or refund, minus shipping expenses, within 30 days from the receipt of your order. My goal is to have the returning customers for a lifetime, and I am so sure in my coins, their authenticity, numismatic value and beauty, I can offer such a guarantee.
Is there a number I can call you with questions about my order?
You can contact me directly via ask seller a question and request my telephone number, or go to my to get my contact information only in regards to items purchased on eBay.
When should I leave feedback?
Once you receive your order, please leave a positive. Please don't leave any negative feedbacks, as it happens many times that people rush to leave feedback before letting sufficient time for the order to arrive. Also, if you sent an email, make sure to check for my reply in your messages before claiming that you didn't receive a response. The matter of fact is that any issues can be resolved, as reputation is most important to me. My goal is to provide superior products and quality of service.