Item Description
GUSTAV KLIMT
THE KISS
NETBOOK SOFT CASE
This custom NETBOOK CASE is excellent for any occasion. Whether you're working, traveling or going to school, it provides maximum protection against bumps, shocks, scratches, liquids, dust, and debris. Made of soft neoprene; it's easy to place inside a bag or carry alone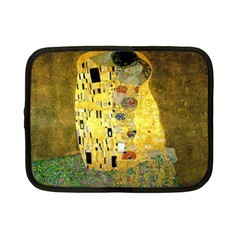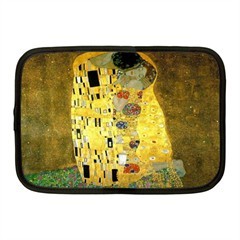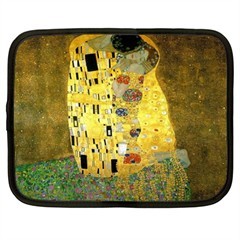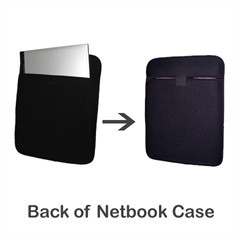 - All around protection
- Carry alone or place inside another bag
- Tough, durable, light and convenient.
- Velcro closure for easy on and off
- Made of water resistant neoprene
- Stretchable; comes in three sizes

YOUR CHOICE FROM 3 SIZES:
The softcase is available in 3 sizes and
stretchable to fit the following ~approximate~ sizes:
SMALL -  9'' (L) x 7 1/4''(W) x 1/4''(D);
will fit most 7'' netbooks
MEDIUM - 11''(L) x 7 1/2''(W) x 1/4''(D);
will fit most 8.9'' - 10'' netbooks
LARGE -  13''(L) x 10''(W) x 1/4''(D);
will fit most 12'' netbooks
Please let me know YOUR CHOICE of netbook case size by leaving message during checkout in either:
1) The 'Notes' section of eBay,
2) The 'Notes' section of Paypal.
3) Or by sending me a message through eBay found on the auction page
With so many different size netbooks, please CAREFULLY check the case size you need, before you buy.
We don't accept any exchange or refunds if our case not suitable for your netbook.
Color can vary slightly during the printing process.

Ships worldwide for one flat price.
Your order will be processed and shipped within 2 days of receipt of payment.
PLEASE ALLOW up to 2 -3 weeks for standard (airmail) delivery, although many times it's sooner. Also, please note during the holidays, it can be a bit longer.
All of the items I sell are custom designed in the Chicagoland area, then printed and shipped from Hong Kong.
Shipping confirmation IS NOT AVAILABLE with STANDARD (airmail) delivery from Hong Kong.  
I will notify you of the date your order has been placed for printing and production.                     

This product is non-refundable, unless *defective.
*DEFECTIVE DOES NOT MEAN WRONG SIZE. Please be careful when ordering one (1) of three (3) sizes.
**All items must be returned new and unused in the original packaging within 7 days of notifying me. I will give you MY address to return it, so I can return it to the manufacturer.  

PAYMENT:
IMPORTANT INFORMATION, PLEASE READ CAREFULLY!
(Only bid if you agree to all terms)

                         
PAYPAL IS THE ONLY PAYMENT ACCEPTED.
Payment is due within 3 days.
eCHECKS payments through PAYPAL can take 4-5 business days to clear; items will be ordered when eCheck clears.
ATTENTION NEWBIES;
BIDDER with less than 5 feedback points,
THOSE with recent, negative feedback:

Must contact me before bidding.
Failure to do so may result in your winning bid being null and void.
MISSION STATEMENT; LET'S WORK TOGETHER...

My goal is for you to have a great experience as a buyer,
while offering you a nice product at a good price.
If there is a problem, please don't leave negative or
neutral feedback without first contacting me.
I'm always willing to help all my customers with any
problem that might arise.
FEEDBACK is given, after it is received.
Terms and Conditions
ï'· PAYPAL IS THE ONLY PAYMENT ACCEPTED.
ï'· Payment is due within 3 days.
ï'· PAYPAL BUYERS MUST BE CONFIRMED AND VERIFIED (Please see Paypal for information regarding this)...NO EXCEPTIONS, and no P.O. BOXES.
ï'· Sorry, but I DO NOT accept bids from new buyers with LESS THAN FIVE (5)POSITIVE FEEDBACK POINTS.
ï'· I reserve the right to delete any bids placed that are placed from those with zero, little, or negative feedback, or those not verified by Paypal.
Assembled using the FreeForm Builder at robshelp.com


Powered by
The free listing tool. List your items fast and easy and manage your active items.