Images
Additional Information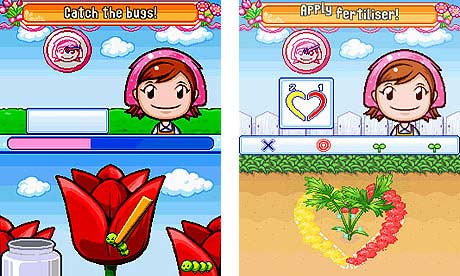 Product Description
Item specifics - Video Games
| | | | |
| --- | --- | --- | --- |
| Platform: | Nintendo DS | Genre: | Simulation |
| Rating: | E - Everyone | Sub-Genre: | -- |
| | Like New | Format: | -- |
| | | Release Date: | Mar 31, 2009 |
| Publisher: | Majesco Sales Inc. |   |   |
Detailed item info
Description
Just as millions of players enjoyed slicing and dicing with Mama in the kitchen, they can now move to the great outdoors -- planting, pruning, picking, and creating -- in Gardening Mama! Gardening Mama transforms the DS stylus into a universal gardening tool that players will use to plant, nurture and harvest flowers, fruits and vegetables. Gamers can manage their garden through the seeding, blooming and maturation phases, and then produce items from the plants they've grown (i.e. grow strawberries to make jam or raise pumpkins and then carve a jack-'o-lantern). A robust multiplayer mode lets up to four friends compete to grow the biggest harvest and Treasure Box mode lets players share items they've grown with online friends. Gamers can also decorate various gardens while creating goods like pergolas and hanging baskets. In addition, players can change Mama's outfit to their liking while customizing the screen design to their preference.


Special Features

Gameplay in Gardening Mama is very similar to Cooking Mama gameplay-use the stylus as your master garden tool to nuture 35 different flowers, fruit trees and vegetables. Plant, water, fertilize, prune, eliminate pests and then harvest what you've grown

Growing live products means that you may experience unexpected results based on your care—flowers can bloom different colors, fruit trees can grow different fruits, etc.

Multiple modes of play include:

Let's Get Growing!—Grow a variety of flowers, fruits and vegetables in your various gardens. Manage your gardens as they seed, bloom, bear fruit and mature

Decorate the Garden!—Decorate your flower garden with various fences, pots, flowers and more by earning bonuses to unlock new decorations

Make it Fancy! —Dress up Mama by changing her outfits, glasses, hair and accessories with unlocked bonuses

Cute Treasure Chest—Keep the products you've made from your garden and trade those creations with friends online

Let's Play Together—Compete against up to four friends online to harvest fruits and vegetables. The winner harvests the most



Details
Players:
1-4
Memory Card:
No(0)


Portions of this page Copyright 2001 - 2009 Muze Inc. All rights reserved.
PACKAGE :
Plastic CASE
YOU SEE WHAT YOU GET !!!!!!!!
SHIPPING COST: 100% FREE TO WORLDWIDE !!!!!


For now only accept Paypal . Please settle the payment within 5 working days if you successfully bidded the item. BUT, DON'T PAY UNTIL YOU RECEIVE THE PAYPAL INVOICE SENT BY US.




ALL ITEMS WILL SEND BY REGISTER AIRMAIL WITH TRACKING CODE:
The Shipping Cost Will be subject to Winner Location !!!

REFERENCE of shipping Cost  & Estimate Time

Asia Pacific (Japan, Taiwan, Korea)         : 7 - 14 working days     : FREE

Europe (France, UK, Italy & Germany)    :14 - 28 working days    : FREE

N. America (US, Canada, Australia)         : 12 - 25 working days   : FREE

S. America: 21 - 35 working days               Email US           



Seller reserved the right if he/she cannot provide the item within 15 days after payment completed, 100% Refund will proceed.