Item Description

DVD Slide Show Maker / Publisher Software
"Quickly and easily make stunning professional photo slideshows on DVD"
"In addition to your photos you can also Add and edit music, motion backgrounds, borders and subtitles"

-240 Transitions

-35 Motion Backgrounds

-100 Effects

-Animate Images

-Zoom, Pan, & Rotate

-Music

-Motion Backgrounds

-Borders & Subtitles

-Multi Language (See Description)

-Blueray, 780p, 1080p Compatible

System Requirements

Windows

XP/Vista/7

Please Note: The photo is for illustration only and the software will ship in a paper sleeve. This helps us deliver the the item with the absolute lowest cost to you and maximum benefit to the environment. Professional cover art is included on CD-Rom.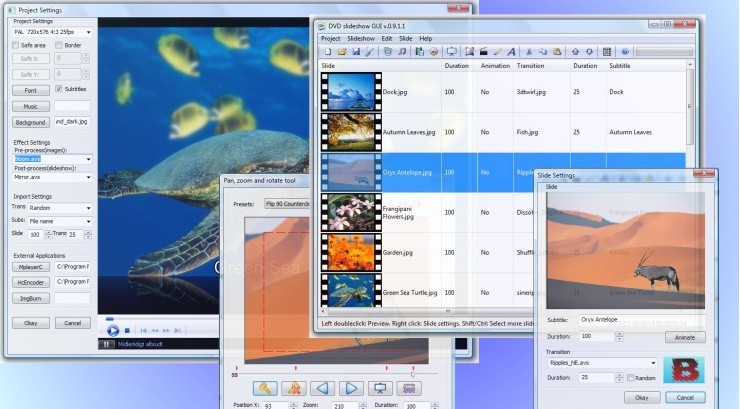 Fully Functional CD-Rom Features Easy To Navigate Auto Start Menu
This is a big difference between what we will send you and what others will send you. Other sellers just slap a bunch of files on a cd-rom and ship it to you. It can be frustrating to navigate and is unclear during the installation process. Our Cd-Rom has a fully functional Autorun Menu that makes installation a breeze.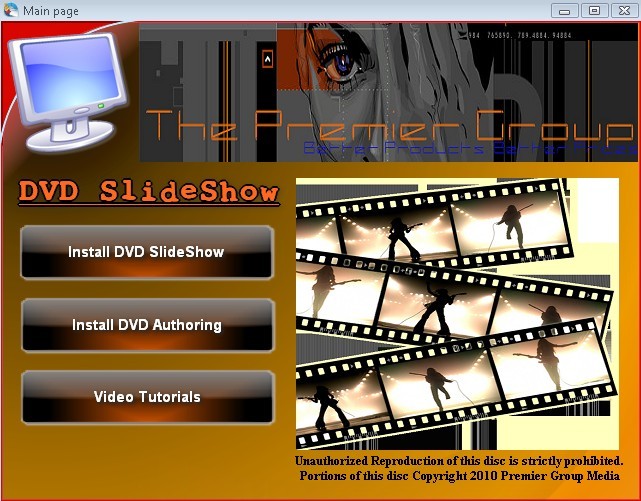 DVD Slide Show Maker / Publisher
- 240 transitions, 100 Effects you can add to the entire slideshow, 35 Motion Backgrounds(avs).
- Animate your overlapping images using zoom, pan and rotate. Add photos with alpha channel and EXIF data.
- Add videos(avi/avs), Power Point(ppt) and Impress(odp) to you slideshow.
- Add and edit music, motion backgrounds, borders and subtitles.
- Make your own transitions, effects and motion backgrounds.
- Export to dvd video(PAL/NTSC 4:3 16:9), BluRay, 720p, 1080p, dvd audio, dvd chapters, dvd subtitles, avi, flash for web, avisynthscript, storyboards, single images with backgrounds and YouTube.
- Gui in Chinese Traditional, Czech, Danish, Dutch, English, French, Galician, German, Italian, Jananese, Portuguese Brazilian, Portuguese, Russian and Spanish.
FEATURES

Im

port jpg, png, bmp, avs and avi.

Import Exif data with photos.

Import Power Point (ppt) and Impress (obp).


Animate, Pan, Zoom, Rotate images.

Add animated background(jpg, png, bmp, avs and avi).

Add multiple mp3, wav, m3u(playlist) music.

Add subtitles with effects.

237 Transitions.

Export to 17 formats.


Add visual effects to images.

Add visual animated effects to the slideshow.

Edit images in paint program.

Edit and convert to avs scripts in AvsP.


Gui in English, French, Dutch, German, Italian, Spanish, Galician, Czech and Danish.

Change image order move, copy, paste for one or more slides.

Resizing images/avi's within safearea.

Exposition time for each slide.

Transition time for each slide.

Code your own avisynth transitions.

Add your own avisynth, Free Frame, Photoshop CHA/AMP effects.

Add random transitions.

Add border to image.

Change subtitle fonts.

Sort after filenames or subtitles.

Match slideshow to audio length.

Formats

PAL 4:3

PAL 16:9

NTSC 4:3

NTSC 16:9

720p

1080p

Export

Iso DVD

DVD folders

Blu-Ray folders

Mpg (Video+audio)

Mp4 (Video+audio)

M2v (Video)

Mp2 (Audio)

Ac3 (Audio)

Avi (video)

Avs (Avisynth)

Gfd (Gui for Dvdauthor - DVD Menus)

Flv (Flashvideo)

Srt (Subtitles)

Ssa (Subtitles)

Storyboard(html)

Chapters as smpte(txt)

Chapters as frames numbers(txt)

Burn

DVD

Blu-Ray rom
Video Tutorials Included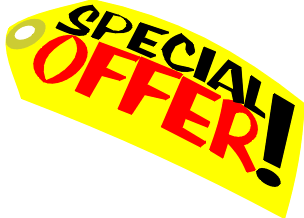 BONUS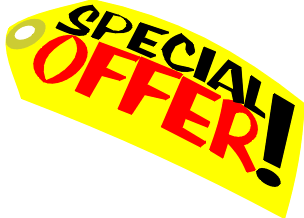 DVD Authoring Software
As a thank you bonus we will also include DVD authoring software with your purchase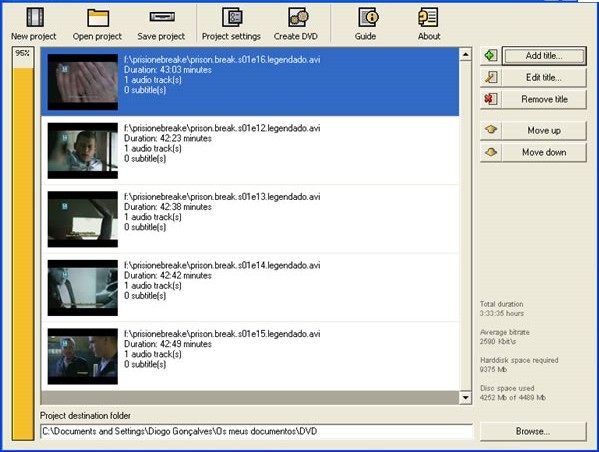 Simple but powerful DVD Authoring tool. It can take a number of video files stored on your computer and turn them into a DVD that will play back on your DVD player, Media Center or Home Cinema Set. You can add additional custom audio tracks, subtitles as well as a menu for easier navigation.
Features
Burn near any video file to DVD

Support for over 45 file formats

Support for over 60 video codecs

Support for over 40 audio codecs

Easily add a menu

Add your own subtitles

Easy to use interface

Burn your project to disc after encoding

Supported video formats

4X Video American Laser Games Apple Animation Apple Graphics Apple MJPEG-B Apple QuickDraw Apple Video Asus v1 and v2 ATI VCR1 ATI VCR2 Autodesk Animator Studio AVID DNxHD AVS Video Bethsoft VID C93 Video CamStudio Cin Video Cinepak Cirrus Logic AccuPak Creative YUV Duck TrueMotion v1, v2 DV DXA Video Flash Screen Video FLIC video Flash Video Fraps FPS1 H.261 H.264 HuffYUV IBM Ultimotion Id Cinematic Microsoft Video-1 Miro VideoXL MJPEG MPEG-1 and 2 MPEG-4 (DivX\XVid) Id RoQ Intel Indeo 3 Interplay Video JPEG-LS KMVC LOCO Lossless MJPEG Microsoft RLE MSMPEG4 v1, v2, v3 MSZH On2 VP5, VP6 Planar RGB QPEG RealVideo Renderware TXD RTjpeg Smacker Video Sony Playstation MDEC Sorenson Video 1, 3 Sunplus MJPEG TechSmith Camtasia THP Tiertex Seq Video VC1 VMD Video VMware Video Westwood VQA Winnov WNV1 Windows Media ** Xan/WC3 ZMBV MPL \ TrueHD Motion Pixel Video EA CMV \ TGV EA XA

Supported audio formats

4X IMA ADPCM AAC AC3 \ E-AC3 AMR NB and WB Apple lossless Apple MACE 3, 6 ATRAC 3 CD-ROM XA ADPCM Cin Creative ADPCM CRI ADX ADPCM DSP Group TrueSpeech DTS Duck DK3,4 IMA ADPCM DV EA ADPCM FLAC lossless G.726 ADPCM Id DPCM Intel Music Coder Interplay DPCM Microsoft ADPCM MPEG layer 1, 2, 3 (MP3) MS IMA ADPCM Musepack * QT IMA ADPCM RA144 RA288 RADnet Real COOK ** Shorten lossless Sierra Online DPCM Smacker SMJPEG IMA ADPCM THP ADPCM True Audio (TTA) Vorbis WavPack Westwood Studios IMA ADPCM Windows Media 1, 2 Xan DPCM Nellymoser

Supported container formats

4xm ADTS AAC audio American Laser Games ASF (WMV) AVI AVS Bethsoft VID C93 CIN Creative VOC CRYO APC DV DXA EA Multimedia FLIC format SWF * GXF Id Cinematic Id RoQ Interplay MVE Macromedia Flash Matroska MPEG audio MPEG-1 systems MPEG-2 PS, TS MPEG-4 MXF Nullsoft Video (NSV) NUT Playstation STR QuickTime Raw AC3 Raw CRI ADX audio Raw MJPEG Raw MPEG video Raw MPEG4 video Raw PCM ** Raw Shorten audio Real Media Sega FILM/CPK SEQ Sierra Online Sierra VMD Smacker SUN AU format THP WAV WC3 Movie Westwood Studios VQA/AUD TechnoTrend PVA LMLM4 MVI EA XA
Why Buy From Us?
Simple.....We offer high quality, full feature software on high quality media. PROFESSIONALLY PRODUCED using state of the art equipment at rock bottom prices. All of our items are sealed in shipping sleeves to ensure quality and will have professionally designed cover art. Couple that with our 100% Guarantee against DOA Shipments and Guaranteed Delivery and you will see why we are the premier software company on eBay.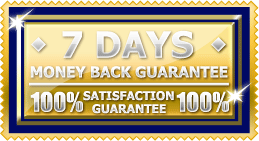 Payment And Shipping Details
Shipping: All of our products ship within 48 Hours. 98% of the time we do not combine ship. Depending on the size and weight of the item we will either ship USPS UPS, or Fed EX . Please allow adequate time for your item to be delivered.

International Shipping: Please allow 8-20 days (depending on destination country) for your item to be delivered.
---
| | |
| --- | --- |
| | Payment: We accept Paypal Only For This Item. |
---
Return Policy: Please contact us if there is a problem with this transaction. We go to great lengths to make every transaction a favorable experience for our buyers. If however there is a problem with your item we will either replace it or issue a full refund.

Please Note: We do not refund shipping charges.
---
| | |
| --- | --- |
| | Our Guarantee: We will respond quickly to any concerns you may have regarding a transaction. We guarantee the item(s) described in this auction to be accurate to the best of our abilities. If we have no way to test this item(s) i.e. no power cord, or other missing components, this will be stated in the auction. |
---