Item Description
Leathercraft western indian charms conchos from closed designer western wear manufacturer!
COWBOY BOOT conchos Lot of 100 only $9.99
Get more concho for your dinero, PODNER!
Compare to retail price of up to $1-$3 each piece!
Save up to 99% while they last!

Click image below to see full size picture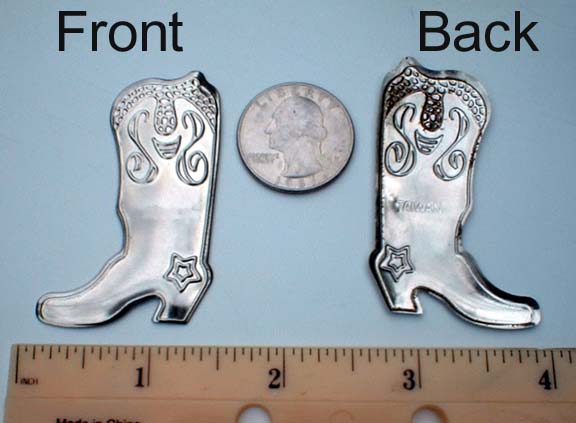 Attention scrappers, candle makers, leathercrafters: better giddyup on this concho deal because they won't last long! Save hundred$ doing western and indian crafts, advertising, scrapping, or decorating your ranch with these unique closeout concho charms. This sale is for (1) lot of (100) approx. 2"-3" diameter shiny, glossy silver-colored metal COWBOY BOOT charms. These are brand new in perfect condition from sealed bags. These were custom made of plated steel with a nickel finish in Taiwan for a Texas company that used to make designer western wear(See picture below). Since that company is no longer in business, these are unique items with limited supply- once they are gone, they are gone forever.
This sale is for (100) COWBOY BOOT charms. I am also selling other designs in separate lots- see my other offers and combine this lot with other lots using my COMBINED SHIPPING option below.
These metal charms were originally designed to be glued onto clasps and sold as belt loop covers or drilled through and riveted onto leathercraft belts, hats, etc. These conchos did not make it that far on the assembly line and are just plain ornaments with no attachments, so you can make them into anything you want. I am also selling the back clasps for making belt loop conchos separately, along with the advertising cards that they were sold with. From the picture detail, you can these conchos have top quality, intricate designs.
You can paint them, add them to a scrapbook, use them as conchos to make western leathercrafts, make kitchen magnets or Christmas Decorations out of them, stick them on an indian blanket and sell them at the flea market, decorate your bike, car or other vehicle, use them in arts and crafts, interior decor, lamps, candles, make indian-theme crafts, make Texas-theme crafts, decorate gravestones, pavers patios- the list is endless.
Charms have been sorted and repacked in bags from their original box. Size is as shown in the photos. Quarter is shown next to item to show scale.

Idea #1: Make and sell your own handmade belt loop conchos!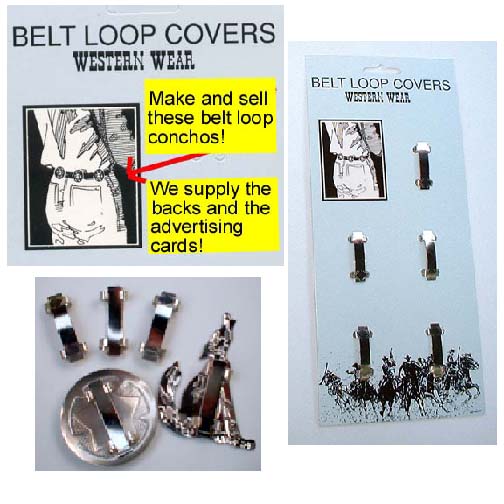 Making and selling your own detachable belt loop conchos is fast and easy with the clasps and cards as shown above(CLASPS AND CARDS SOLD SEPARATELY FROM CONCHOS- SEE MY OTHER SALES- THE CONCHO MAKING KIT HAS THE CLASPS AND THE CONCHO SELLING KIT HAS THE CARDS.):

Custom paint each concho with your artwork, glue on jewels or gems, or leave plain.
Use epoxy glue to attach the arched clasp to the back of the concho.
IF YOU ARE PLANNING ON SELLING THEM, stick the clasp prongs through the prepunched selling card(5 conchos per card).
The end user attaches the clasps to each belt loop to make a fashion statement! Clasps can also be fitted to leather straps or hatbands as well.


SEE MY OTHER SALES TO BUY THE CLASPS AND THE CARDS!
Idea #2: Permanently attach the conchos to objects to make unique leather and metal crafts!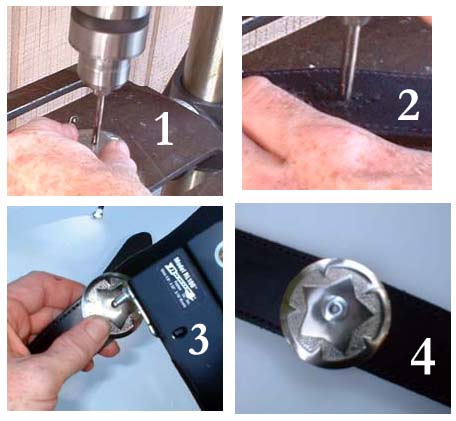 Attach these conchos permanently with a rivet gun as shown above(or use chicago screws for temporary attachment):

Using a table drill press or hand drill, drill a 7/32" hole in Concho(Picture 1).
Drill a 7/32" hole in object you want to attach the concho to(Picture 2).
Stick the 3/16" rivit into the gun, tap the rivet into the gun, stick the rivet end into the holes and squeeze the gun handle(Picture 3).
The gun will expand the rivet in the hole, and snap off the end leaving the finished product as shown(Picture 4).


You get 100 COWBOY BOOT charms in 1 lot for $9.99(Approx. .10 per charm) plus $8 shipping by Priority Mail with delivery confirmation. Add $1.50 shipping for each additional lot. US addresses only. No international shipping.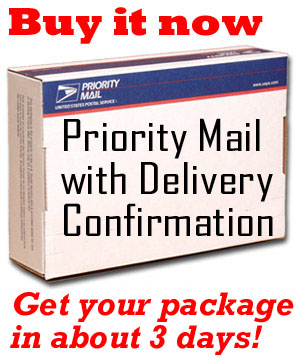 Please see my other sales for different lots of these individual charms. I have many lots of these charms going up for sale as soon as I can sort them all, but once they are gone, there will be no more as these were custom-made.
Shipping is by USPS PRIORITY MAIL with DELIVERY CONFIRMATION to US addresses only.
Shipping/handling is $8 for the first lot of (100) charms, and $1.50 for each additional lot.

COMBINED SHIPPING
I will combine shipping on all CONCHO ITEMS purchased at the same time. Example: Buy (3) lots of COWBOY BOOT CONCHOS for $11 shipping and add/ship (1) lot of THUNDERBIRD CONCHOS for an additional $1.50($12.50 total shipping for all 4 lots). This is for all my under CONCHO ITEMS currently up for auction ONLY.

After purchasing, pay instantly with your credit card through PayPal!


IOffer Sales Policy:
Your offer is a contract - Place an offer only if you're serious about buying the item.  If you are the buyer, you will enter into a legally binding contract to purchase the item.  If the seller is unable to establish contact with the buyer within 3 days of the end of the auction or if payment is not received within 10 days, item may be offered to the next buyer or relisted at the sellers sole discretion.
 
 
Shipping Details:
All shipping originates from 75087 zip code.  Shipment to US addresses will be by USPS Priority Mail with Delivery Confirmation. See description for shipment outside US.    Orders are generally shipped on the day after full payment.
 
 
Payment Details:

Paypal
Personal Check / Money Order

 
 
Returns:
No returns on used items and items under $50. In the unlikely event that a return is requested, all returns must include all original items undamaged, in re-saleable condition, all original packaging including manuals, etc.  Shipping and handling fees are not refundable.  Buyer is responsible for shipping costs incurred shipping products back.
 
 
See my other sales for more concho charms
Concho charm western concho wear silver Concho charm western wear silver scrapbook leather craft western western style home indian charms conchos COWBOY BOOT concho COWBOY BOOT concho COWBOY BOOT concho COWBOY BOOT concho , Cowboy boot concho , Concho charm western wear silver scrapbook leather craft western indian charms conchos accessory inique hand made emblem COWBOY BOOT COWBOY BOOT COWBOY BOOT COWBOY BOOT, COWBOY BOOT concho Cowboy boot concho , thunderbird eagle concho decor bar decor decoration door trim picture frame trim jewelry native american craft art silver indian charms conchos accessory inique hand made silver metal steel gold plated designer western wear belt loop belt buckle concho leather strap chicago screw candle making supply supplies gear rivit emblem COWBOY BOOT COWBOY BOOT COWBOY BOOT COWBOY BOOT, COWBOY BOOT Cowboy boot, thunderbird eagle indian craft COWBOY BOOT discount cheap wholesale bulk lots scrapbook leather craft western indian charms conchos accessory inique hand made emblem COWBOY BOOT COWBOY BOOT COWBOY BOOT COWBOY BOOT, COWBOY BOOT Cowboy boot, thunderbird eagle indian craft COWBOY BOOT discount cheap wholesale bulk lots Concho blet loop leather leather craft lethercraft leather harley decoration accessories biker chaps cowboy gear clothes jewelry art indian art navaho navajo charms hand made concho Wolf Howling at the moon, Star Texas star emblem Walker Texas Ranger badge concho