Item Description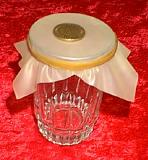 COIN IN SEALED GLASS - Your will not believe what you see !!!  
Visual Close-Up Magic When It Is Best!
1. A normal glass has been sealed by a piece of rubber which is held in place over the opening of the glass by a rubber band.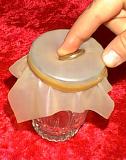 2. A coin placed on top of the rubber is touched with just ONE finger... and now you push the coin RIGHT THRU the rubber  FULL VISIBLE!!!!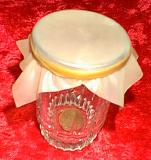 3 Hand out the glass to the spectator IMMIDIATELY and ask him to examine it all!
Think about this ... The coin is SEALED INSIDE THE  GLASS!!!!!!!!!!!!!!!!!!!!!!!!!!!!
You may think that this sounds too good to be true? - Then please take a good look at the pictures and read the description again. Beacaus e they are 100% accurate: THAT IS EXACTLY WHAT HAPPENS!!!
Here are some FACTS about this trick: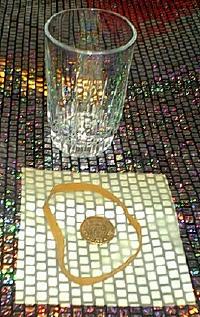 *
NO FUNNY MOVES - NOHTING TO ADD OR HIDE! - DO IT SURROUNDED!
* ONLY ONE GLASS - ONE RUBBER - ONE RUBBERBAND & ONE COIN IS USED!!!
* YES, EVERYTHING IS EXAMINED! - NO SECRET GIMMICK TO HIDE AWAY!
* YOU ARE 100% CLEAN THROUGHTOUT THE EFFECT!!!
You can even do this in SLOW MOTION! -  JUST  LET THEM  WATCH THE COIN SLOWLY MELT STRAIGHT THROUGH THE RUBBER!!!
Even when you know how this is done you will still surprise yourself when you perform it!!!
This special rubber does all the work for you A Lubor Fiedler invention!
Dont let the low price fool you...this is truly:
ONE OF THE BEST CLOSE-UP EFFECTS EVER!!!

BONUS: A FREE TRICK is INCLUDED with EVERY SHIPMENT!


Shipping price INCLUDES: 1. Class Airmail + FULL INSURANCE!
handling & packing (bubble envelope) + 1 FREE Surprice trick :-)   
Delivery time: Europe 2-5 days Worldwide 4-7 days

Insurance INCLUDED = YOUR BUSINESS HERE 100% SAFE! :-) 
SAVE MONEY ON SHIPPING! 2 or more items are combined -  See all items for sale HERE: 


I have a  variety of BRAND NEW Magic Tricks:
Close Up C o m e d y Stage Fire & Flowers
Including   DISCONTINUED  items from:
&   Tricks Co.  
Rare Magic from Japan
®   = Hear about NEW items and receive huge DISCOUNTS! :-)

See all  Magic Tricks & Illusions on eBay  
HERE:



© PHOTOS & DESCRIPTION ARE COPYRIGHT PROTECTED - UNAUTHORIZED USE IS STRICTLY PROHIBITED  ©