Item Description
BRAND NEW CASIO GENTS
AW-80D-7AVDF
LED LIGHT 30 TELEMEMO WORLD TIME
COUNTDOWN TIMER 3 ALARMS STOPWATCH
50M WATER RESIST 10 YEAR BATTERY
INCLUDES FULL INSTRUCTIONS
Specifications:
Gents Dual Time
LED A light-emitting diode (LED) is used to illuminate the watch face.
Telememo Built-in memory provides storage for 30 names and phone numbers.
World Time Displays the current time in 30 major cities and specific areas around the world.
Stopwatch Accurate measurement of elapsed time with the touch of a button.
Countdown Timer Counts down from a start time specified by you (up to 24 hours).
Multi Alarm, Hourly Time Signal Multi Alarm (3) lets you set a daily alarm or an alarm for a specific time on a specific day. The hourly time signal causes the watch to beep every hour on the hour.
Snooze feature Each time you stop the alarm, it sounds again after a few minutes.
10 Year Long Life Battery Battery last for at least 10 years.
Full Auto Calendar Allowances are made automatically for months of different lengths, including leap year.
12/24-hour Timekeeping Times can be displayed in either 12-hour or 24-hour format.
50m Water Resistant Water resistant to 50 metres.
Spherical Glass The surface of the glass is roundedStainless Steel Band
Stainless Steel Band One-touch 3-fold Buckle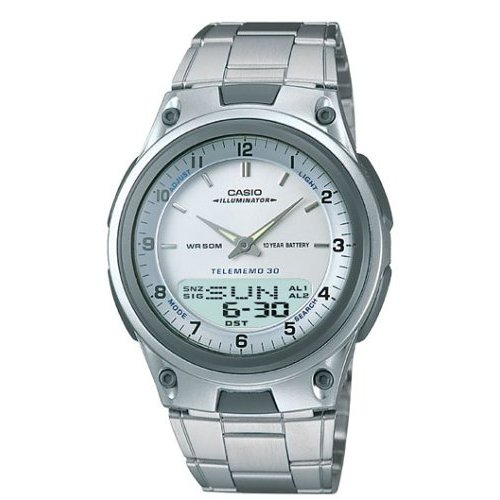 Safety Catch Always reliable: This watch has a particularly secure safety catch, which helps prevent the strap from opening by mistake.
Resin Case
Module N0: 2747