Item Description

SquareTrade © AP6.0
BURMA JADE AND STERLING GREEK KOMBOLOI WORRY BEADS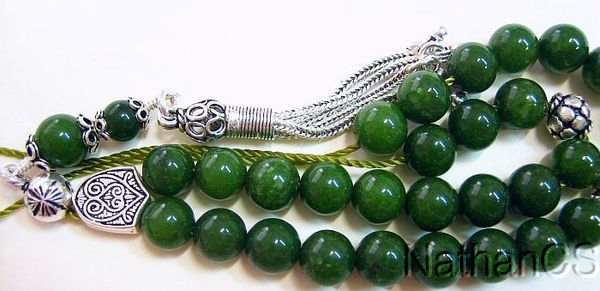 Special from Tesbihci : a magnificient Greek Komboloi - Worry beads


Description :

Material : BURMA DEEP GREEN JADE
Tassel : Sterling Silver
General :29 main round beads, 2 beads for the main and 2 sterling silver separators, Sterling silver  shield and bead caps and Sterling silver tassel .
Bead size 8 mm - Length 30 cm - weight 31 grams.

Pictures describe best


This is a magnificient item that you will greatly enjoy or that would make a fantatstic gift on any occasion.

Check my other auctions for other worry and prayer beads. -

My selling principle is : " SATISFACTION OR REFUND " AND IT APPLIES 100 %.
I am ready to refund in totality any item sold by me if you are not fully satisfied with your purchase
NO QUESTIONS ASKED - NO CONDITIONS

BID WITH COMPLETE CONFIDENCE




---

All my items are sent in a black velvet pouch as shown in the picture, by first class aimail.
For this item, the handling and postage is usd. 10 for any destination
Please advise if any special shipment requested



Special!
As an expert and a collector of prayer beads for over 30 years I guarantee that all prayer beads strands that I offer on E Bay are of superior quality, described exactly, complete and with an excellent value. I try very hard to have the best and clearest pictures possible with closeups for optimal visual description. Feel free to contact me if you need more information or more pictures.





Payment Options:  
Credit Cards ,PayPal
Shipping Discount(Dom):  
66.66% off shipping charge for multiple items
Shipping Discount(Int'l):  
66.66% off shipping charge for multiple items
Shipping Options:  
Fixed Shipping Charges.

Shipping & Handling Rate:  
$10.00 (Domestic)
$10.00 (International)

I will ship to:  
USA and Internationally
Insurance Rate:  
$5.00

---

Payment Policy:  
Credit Cards: 
Credit cards are accepted


READ CAREFULLY


For your safety on line payment by credit card is done in TWO STEPS
STEP 1 : Just send an email to : or Fill the form in the Andale Check out process. THIS WILL NOT DEBIT YOUR CREDIT CARD, but will generate a Payment Request through a secure server which you will receive by e-mail shortly after.
STEP 2 : When you receive the Payment Request e-mail, just follow its very simple instructions. ONLY THEN WILL YOUR CREDIT CARD BE DEBITED.
PayPal: 
Paypal is the form of payment that I preffer and which allows me to ship your items immediately . Please use it !
My paypal address is :
Other: 
Please contact me in case of payment problem.

Tesbihci - The Swan Collection -
IMPORTANT
We normally ship twice a week : on Tuesdays and Fridays. But during peak periods we ship 4 times a week.
Orders under 50 $ are sent by airmail, not registered and not insured.
I am not responsible for postal loss of any order which is not insured and/or not registered.
Insurance for orders under 50$ costs $ 5.-
All orders over 50 $ are automatically sent insured, by registered airmail with recipient signature requested for delivery, at no extra cost.
Thank you for your business.
---
On Jan-30-09 at 03:05:41 PST, seller added the following information:
Sellers: Get your own map today. Click here now. Simple."
---