Item Description
BEATRIX POTTER PETER RABBIT 
IN CABBAGE PATCH
S
ILVER-TONE WATCH!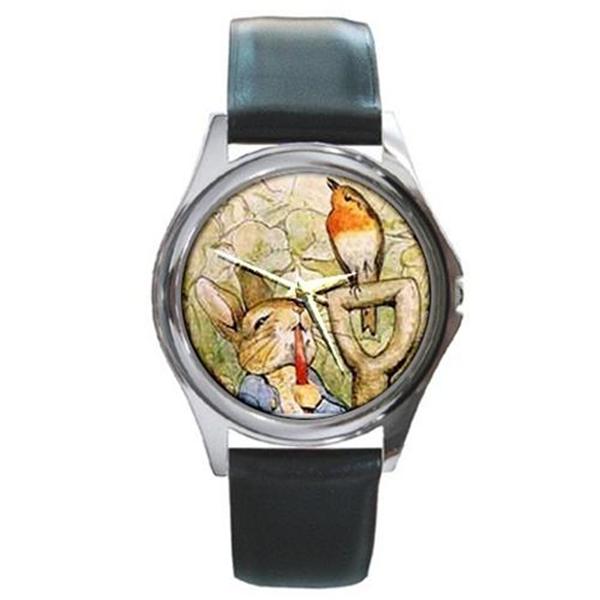 Product Details:
-- Unisex silver-tone high quality watch.
-- The watch casing measures approx. 1 1/2''. The watch band fits most wrists from approx. 6 1/2'' to 8''.
-- Stainless steel back
-- The watch band is made of genuine leather.
-- Miyota watch movement made by Citizen.
-- The battery for the watch is included.

IMPORTANT INFORMATION,
PLEASE READ CAREFULLY!
(Only bid if you agree to all terms)
                         
                                **PAYMENT**
? PAYPAL IS THE ONLY PAYMENT ACCEPTED.
? Payment is due within 3 days.
? All of the items I sell are custom designed in the Chicagoland area, then printed and shipped from Hong Kong.
? Ships worldwide.
? From the date your order is processed, PLEASE ALLOW 2 - 3 weeks for standard (airmail) delivery; 2 - 4 weeks if you're outside of the U.S.
              
BUYERS with  
LESS THAN FIVE (5) feedback points,
MUST contact me before bidding! 
                         
                              **SHIPPING INFO**
? Shipping confirmation IS NOT AVAILABLE with STANDARD (airmail) delivery from Hong Kong.  
? I offer a shipping discount of $3.50 off each additional watch or watch sets purchased at/or near the same time (that can be shipped in the same order) as the original auction. At the end of the auctions, I will send a combined invoice reflecting this.
? I will notify you of the date your order has been placed for printing and production.
? Please note: Color can vary slightly during the printing process.

My goal is for you to have a great experience as a buyer, while offering you a nice product at a good price.

                           
                             **REFUNDS & RETURNS**
7-day return. If you need to return a product, I'll provide you with

the correct address.
If there is a problem, please don't leave negative or
neutral feedback without first contacting me.
I'm always willing to help all my customers with any
problem that might arise.
Terms and Conditions
? PAYPAL IS THE ONLY PAYMENT ACCEPTED.
? Payment is due within 3 days.
? PAYPAL BUYERS MUST BE CONFIRMED AND VERIFIED (Please see Paypal for information regarding this)...NO EXCEPTIONS, and no P.O. BOXES.
? I reserve the right to delete any bids placed that are placed from those with zero, little, or negative feedback, or those not verified by Paypal.
Created using the FreeForm Builder at robshelp.com