Item Description
BABE RUTH: The Called Shot
First Collector's Plate In
The Legends Of Baseball
Delphi/Bradford Exchange, 1992
Artist: Brent Benger
Fine-Mint
Enclosed In Original
Styrofoam Case
Includes
Plate
Certificate Of Autheticity
History Sheet
Promotional Baseball Card
This Is A Great Item For Any Fan Or Collector
Facts about the Plate:
FIRST issue in The Legends of Baseball collection from Delphi.

Plate is decorated with a 22-karat gold border, in brilliant, realistic color on fine porcelain.

The edition is limited to 150 firing days.

Bradford Exchange Bradex number 84-D19-19.1

Plate number 3200G.

Diameter approximately 8 1/4".

Copyright 1992 by Delphi, Family of Babe Ruth, Babe Ruth Baseball League, Inc., and Curtis Management Group.

Enclosed in styrofoam case.
  Condition:
Fine-Mint Condition.

Styrofoam case has "Babe Ruth Plate "penned in red on side.
Please see the scans below  
Acceptable Methods Of Payment Are:
PayPal (paypal balance, bank account transfer, or E-check funded payments only)
(Credit/Debit card funded payment is not available to my PayPal account)
Money Orders, Personal Checks, Cashier's Checks, or Cash
Postage & Handling:
     $7.95 Postage & Handling For Priority Mail
(Estimated Delivery 2-4 Business Days From Shipping Date)
Thank you for viewing this item
Front & Back Of Plate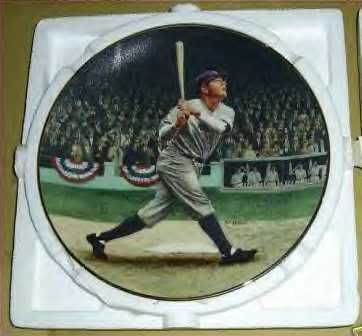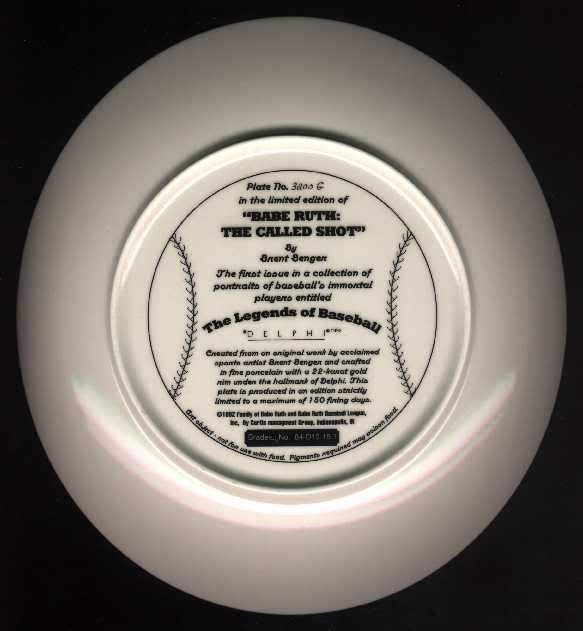 Front & Back Of Certificate Of Authenticity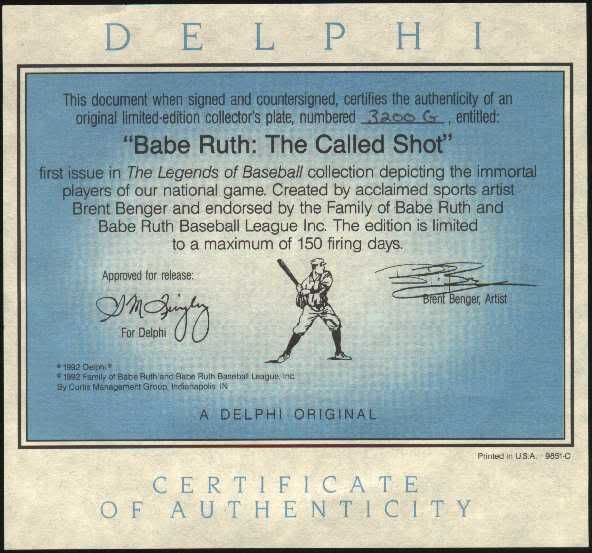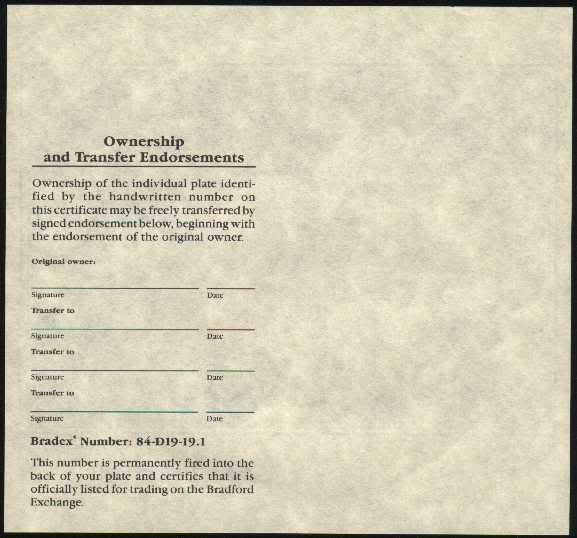 History Sheet Page 1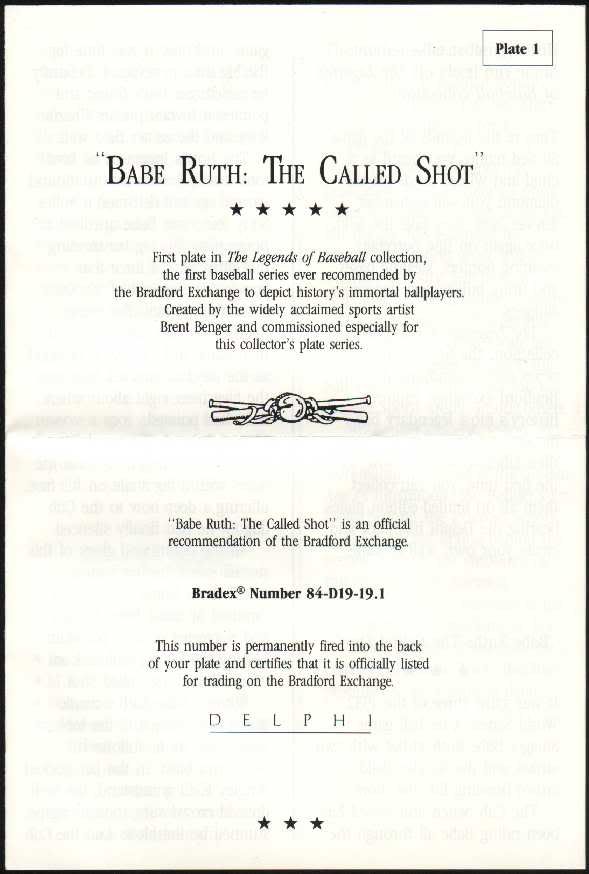 History Sheet Page 2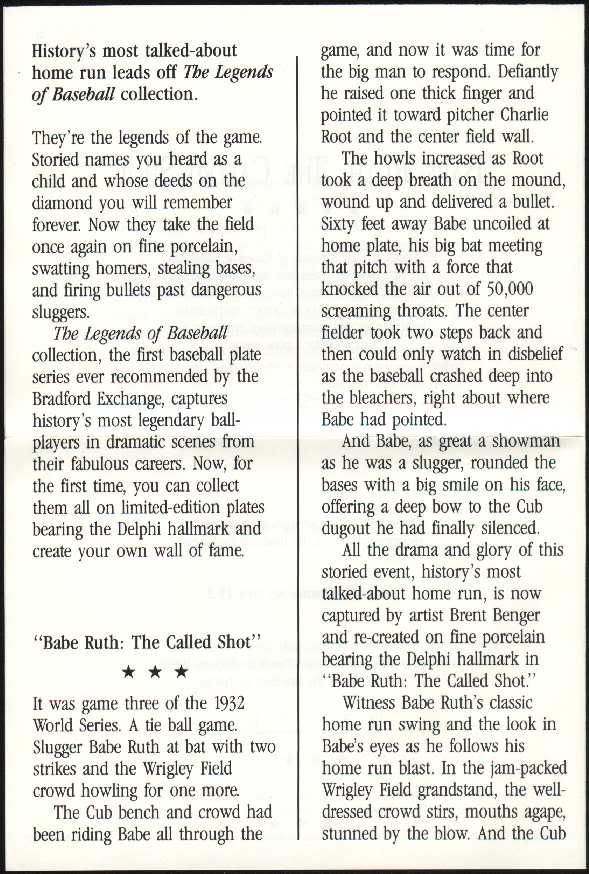 History Sheet Page 3
History Sheet Page 4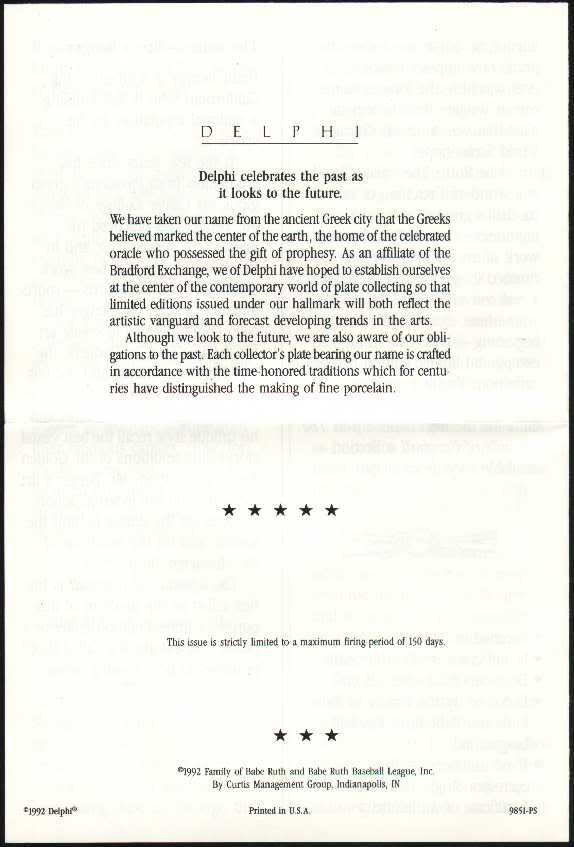 Front & Back Of Baseball Promo Card