Item Description
Item: i16299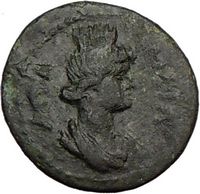 Certified Authentic Ancient Coin of:
Greek city of Apameia in Phrygia
Bronze 16mm (2.44 grams) Struck circa 175-225 A.D.
Reference: SNG Munchen 131; SNG von Aulock 3475; SNG Leypold II 1438
A?AMEIA, turreted and draped bust of Tyche right.
C?T?IPA, Hekate Triformis, three-figured, each with double-chiton and wearing kalathos, holding torches.
Founded by Antiochus I, and named after the king's mother, Apama, Apameia was situated near the sources of the great river Maeander and was an important road junction for routes in all directions. It grew to become one of the great cities of Asia Minor, and participated in the silver cistophoric coinage under the later Pergamene kings and, after 133 B.C., under the Romans.
 You are bidding on the exact item pictured, provided with a Certificate of Authenticity and Lifetime Guarantee of Authenticity.  
Hecate or Hekate is a chthonic Greco-Roman goddess associated with magic and crossroads.
She is attested in poetry as early as Hesiod's Theogony. An inscription from late archaic Miletus naming her as a protector of entrances is also testimony to her presence in archaic Greek religion.
Regarding the nature of her cult, it has been remarked, "she is more at home on the fringes than in the center of Greek polytheism. Intrinsically ambivalent and polymorphous, she straddles conventional boundaries and eludes definition." She has been associated with childbirth, nurturing the young, gates and walls, doorways, crossroads, magic, lunar lore, torches and dogs. William Berg observes, "Since children are not called after spooks, it is safe to assume that Carian theophoric names involving hekat- refer to a major deity free from the dark and unsavoury ties to the underworld and to witchcraft associated with the Hecate of classical Athens." But he cautions, "The Laginetan goddess may have had a more infernal character than scholars have been willing to assume." In Ptolemaic Alexandria and elsewhere during the Hellenistic period, she appears as a three-faced goddess associated with magic, witchcraft, and curses. Today she is claimed as a goddess of witches and in the context of Hellenic Polytheistic Reconstructionism. Some neo-pagans refer to her as a "crone goddess", though this characterization appears to conflict with her frequent characterization as a virgin in late antiquity. She closely parallels the Roman goddess Trivia.
Apamea or Apameia (Greek: ???????) ? previously, Kibotos (Greek: ???????), h? Kib?tos or Cibotus ? was an ancient city in Phrygia, Anatolia, founded by Antiochus I Soter (from whose mother, Apama, it received its name), near, but on lower ground than, Celaenae (Kelainai).
Geography
It overlooks the Ghab valley and the site is now partly occupied by the city of Dinar (sometimes locally known also as Geyikler, "the gazelles," perhaps from a tradition of the Persian hunting-park, seen by Xenophon at Celaenae), which by 1911 was connected with ?zmir by railway; there are considerable remains, including a theater and a great number of important Graeco-Roman inscriptions. Strabo (p. 577) says, that the town lies at the source (ekbolais) of the Marsyas, and the river flows through the middle of the city, having its origin in the city, and being carried down to the suburbs with a violent and precipitous current it joins the Maeander after the latter is joined by the Orgas (called the Catarrhactes by Herodotus, vii. 26).
History
The original inhabitants were residents of Celaenae who were compelled by Antiochus I Soter to move farther down the river, where they founded the city of Apamea (Strabo, xii. 577). Antiochus the Great transplanted many Jews there. (Josephus, Ant. xii. 3, ? 4). It became a seat of Seleucid power, and a center of Graeco-Roman and Graeco-Hebrew civilization and commerce. There Antiochus the Great collected the army with which he met the Romans at Magnesia, and two years later the Treaty of Apamea between Rome and the Seleucid realm was signed there. After Antiochus' departure for the East, Apamea lapsed to the Pergamene kingdom and thence to Rome in 133 BCE, but it was resold to Mithridates V of Pontus, who held it till 120 BCE. After the Mithridatic Wars it became and remained a great center for trade, largely carried on by resident Italians and by Jews. By order of Flaccus, a large amount of Jewish money ? nearly 45 kilograms of gold ? intended for the Temple in Jerusalem was confiscated in Apamea in the year 62 BCE (Cicero, Pro Flacco, ch. xxviii.). In 84 BCE Sulla made it the seat of a conventus, and it long claimed primacy among Phrygian cities. When Strabo wrote, Apamea was a place of great trade in the Roman province of Asia, next in importance to Ephesus. Its commerce was owing to its position on the great road to Cappadocia, and it was also the center of other roads. When Cicero was proconsul of Cilicia, 51 BCE, Apamea was within his jurisdiction (ad Fam. xiii. 67), but the dioecesis, or conventus, of Apamea was afterwards attached to Asia. Pliny the Elder enumerates six towns which belonged to the conventus of Apamea, and he observes that there were nine others of little note. The city minted its own coins in antiquity. The name Cibotus appears on some coins of Apamea, and it has been conjectured that it was so called from the wealth that was collected in this great emporium; for kib?tos in Greek is a chest or coffer. Pliny (v. 29) says that it was first Celaenae, then Cibotus, and then Apamea; which cannot be quite correct, because Celaenae was a different place from Apamea, though near it. But there may have been a place on the site of Apamea, which was called Cibotus.
The country about Apamea has been shaken by earthquakes, one of which is recorded as having happened in the time of Claudius (Tacit. Ann. xii. 58); and on this occasion the payment of taxes to the Romans was remitted for five years. Nicolaus of Damascus (Athen. p. 332) records a violent earthquake at Apamea at a previous date, during the Mithridatic Wars: lakes appeared where none were before, and rivers and springs; and many which existed before disappeared. Strabo (p. 579) speaks of this great catastrophe, and of other convulsions at an earlier period.
Apamea continued to be a prosperous town under the Roman Empire. Its decline dates from the local disorganization of the empire in the 3rd century; and though a bishopric, it was not an important military or commercial center in Byzantine times. The Turks took it first in 1070, and from the 13th century onwards it was always in Muslim hands. For a long period it was one of the greatest cities of Asia Minor, commanding the Maeander road; but when the trade routes were diverted to Constantinople it rapidly declined, and its ruin was completed by an earthquake.
Apamea in Jewish tradition
Apamea is mentioned in the Talmud. The passages relating to witchcraft in Apamea (Ber. 62a) and to a dream in Apamea (Niddah, 30b) probably refer to the Apamea in Phrygia which was looked upon as a fabulously distant habitation. Similarly the much-discussed passage, Yeb. 115b, which treats of the journey of the exilarch Isaac, should also be interpreted to mean a journey from Corduene to Apamea in Phrygia; for if Apamea in Mesene were meant (Br?ll's Jahrb. x. 145) it is quite impossible that the Babylonians should have had any difficulty in identifying the body of such a distinguished personage.
Christian Apamea
Apamea is enumerated by Hierocles among the episcopal cities of Pisidia, to which division it had been transferred. The bishops of Apamea sat in the Council of Nicaea (325). Arundell contends that Apamea, at an early period in the history of Christianity, had a church, and he confirms this opinion by the fact of there being the ruins of a Christian church there. It is probable enough that Christianity was early established here, and even that Saint Paul visited the place, for he went throughout Phrygia. But the mere circumstance of the remains of a church at Apamea proves nothing as to the time when Christianity was established there.
---
Frequently Asked Questions
How long until my order is shipped?
Depending on the volume of sales, it may take up to 5 business days for shipment of your order after the receipt of payment.
How will I know when the order was shipped?
After your order has shipped, you will be left positive feedback, and that date should be used as a basis of estimating an arrival date.
After you shipped the order, how long will the mail take?
USPS First Class mail takes about 3-5 business days to arrive in the U.S., international shipping times cannot be estimated as they vary from country to country. I am not responsible for any USPS delivery delays, especially for an international package.
What is a certificate of authenticity and what guarantees do you give that the item is authentic?
Each of the items sold here, is provided with a Certificate of Authenticity, and a Lifetime Guarantee of Authenticity, issued by a world-renowned numismatic and antique expert that has identified over 10000 ancient coins and has provided them with the same guarantee. You will be quite happy with what you get with the COA; a professional presentation of the coin, with all of the relevant information and a picture of the coin you saw in the listing.
Compared to other certification companies, the certificate of authenticity is a $25-50 value. So buy a coin today and own a piece of history, guaranteed.
Is there a money back guarantee?
I offer a 30 day unconditional money back guarantee. I stand behind my coins and would be willing to exchange your order for either store credit towards other coins, or refund, minus shipping expenses, within 30 days from the receipt of your order. My goal is to have the returning customers for a lifetime, and I am so sure in my coins, their authenticity, numismatic value and beauty, I can offer such a guarantee.
Is there a number I can call you with questions about my order?
You can contact me directly via ask seller a question and request my telephone number, or go to my to get my contact information only in regards to items purchased on eBay.
When should I leave feedback?
Once you receive your order, please leave a positive. Please don't leave any negative feedbacks, as it happens many times that people rush to leave feedback before letting sufficient time for the order to arrive. Also, if you sent an email, make sure to check for my reply in your messages before claiming that you didn't receive a response. The matter of fact is that any issues can be resolved, as reputation is most important to me. My goal is to provide superior products and quality of service.