Item Description
All Quiet on the Western Front



Stock Photo

Item Specifics - VHS
Format:

VHS

Rating:

NR

Leading Role:

Lew Ayres

:

New

Director:

Lewis Milestone

Format:

--

Genre:

Action, Adventure

Sub-Genre:

--

Portions of this page Copyright 1981 - 2007 Muze Inc. All rights reserved.
Additional information
Additional Information about All Quiet on the Western Front
Portions of this page Copyright 1981 - 2007 Muze Inc. All rights reserved.



Movie description
Lewis Milestone's adaptation of Erich Maria Remarque's anti-war novel is a masterpiece whose power to disturb remains undiminished by the passage of time. The film stars Lew Ayres as the young Paul Bauman, who, along with a group of his teenaged classmates, are conscripted into the German army during WWI. The youths quickly realize that the patriotic hogwash they had been fed by their schoolmaster has absolutely has nothing to do with the horror they observe and experience on the front lines.


Credits
Writer:
Del Andrews, George Abbott, Lewis Milestone
Producer:
Carl Laemmle
Cast:
John Wray, Lew Ayres, Louis Wolheim, Russell Gleason


Notes
Theatrical release: April 29, 1930.

ALL QUIET ON THE WESTERN FRONT was added to the Library of Congress National Film Registry in 1990.

Future director George Cukor acted as dialogue director.

Future director Fred Zinnemann appeared as an extra.

Reaction to the film in Germany led to Remarque's immigration to the United States.

The film was restored to its full 132 minutes in 1987.

Estimated budget: $1.25 million.

The film received much attention for being one of the largest-scale talkies to date (1930).


Editorial reviews
"...The third best-picture Oscar winner is still one of the best movies to have won the award..."
USA Today - Mike Clark (01/15/1999)
"...Few films have conveyed the confusion, brutality and senseless sacrifice of organised conflict more vividly than Lewis Milestone's monochrome masterpiece..."
Total Film - Paul Roland (03/01/2001)
"It resonates with a sense of contempt for battle that has never been captured before or since."
Uncut - Andrew Sumner (12/01/2003)

Awards
1930 Academy Awards, Best Director: Lewis Milestone
1930 Academy Awards, Best Picture



The seller, orlandojoyce, assumes full responsibility for the content of this listing and the item offered.
---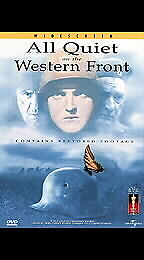 Stock Photo