Item Description
Data Tracker for Libraries
Easy to Use Book Tracking Software with Circulation Support !

Easily customize the software to suit your exact needs !

Great for business, schools, colleges, churches and personal collections !

Retail Price $99.95
Data Tracker for Libraries is a full-featured database system designed for libraries and book collectors. You can use the software to keep track of all types of books, magazines, videos, CDs and other media. For each item you can track title, author, subject, publisher, copyright year, date received, cost, image, value, minimum desired quantity, current quantity, ISBN, supplier, location, notes and much more. You can also record a loan history for each item, and you can generate reports showing you which items are overdue. The software also supports most barcode readers and can automatically generate and print barcodes. In addition, you can also use your barcode reader to easily jump to items in your database. The software features advanced reporting, graph generation, data export, a powerful search engine, full customization, optional web publishing and more.
Software Screen shots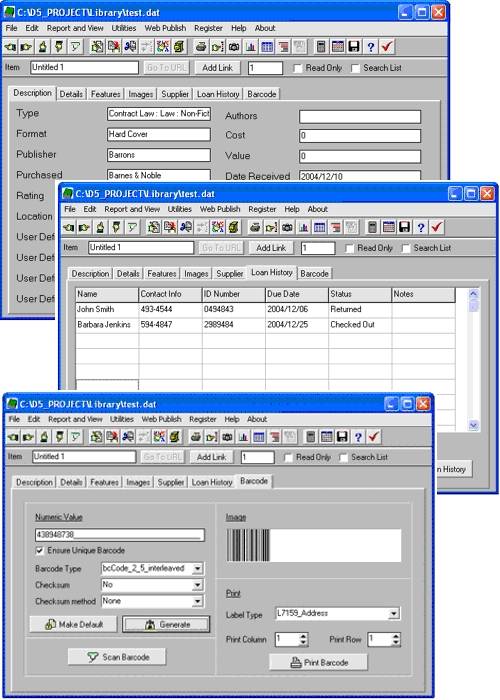 Software Features
Easy to learn user interface, designed for quick data entry.
Multiple File Support
Large 7,500 item capacity in each file.
Advanced multi-level categorization system with customizable pull down menus to speed data entry.
Keep track of title, author, subject, publisher, copyright year, date received, cost, image, value, minimum desired quantity, current quantity, ISBN, supplier, location, notes and more.
Rich text format detail notes area for each item in your database.
Feature checklist for each database item.
Data area for recording loan history.
Single step overdue item reports.
Barcode generation, printing and scanning.
Impressive 3-Dimensional Graphs showing you how your collection break downs.
Powerful Search Features that allow you to easily retrieve information from your database.
Ability to sort your data by almost any field in the database.
Multiple image support with image enhancement and printing features.
An album View where you can view different page scans in your database side by side.
A Spreadsheet view where you can quickly browse through your database.
An HTML Report Generator so you can post your database to your web site.
Detailed Online Help file.
Ability to customize field names and drop down menu options to suite your individual needs.
Ability to export primary data fields to CSV format (can be read by Excel and Access)
Ability to scan in images.
MUCH MORE !
About Us
We are on authorized reseller of Data Village software products. Data Village has been selling quality Database software since 1996.
System Requirements
Windows VISTA, 98, 2000, ME, NT or XP
VISTA Note - even if the install directory appears empty you can start the software from the windows start menu.
256 Meg of Ram
Pentium 300 or Faster
100 Meg Hard Disk Space (additional space may be required if you enter a large number of images)
Free Demo
All of our products feature free demo downloads, so you can try the software before you bid. Don't be disappointed! Try the software before you purchase and make sure that it is right for you.
Payment
We only accept Paypal for this auction. Canadians need to add 5 percent sales tax.
Refund Policy
Sorry, we do not refund on software. If you are unsure about the product please try the demo before you bid.
Shipping Information
Free World Wide CD Shipping ! CD delivery to the USA and Canada typically takes 1-2 weeks. International shipping can take up to 3 weeks. If you need the software faster please contact us for other shipping options.
Software Testimonials
"Great Program - Best I've ever seen in 20 years of searching !" - NR, California
"Your software meets my exact needs" - TL, New Jersey
"Very useful program" - RR, New York
"I would have no problem recommending the program to most of the collectors I know." - KW, United States
"I have used it for about one day now and for the most part really like both the setup and the way I can customize some of the settings to represent particular aspects of my collection." - SB, United States
"Easily lets you input information" - KK, Illinois
"We liked your program !" - ES, Sweden
---