Item Description
Please read the item listing below in full before placing an order. If you have any questions about this or any other item we sell, then please drop us a line.
LINUX
FREESPIRE

OPERATING SYSTEM
WINDOWS XP/ VISTA ALTERNATIVE
~~~~~~~~~
If you are thinking about buying a new PC but don't want to shell out the best part of 70-100 quid for Windows, or are looking for an alternative Operating System to the Microsoft Windows monolith, but one shares alot of the same features as Windows, then LINUX FREESPIRE is an ideal option for you.
If you have used Windows before or are new to PC use you will have no problem getting started with FREESPIRE.
Looking very similiar to Windows XP, this is a perfect OS for those used to using Windows, but wanting to change to a new LINUX Open Source system

FREESPIRE OS is one of the fastest growing LINUX Operating Systems and is considered particularly user freindly for new users. And being LINUX, there is a huge range of software available out there - and most of it for FREE! On top of that, LINUX Operating Systems are considered much safer to use as they dont have the same securtiy glitches and vulnerability to viruses and spyware that Windows Operating Systems are notorious for.
And added feature means that you can run this Operating System direct from the disc. You dont even need to install it to use it! That way you can give it a try before you do a full installation, or use it as as alternative on a PC that already has Windows installed.
What Makes Freespire Special?
With so many Linux distributions out there to choose from, you may be asking, "What makes Freespire special, or different from all the rest?" Here is a quick list of the main differences you'll find in Freespire than most other Linux distributions.
Things That Make Freespire Special
Freespire has a unique philosophy with respect to open source software. Freespire combines the best that open source and free software have to offer (community-driven, freely distributed, access to source code, etc.), but also provides users the choice of including proprietary codecs, drivers and applications as they see fit. Freespire believes users should be completely free to use any software they wish on their Linux computer, without restrictions or limitations, including proprietary, open source, free, and commercial products. 
Freespire is designed specifically for use on the desktop. This focus shows in the level of polish and attention to detail you'll find in Freespire running on desktop and laptop computers.
Freespire offers the easiest to use and the most powerful applications management system, CNR 
Freespire uses a ubuntu core based on Debian with ability to freely use apt-get, Synaptic or CNR. 
Because Freespire includes 3rd-party proprietary drivers, codecs and applications software, it has better hardware, file type and multimedia support, including out-of-the-box support for: MP3, Windows Media, Real, QuickTime, Java, Flash, ATI, nVidia, modems, etc.
Freespire allows you to purchase and install legal, commercial applications, all with just one click, such as CyberLink PowerDVD player, Codeweaver Crossover, Win4Lin, TransGaming Cedega, Sun StarOffice, MyBooks, Bitstream Fonts, ThinkFree Office, commercial games, and more.
Freespire doesn't just take open source programs and "toss them in." There are hundreds of changes made to programs such as Firefox, Thunderbird, KDE, GIMP, OpenOffice, etc. that you'll find in Freespire and the CNR Warehouse programs. 
Freespire is designed to be the easiest desktop Linux distribution in the world, yet still powerful and secure. 
Freespire utilizes the community IRMA project to provide Freespire in dozens of different languages. 
With Linspire as the lead sponsor and maintainer, Freespire is backed by a strong, stable company, so you know it will be around in the future.
Freespire has an experienced Leadership Board, composed of thinkers, business people, evangelists, and key members of the Linux community, such as Ian Murdock, Kevin Shockey, Martin Michlmayr, Kevin Carmony, and more. You will find these leaders active in the forums, discussion lists, and are always accessible by all.
Freespire has a strong, active and vibrant community, where all are welcome to participate at any level their time and talents will allow.
Freespire can be purchased pre-installed on desktop and laptop computers or installed in under 10 minutes.
Freespire is free Open Source software, updates are free and it is free to install new software with CNR.
Why not try FREESPIRE yourself? You have nothing to lose. You can even run it "live," directly from the CD, without installing anything. This is a great way to test Freespire with your existing hardware. If you then decide to install it, that takes only about 10 minutes.

(Installation Screenshots)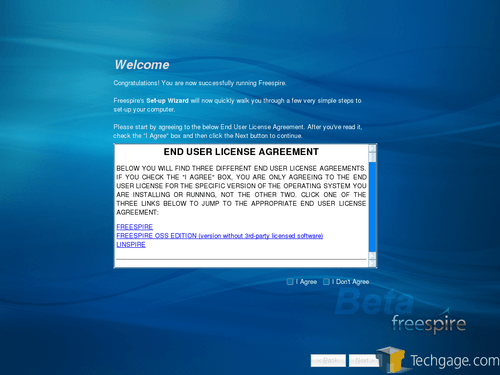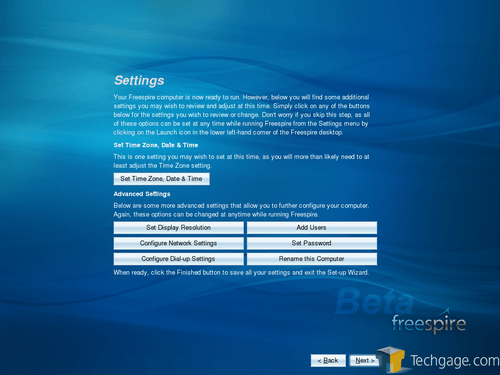 If you have any questions about this item please ask. If you have any problems with your item or are not completely satisifed please contact us so we can resolve the problem.  Positive feedback will be left once positive feedback has been recieved. We are only human and sometimes mistakes are made. Please get in touch rather than leave negative feedback over an issue that could be simply and amicably resolved.
* The software is provided on a high quality disc in a plain DVD case. Loads directly from disk. Simple. Nothing fancy, just great content!
* Beacuse of the nature of this item, no returns can be accepted except in the case of faulty discs.
* Linux Ubuntu is a free open source Operating System. It is free to use and free to distribute. It is not supplied with fancy packaging or complicated manuals. Full support is provided online once the OS is installed.
YOUR ORDER WILL BE POSTED WITHIN 48 HOURS OF PURCHASE - BUT USUALLY WITHIN 24
I SELL THIS STUFF BECAUSE I LOVE IT AND THINK YOU WILL TOO!
Also available from ReiverClassics Ebay Shop...
MINT - LINUX OPERATING SYSTEM
UBUNTU - LINUX OPERATING SYSTEM
DIMENSION X - Classic Science Fiction serial - MP3 CD
X-MINUS ONE - GOLDEN AGE SCIFI - MP3 DVD
DARK FANTASY & HALL OF FANTASY - MP3 - OTR - CD
SUPERMAN - OLD TIME RADIO (Over 100 episodes on one CD)
I WAS A COMMUNIST FOR THE F.B.I (Classic PTR Cold War thriller seriel)
SUPERMAN - 1940's cartoon series - DVD - 8 Episodes
INNER SANCTUM MYSTERIES - MP3 CD - OTR
THE WITCHES TALE & HAUNTED HOUR - MP3 CD
THE ABBOTT & COSTELLO RADIO SHOW - MP3 CD
DRAGNET - DETECTIVE DRAMA - OLD TIME RADIO MP3 CD
COMPLETE BROADCAST DAY - D-DAY 6th JUNE 1944 - 24 HOURS AS BROADCAST ON US RADIO - MP3 CD
WARPLAN USA - COLD WAR CLASSICS VOLUME ONE - DVD
and many many more...