Item Description
Choose from 56 Colours ..... Fringe / Bangs 
5" Long / Approx 4" Wide Clip in Hair Extensions  
 Clips are already attached to hair, so they are ready to wear. Can be dyed ,washed , straightened , bleached and curled. Just treat like your own natural hair.
  Auction price is for one piece only but you can buy as many colours as you like.
Used for Fringe / Bangs with blunt ends
Quad weft - two double wefts  together
Approx Width : 4 "        
2 clips on weft with silicone back

Length : 5 inches
Style :  Silky Human Hair
Colours to choose from  :
Factory Dyed clip-in Bangs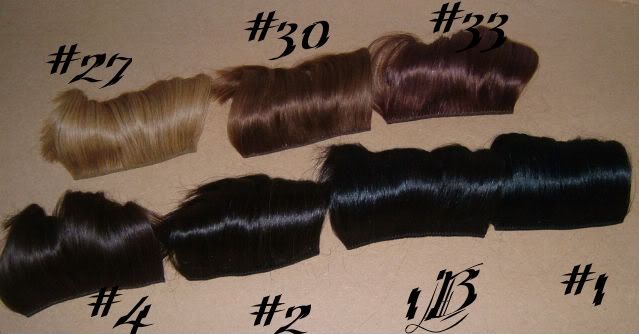 #1 ( Black) #1B ( Off Black) #2 ( Dark Brow ) #4 ( Medium Brown ) #33 ( Dark Auburn ) #30 ( Medium Auburn ) #27 ( Strawberry Blonde)  Or Choose from colours below
Colours from Top to Bottom
Purple , Pink , Red , 613 , Black , P1B / Red ( Off Black / Red )  , P1B /613 (Off Black / Prebleached Blonde)
Or From colours below :-
Colours above are :
613/1 - Prebleached Blonde / Black
1/613 - Black /Prebleached Blonde
613/1B - Prebleached Blonde / Off Black
1B /613 - Off Black / Prebleached Blonde
613/2 - Prebleached Blonde / Dark Brown
2/613 - Dark Brown / Prebleached Blonde
613/4 - Prebleached Blonde / Medium Brown
4/613 - Medium Brown / Prebleached Blonde
613/27 - Prebleached Blonde / Strawberry Blonde
27/613 - Strawberry Blonde/Prebleached Blonde
613/30 - Prebleached Blonde / Medium Auburn
30/613 - Medium Auburn / Prebleached Blonde
613/33 - Prebleached Blonde / Dark Auburn
33/613 - Dark Auburn / Prebleached Blonde
613/Blue - Prebleached Blonde / Blue
Blue/613 - Blue / Prebleached Blonde
613/Pink - Prebleached Blonde /PInk 
Pink/613 - Pink / prebleached Blonde
613/Purple - Prebleached Blonde /Purple
Purple/613 - Purple / Prebleached Blonde
613/Red - Prebleached Blonde / Red
Red/613 - Red / Prebleached Blonde
(613) Prebleached Blonde /Lime Green -
Lime green / Prebleached Blonde (613)
P1B/613 - Off Black / Prebleached Blonde
or Choose from colours below :
Colours above are :
27/ 1 - Strawbwerry Blonde/ Black
1/27 - Black / Strawberry Blonde
27/1B - Strawberry Blonde / Off Black
1B/27 -Off Black / Strawberry Blonde
27/2 - Strawberry Blonde / Dark Brown
2/27 - Dark Brown / Strawberry Blonde
27/4 - Strawberry Blonde / Medium Brown
4/27 - Medium Brown / Strawberry Blonde
33/1 - Medium Auburn / Black
1/33 - Black / Medium Auburn
Burg/1 - Burgundy / Black
1/Burg - Black / Burgundy
Purple/1 - Purple / Black
1/Purple - Black / Purple
Red/1 - Red / Black
1/Red - Black / Red
Pink /1 - Pink / Black
1/ Pink - Black /Pink
P1B/ Red - Off Black / Red 
All colours are available and ready to ship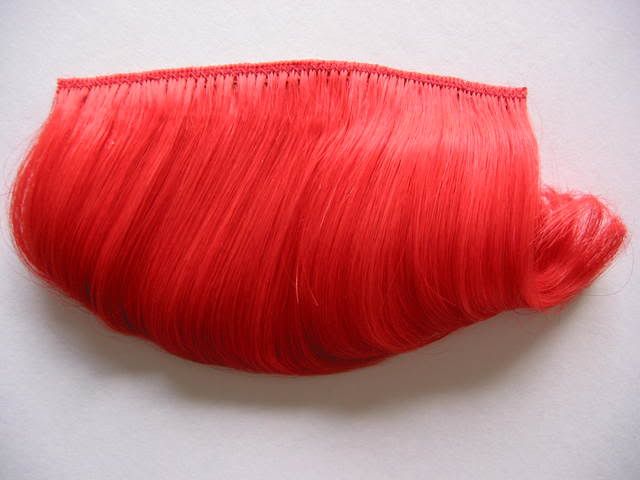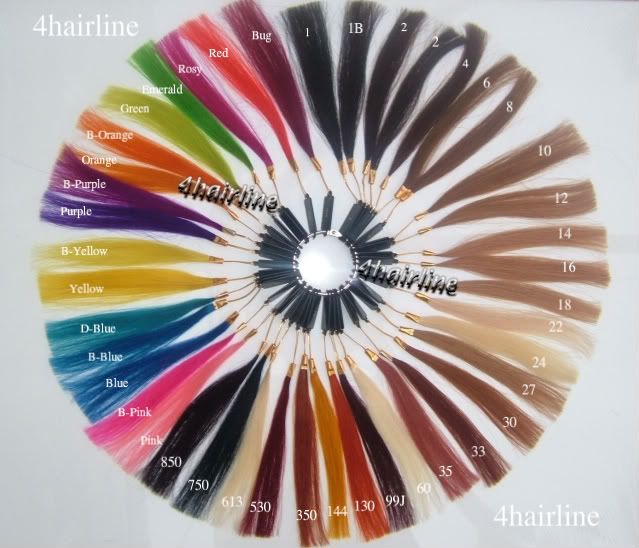 I only accept paypal as form of payment
All items listed are in stock and are ready to be shipped.I am happy to combine shipping with multiple items of the same item number to save shipping cost .Items are shipped within 2 day of purchase after payment is received.I will not be responsible,liable for any lost packages and also packages shipped to an unconfirmed address.I have receipt of all items I post.Many thanks
 


template & artwork copyright ? 2007 reall designs - all rights reserved


Powered by