Item Description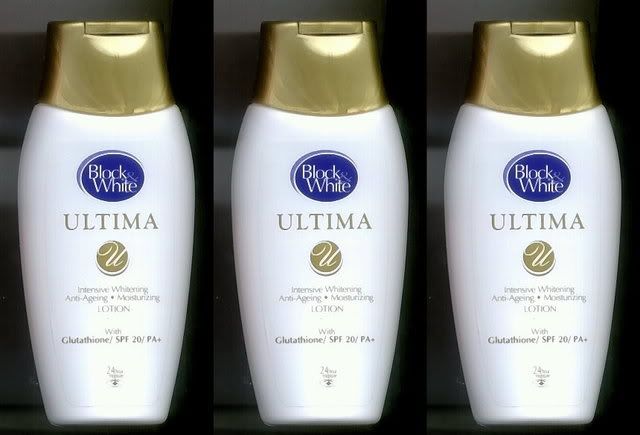 Buy With Confidence
We are a Trusted Seller of Skin Whitening Products
3 X 100ml = 300 ml Total
Block & White Ultima
Intensive Whitening Anti-Ageing Moisturizing Lotion
with Glutathione SPF   20 PA+ 24 hour Moisture
3 X 100 ml = 300ml
Block & White Ultima 3-in-1 Skin Solution Formula
Experience the breakthrough 3 in 1 Skin Solution Formula with Block and White Ultima Lotion.  
Its unique formula keeps skin healthy, radiant and younger looking with its Intensive Whitening,
Anti-Ageing and Moisturizing benefits .
3-in 1 Skin Solution Formula
Step 1 Intensive Whitening and Protection
?           PA+ creates a protection screen that effectively blocks UVA rays, the primary cause of
photo-ageing and skin darkening.
?          SPF 20 blocks harmful UVB rays, which cause sunburn.
?          Glutathione, a powerful antioxidant known to boost whitening for healthy, glowing skin.
?          Breakthrough White-Activ Complex helps whiten skin?s darkest spots in as early as 2 weeks.
Step 2 Anti Ageing
Advanced Age-Revitalizing Formula
?           Actively stimulates skin renewal to reveal younger-looking skin.
?          Reduces the appearance of skin imperfections such as age spots, fine lines, wrinkles
and skin blemishes.
Step 3 Moisturizing
24 Hour Moisture Formula
?           Locks in moisture for all day softness.
?          Keeps optimal moisture on skin longer, making it healthy and smooth.
Dermatologist-tested.   Safe for daily use.
For the ultimate experience ? Use daily and apply liberally all over your body.   Apply at least 2 times an day.   Reapply during prolonged sun exposure.
PAYMENT DETAILS
We accept Paypal Payments.   Please proceed to check-out.
Shipping Details ( Please Read)
We ship worldwide
Worldwide Shipping is $19.50
Please email me for any questions.
Thank you.